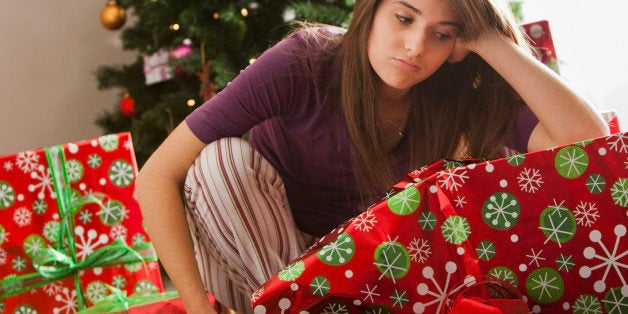 There are gifts and there are gifts. Typically the ones we exchange during the holidays are perfectly fine. (Anyone wants to send me chocolate, you've got my email.) But face it, despite the stressing about what to get and how much to spend, most of what we give and get is just not that memorable. I once read somewhere that by March, 66 percent of us have forgotten what we received for Christmas and Hanukkah. So really, why buy gifts? Because...
A. It's a holiday tradition.
B. Our kids expect it.
C. We'd feel like Scrouge-y parents if we didn't.
D. It's fun to see the delighted expressions of people we love.
E. All of those and more.
You don't need me to tell you that love doesn't come in a box and can't be bought with a gift card. Your children know that, right? Of course they do because your unwavering affection, support and encouragement is the air they breathe. Or it should be. If parents were required to show up on Christmas morning with gift-wrapped proof of their devotion, well, we'd have a problem even Santa couldn't fix.
Don't get me wrong, I'm not suggesting you lay off giving your kids holiday presents and only give hugs. I'm just saying that the best gifts are the ones worth giving. So why not give something your kids will treasure? Something that demonstrates your deep personal understanding of who they are and maybe even who they might become.
Do you remember receiving a gift like that when you were a child? For me it was a ceramic piggy bank my brother made for me. I loved it because he'd never before given me anything but a hard time for being his little sister. Also, it showed that he knew me well enough to know how much I'd appreciate his artistic efforts.
I started wondering what "gift memories" other people had. As I typically do in these situations, I crowd sourced the answer to this question: Recall a meaningful gift you received as a child. What made it so special?
Here are a few of the many lovely responses I got:
My mom gave me a blue turquoise Annie Oakley cowgirl set. I loved playing cowboys with the neighbors. There were not many things like this for girls back then, but she found it and knew I would love it.
My parents got me a Cabbage Patch doll for Christmas. It was the year they were new. I figured they were the hot toy for other kids and didn't even ask. When I opened the gift, there she was, "Kasey Cassie." I still have her and remember the feeling of, "Wow, my parents really went out of their way!"
In high school, I played Dorothy in the Wizard of Oz in the fall musical and, for Christmas, my stocking was full of lemon drops -- I will never forget it because it was such a unique and personal gift.
I'd been writing since I was in 4th grade and a typewriter was my deepest desire. When I was in 7th grade my Great-Uncle Phil bought me a Hermes manual typewriter -- green! It weighed almost as much as I did and I still have it! Oh, and I became a writer and an editor, so thanks, Uncle Phil!
My strongest Christmas memory isn't about a gift for myself, but the year my dad let me in on his idea to surprise my mom with a couple's trip to Las Vegas. He brought home coins in rolls, which we wrapped in separate boxes (with clues) that she would open one by one to try to figure out what gift they were leading to.. the getaway he'd planned. Dad let me help him write the clues which were little poems. That year he gave me the gift of his trust and tapped into my creativity by involving me in something bigger than myself.
With Hanukkah and Christmas coming up fast in the left lane, and a marketing tsunami that won't let up, challenge yourself to stop and really think about the child(ren) on your list. Then shop with a creative mind and a full heart.
There are gifts that stay with us... if not the gift per se, the feelings we have for the person who understood us well enough to know exactly what would delight us. Now that's a gift worth giving!