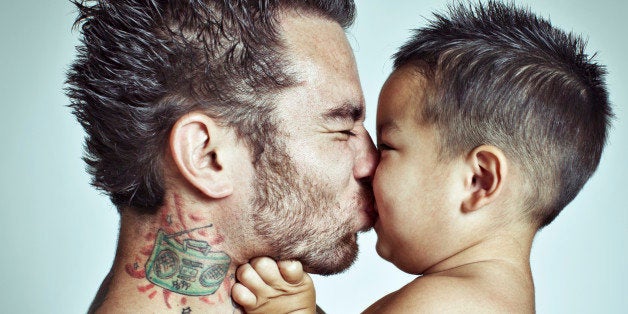 I recently attended the Third Metric Conference where Adam Grant, author of Give and Take, presented the idea of givers, people who give more than they get; takers -- people who get more than they give; and matchers, people who find the balance between giving and taking and expect reciprocity. Now he applied this to achieving career success and workplace dynamics, but with the upcoming holiday celebrating fatherhood, I began to wonder how this would apply to my work with heterosexual couples with children.

So often, I have spouses come in who are struggling with their parent roles and what it means to their relationship. They realize the roadmap of marriage shown to them by their parents no longer fits the evolving expectations of modern parenthood. With more women juggling identities as the consummate mother and the powerhouse professional, finding ways to keep the family functioning has become increasingly important. A study by University of Missouri-Columbia has shown happier marriages occur when couples share household and child-reading responsibilities. In this modern age, a dad who wants to be considered a good partner and parent now has more expectations than any previous generation. I find that although men have stepped up to the plate, pioneering new roles that often were not modelled for them there is a difference in what they, and the society would view as requirements for the badge of 'Great Dad!' While in the past a good dad was the man who played catch, led Scout trips and brought home the bacon, new generations of fathers are facing more and at times more nuanced expectations when it comes to what their wives and society.
The increased presence and success of women in the workforce in addition to the general rise of unemployment contributed to a rise in the number of stay-at-home dads between 2008-2010, but according to a recent poll by Pew Research Center, the growth since then has been due to men staying home by choice. I have seen some men who have lost the role of primary wage earner feel lower self-esteem as they struggle with the altered identity and how others are viewing them. They may approach their household chores and child caretaking as a one down position, a "loser" position that they keep hidden from college friends living elsewhere. While many stay-at-home dads are thrilled at the opportunity to take the lead in caring for their children, they may not totally buy in to the idea that their daily caretaking and homemaking tasks will help them be experienced as a great dad by their children. It would be important for dads to know that the impact has been positive on daughters. A recent study found a father's approach to domestic tasks was the strongest predictor of his daughter's professional ambitions.
However, the ill-defined expectations and dissidence with traditional gender roles can create issues couples may need to work through to strengthen their relationship. I talk to couples about the implicit and explicit agreements which they made early on and will certainly need renegotiating over the time of their marriage. While men are most certainly capable of managing a household and some do so successfully, few men were socialized to perform these household duties the way that women have traditionally been taught to do. Stephanie Coontz pointed out in a piece by NPR that over the last 150 years, men have not been trained to detect dirty floors. There are countless implicit tasks and planning that mothers have traditionally and still are expected to do in order to claim the title 'Good Mom.' Whether it's remembering to write a thank-you note and buying a gift to give to your kids' teachers at the end of the school year, discussing and planning the menu for the upcoming family reunion or finding out the prices for the My Little Pony goody bag gifts, all these tasks have never been explicitly listed as in a job description nor are many men even aware of them or the time they take to do, since they have never been asked to do them.
This is a conflict I have heard countless times from couples in my practice. Clients often share about how a stay-at-home dad just isn't picking up the slack around the house and that the mother feels the pressure to maintain their domestic space both out of practicality, but also out of her sense of failure at times if she gives up too many of the traditionally female-gendered roles.

Many couples naturally create departments of responsibilities. One person may always do the laundry and the other wash the dishes. But the division of labor is still not equal. When moms return home from work, they continue on with their second shift and still complete about 70% the household work. Despite their best intentions, the husbands have the misconception that the housework is split equally with men completing 50%. A completely egalitarian workload in which traditionally female chores are done by men and traditionally male chores are done by women may not be helpful to a couple's sex life. A study published in the American Sociological Review and written about in the New York Times showed sex frequency was lower in households where the men and women did the same chores. The irony of the research is that a more equitable approach to housework makes for happier marriages but less sexy partnerships.
A marriage of parents is about teamwork. Just as sex in a relationship in which partners may not want sex as frequently or wanting the same type of sex as the other, a couple can work on being Matchers. A matcher is not a quid pro quo system but is instead a giving and receiving relationship in which the equality is not on splitting the laundry but that the amount of time devoted to the family is shared responsibly and equitably. In this new paradigm, the next generation of children will have a new definition of what it means to be a good father. Instead of equality, match each other in intensity, effort, and contribution. I say, recognize a relationship is not always equal, but it should and can be equitable and intimate. Readers, what do you do that gives you a sense that you're a good father?