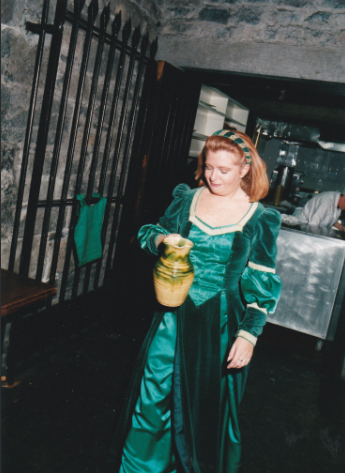 If you google the "best job ever", you will find risque photos of women being fondled by men in various poses and positions.  I was quite surprised by this, but my thoughts on that will have to wait for another post!
So what makes a job the "best ever"?  I attended a concert the other evening, given by an old colleague, the Tenor - Anthony Kearns.  I met up with a host of old workmates and enjoyed the impromptu reunion. I was reminded of my time spend working as an Entertainer in Knappogue Castle, Quin, Co. Clare.  I look back on my time there very fondly and remember that at the time it was the "best job ever".  But why?  What it made so?  Well, over the last few days I've reflected on some of the reasons why...
We took pride in our job - we felt privileged to be part of the world renowned Bunratty Singers.  We had undergone stringent auditions and interviews to the job.  Others weren't as lucky as we were.

We had a common purpose - to make sure that every customer had an enjoyable night and left the Castle with a lasting memory of a medieval banquet.  We wanted to make the experience very special for the customer.  The fact that we all loved to sing and entertain really helped.

We were part of a team - each member of the ensemble whether it be the catering staff or the entertainers, had their role to play, and we knew what that role was.  We knew that one loose link the chain would mean the whole night could go wrong.

Feedback and recognition were immediate - we performed two shows a night to over 100 people per show.  We loved the lights, the stage, the audience, the applause.  When the show finished, you received instant feedback and recognition from your audience. You didn't have to wait months for a performance review or appraisal.  We knew instantly if we had done a good show and if our audience was happy.

We had very few distractions - we were fed at work, we were provided with transport to and from our place of work.  We were provided with cheap and cheerful accommodation with the rent/utilities deducted from our salaries.  We had nothing to worry about other than making sure that our voices were in good order and we looked the part.

We had no expectations from the job - we were entertainers, we served the meals and then we performed the show.  There wasn't much scope for promotion or advancement, only perhaps the chance to sing solo - which wasn't a remote possibility when you're an Alto like me!  

We had fun - always professional in front of the guests, we had a few jokes and incidences along the way.  We always found something to laugh about every night.
How many of the above points could be applied to other jobs, what other organisations are trying to replicate some of these elements.  Google for example endeavour to remove distractions for Googlers, providing them with food and gyms on-site.  
As Entertainers, we were also encouraged to mingle and talk with the guests, asking them about their holidays and their trip to Ireland.  The direct customer contact ensured that when we performed the show, we were performing directly for those customers we had made a connection with, we wanted them to have a really good authentic medieval experience.
Granted for most of us at the time the job was a part-time or seasonal sojourn and some people quickly moved on to other things.  But some of us stayed longer, I did 5 seasons in total and some worked almost all year round when they went to Bunratty Castle during the Winter season.
Other jobs have come and gone for me over the years, and the friendships that were made during that time have endured over the past 20 years and I will always consider my days in Knappogue Castle to be the "best ever"!
Valerie O'Hanlon is a Business & Life Coach based in Castleconnell, Co. Limerick and can be contacted at valerie@clarenceconsulting.ie.
REAL LIFE. REAL NEWS. REAL VOICES.
Help us tell more of the stories that matter from voices that too often remain unheard.
This post was published on the now-closed HuffPost Contributor platform. Contributors control their own work and posted freely to our site. If you need to flag this entry as abusive,
send us an email
.