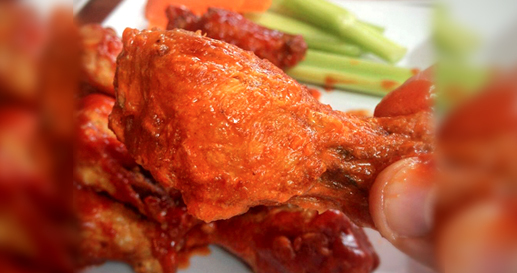 A question that has come into the mind space of many a wing fan. But why ask it? I mean, most people simply love chicken wings. Isn't that enough? Seemingly not. Take the fact that chicken wings over the last 50 years, since their Buffalo, NY birth in 1964, have formed an "Astonish-Wing" culture of fanatics all over the globe. They even have subdivisions of status, from wing lovers to wing nuts and wing freaks with chicken beaks! We're all over the map. It seems the question is so powerful that it has even created a community of "Wing Hunters" - those who have become passionate road trippers and travelers seeking out and documenting the very best that the chicken wing world has to offer. People say that chicken wings are like pizza and sex, that even when it's bad, it's good. I don't believe that, so what makes a chicken wing expert? Judges from the NY Best Wings Festival and seasoned "Wing Hunters" in their own right, give us some insight into this crazy clucking thing.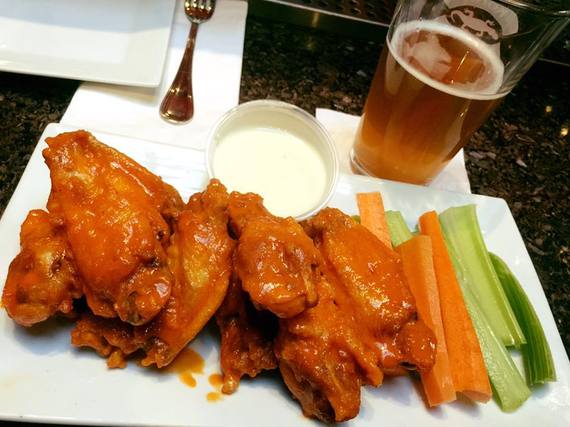 Photo Credit: BestWingsLI
Dave "Rev" Ciancio, Director of Marketing for Schweid & Sons, is a founding member of the Wing-Off, a chummy group of wing enthusiasts, who do wing crawls then pit the restaurant's wings against each other to see who had the best. They discuss openly and vote on a winner. As to what makes someone a chicken wing expert, "Rev" only speaks from his wing sauced heart, "You must be truly passionate about wings and have a wide palate for tasting everything from traditional, smoked, international flavors and all levels of heat. Be unwavering in your dedication to finding the best wings and never, ever, ever be satisfied." He judges wings accordingly:
"Before you take your first bite, know what you are looking for. Does the outside have a crunch without being done? Is the inside tender and cooked all the way through? Is the sauce something special? Once you've tasted the wing, ask yourself which of these apply: Do you want to eat another? Do you want to share on social media in a positive way? Do you need to make sure every Wing Hunter you are connected to knows about this wing? If you answered yes to the last one, you've hit "WingVana."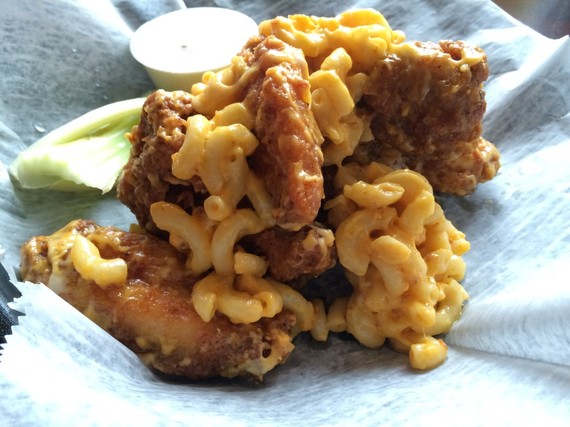 Mac n' Cheese Wings: Marley's Gotham Grill, Hackettstown, NJ Photo Credit: Dave "Rev" Ciancio
Wing-Off crew member, ordained Bacon Minister and cast member of Big Brother Season 13, Adam Poch, states, "A wing expert is someone that is able to differentiate flavor profiles, as well as someone that has a high tolerance for hot foods. First I judge a wing by its "done-ness" - if it is overdone or undercooked, then I am immediately turned off. You can usually tell by touch if it is over/under. Next I judge the flavor of the sauce/rub - does it taste like it is hyped up to be? Hot wings must pack heat, sweet or savory must taste sweet/savory."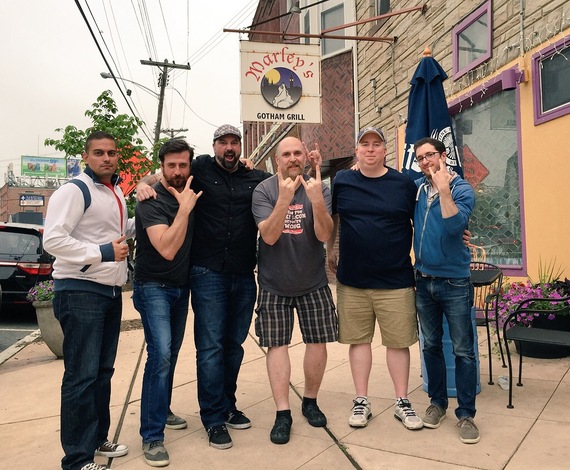 Wing Off 25 Photo Credit: Wingoffs.com
From Delaware to Hawaii to New Hampshire, New Jersey and more, Brian Dempsey tells of his "Find-Wings" on bringthewing.com. The national Wing Hunter says, "Anyone who does something long enough and on a daily basis can be an expert at anything. Practice makes perfect. Mine happens to be at eating wings. I judge not only on the sauce but also the preparation of the chicken when I'm looking for the best wing. You need the perfect marriage of the two."
Matt Reynolds is the director of THE GREAT CHICKEN WING HUNT, a documentary about Buffalo wings and the misfits who set out to find the perfect one. "I think the definition of a chicken wing expert is a lot like the definition of a writer," says the lead wing man and protagonist."If you write, and consider yourself a writer, then you are a writer. It helps if you've published something, or in the case of a wing expert, have some kind of platform (a website, a club, a festival, a film), but it's not required. The sauce is the boss is a cliche that is mostly true. The first thing I expect from a wing is that the basics of the meat and frying have been covered - fresh, not frozen wings, big and meaty - but not too big, deep frier oil changed on a regular basis, a wing that's juicy on the inside, crispy on the outside. To me, screwing any of those things up means you're not trying. But getting them right does not guarantee a great wing." You can watch the award winning film for for free on Hulu.
I think these respectable poultry pursuers are telling us a very similar message in a different way. My best friend, Robert Wittman, and I started BestWingsli.com in 2011, a website dedicated to finding the best wings on Long Island, then on to Brooklyn, Queens, NYC and so on. We founded Wings & BeerFest shortly after and The Best Wings Championships in eastern NY. After that time, I personally feel that to be an expert you simply need to have had wings in many different restaurants in order to compare. Otherwise, eat at the same place and you'll think it's the greatest. All of us Wing Hunters agree on the idea that texture must have a crispy exterior, while having a juicy interior and the flavor of sauce or rub has to make you want to tell the world and be willing to go out of your way to get them again. Even Michael Puma of Gotham Burger Social Club, a group that finds the best burgers in NYC, gets it, simply saying, "Crispy, meaty and sauced well."
The obvious perspective may be that in order to be a wing expert, you must have gone to Buffalo, NY, where it all started, to know exactly how to compare every wing you eat anywhere in the world. Well, I am happy to say that Rob and I have been invited by Drew Cerza, the Wing King himself to be Official Judges at the National Buffalo Wing Festival this September 5th and 6th. We are going to be "Calibrate-Wing" our perspectives to the ultimate control wing for our adventures...and perhaps answer that seemingly immortal question, "Do the best wings come from Buffalo, NY?"
Live tweet with the @winghunters on their Buffalo, NY adventure on Sep 5th and 6th 2015.
Popular in the Community