Back when I began my career, Broadway shows tried out in a handful of cities. That was pretty much it. When Urban Cowboy, which had played only Florida's Coconut Grove Playhouse, was announced for Broadway, none of us could figure out what the positive reviews meant. Who were these critics? How did they know anything? (Indeed, some of those concerns were valid.) Now the world is much more open.
A couple of months ago, Michael Paulson wrote in The New York Times about the reasons why Chicago is a great tryout city. That is one that has been popular my entire career. The 5th Avenue Theatre in Seattle was, and is, a common premiere location. San Francisco's Curran Theatre, where Wicked and Beautiful were babies, was a frequent debut spot. Then there was the southern part of California with the Old Globe, La Jolla Playhouse and Center Theatre Group. Washington, DC and the nearby Signature Theatre also attracted producers. Boston too.
At some point in my career however other theaters started getting into the mix. Atlanta's Alliance Theatre chief among them. In 2001, Susan Booth joined the theater as Artistic Director. In the community she is largely credited with the theater's push to develop pre-Broadway works, including The Color Purple, Bring It On: The Musical,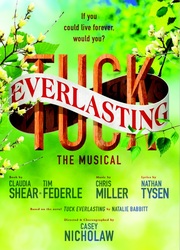 Bull Durham and Tuck Everlasting (set to open on Broadway next month). The local critics are not known to be as tough as those in some of the other big cities, so some producers spoken to believe it is a more nurturing place to launch a tuner. Alliance is also known to be a place that puts its money where its mouth is, and has resources to invest in projects.
"Susan Booth has the reputation of being one of the finest Artistic Directors in the business and I was eager to work with her," Tuck Everlasting producer Beth Williams (Grove Entertainment) said over email when asked why her team chose the Alliance. "The theatre is staffed with talented and passionate people, who supported Casey and our creative team throughout the entire process." It was not surprising when last week when the venue was announced to host the world premiere of The Prom, the Chad Beguelin/Matthew Sklar/Bob Martin musical to be directed by Tuck helmer Casey Nicholaw.
And how about the resurgence of Paper Mill Playhouse as a tryout location? For a long time people shied away at premiering things there; it was thought too close to the prying eyes of New Yorkers. Paper Mill has gone through many phases. As this century began, it was pretty much a home for revivals. Then Michael Gennaro took over in 2003 and tried to develop more new works, except that ended up with the theater trying small-scale offerings (such as a mounting of a revised version of Baby and the new musical Harold and Maude) intermingled with big ones. The problem being that Paper Mill is a sizeable house, with a large stage, which befits big musical productions better than small ones. (And, yes, I know it sometimes houses small productions even now. But the stage is best-suited to bigger musicals.) The theater had a financial crisis, rebounded and for a few seasons didn't produce any world premieres (though it did host new musicals such as Happy Days: The Musical and Little House on the Prairie). Then came Newsies and it all changed. That show transferred to Broadway and people began to realize that proximity to New York City was perhaps not the worst thing. Honeymoon in Vegas, Ever After, Bandstand (announced for a 2016-2017 Broadway berth) and the musical version of A Bronx Tale all have had their world premieres at the theater since. The Millburn, New Jersey house has also hosted high-profile productions of Disney's The Hunchback of Notre Dame and Can-Can. Next season they'll have the US premiere of the musical The Bodyguard. In a few weeks I'll head there to see a revival of Pump Boys and Dinettes that many in New York are curious about after a thwarted attempt at a Broadway revival in 2013 and a recent well-received mounting as part of Encores! Off-Center series.
Not only has the last decade seen these theaters become consistent tryout houses, but we've also seen other theaters all across the country house shows of great interest to us here in NYC. Because of Winn Dixie--written by Duncan Sheik and Nell Benjamin--premiered in Little Rock, Arkansas. Diary of a Wimpy Kid is making its debut next month at the Children's Theatre Company in Minneapolis. The Delaware Theatre Company hosted the second productions of Winn Dixie and the musical Diner and, this coming fall, is going to present the North American premiere of the stage version of The War of the Roses. The Cleveland Playhouse is one of the non-profits that is going to house the musical Freaky Friday. Denver housed one Disney premiere and is going to be home to another; that city also hosted the world premiere of the highly revised The Unsinkable Molly Brown revival. A few years ago friends traveled to North Carolina to see Diana DeGarmo and Leslie Kritzer in Nerds. There are many more theaters I could mention as well. (I'm going to save for another time the difference between premiering at a non-profit and having a commercial production to start. Many shows, including some mentioned in this piece, thought "commercial production" at first but then decided to go to a non-profit.)
I'm no longer surprised when any premiere location is announced. Okay, well maybe I was, and will continue to be, surprised by Little Rock.
Calling all HuffPost superfans!
Sign up for membership to become a founding member and help shape HuffPost's next chapter