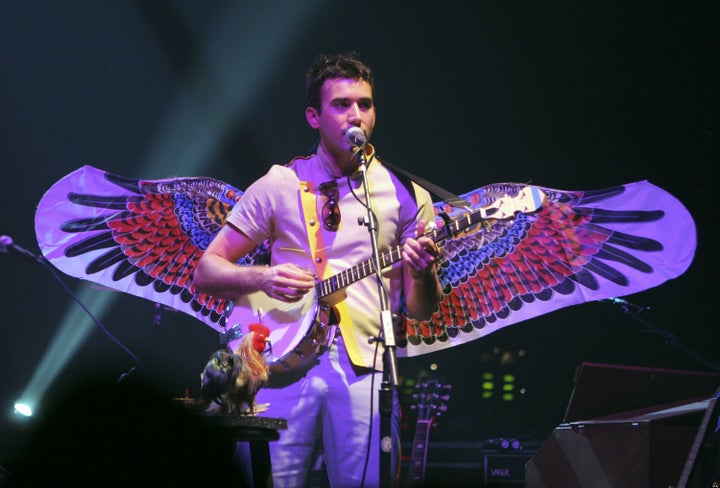 Before becoming the critically acclaimed force behind some of the greatest indie music of the last decade, Sufjan Stevens, aspiring writer, graduated from the same Master of Fine Arts in Creative Writing program I began last fall. Stevens may have written songs like "A Good Man is Hard to Find" and "In The Devil's Territory" (references to Flannery O'Connor's oeuvre) with or without a graduate degree in fiction, but when I realized that he also has a deep track named for Saul Bellow, another luminary from my first literature seminar's syllabus, I wondered if we didn't have this class in common. With O'Connor, the famously Catholic Christian writing from a sea of southern evangelicalism and Bellow, a harder-to-define transcendentalist by way of immigrant Judaism, Stevens shares an uncanny ability to create the kind of art that, at its best, forces us to look up and within.
It's possible to encounter O'Connnor's stories (you never really just read them) without explicitly discerning her deep, abiding belief in literary art as Christian vocation or her mission to show, as she said, "the action of grace in territory held largely by the devil." Clear as day about these motives in her essays and letters, she's almost never so obvious in her fiction. Perhaps because she uses the evangelical cosmologies of her neighbors as Tolkienesque proxies for her own traditional Catholic systems, it's easy to infer a sort of distance between O'Connor's art and faith where she in fact saw none. In the same way, it's possible to listen to Stevens' biggest hit, "Chicago", without immediately sensing the plaintive Christian hymn at its core, but "Casimir Pulaski Day", "Oh God Where Are You Now?", "The Lord God Bird", "To Be Alone With You", "God'll Ne'er Let You Down"... well, these and others comprise a body of work that, like O'Connor's, raises and answers questions about what makes art "Christian." Like O'Connor, Stevens operates outside of expectation: his confessional work is among his best, but you'd never call him a Christian artist the way, say, Amy Grant is a Christian artist.
A few weeks before I followed Stevens to aspiring-writer school, I had a conversation about all of this with some people who'd come to see a mutual friend play an open mic night at a local coffee house. When I got there, a group of teenagers were doing old, obscure Christian indie covers, primeval Sufjan, maybe with irony but certainly with gusto. "Is this, like, the new punk?" one of us wondered. "It's just ... indie," a friend of my friend said. "Indie defies categorization. It's just indie. You know, independent? Not mainstream. Is this Christian? I don't know. Everyone listens to it. It's just good music. It's just good art."
The thing about good art seems to be that sometimes it finds an audience. O'Connor's fiction isn't Christian the way Jerry Jenkins' is. Stevens is not a praise band leader. Flannery and Sufjan resonate in larger circles, yes, but their work, like Tolkien's, casts wide nets of longing, questioning, devotion, anxiety, suffering, redemption, and grace. In this sense it could be no more Christian. In this sense it's more Christian than much of what you might find in Christian bookstores and Christian music aisles. Even though O'Connor believed in her Church with utmost conviction, good art ask the kinds of questions religious structures try and finally fail to answer. The balance of her work is no exception. Stevens wrestles with the glory of a Lord who he says took our place on the cross but who also seems to take our shoulders, shake our face, take and take and take. The depravity of O'Connor's characters, the tensions Stevens finds ways to name and grapple with in lo-fi indie beauty, these elements are more biblical, more in the spirit of the oracles and psalm poetics of the scriptures than your typical Christian book or album.
Perhaps, even for Christians, questions like "is this art Christian?" are finally not the point. Saul Bellow was capable of conjuring sublime, leveling visions from expository scenes about rickshaw rides and cutting to the core of religious anxiety in an increasingly pluralistic America. Leonard Cohen uses images of piety and longing more viscerally than anyone. Perhaps for Christians the questions ought to be: does this song make us stop? Does this book make us think? Does this art feel like the suffering we know and the hope we hope for anyway? Is this art big enough to suggest the great vast God we call an Artist? Does it inspire us to a live a better art, to live before our God more artfully? Is the art we produce Christian in the only sense that matters?
REAL LIFE. REAL NEWS. REAL VOICES.
Help us tell more of the stories that matter from voices that too often remain unheard.