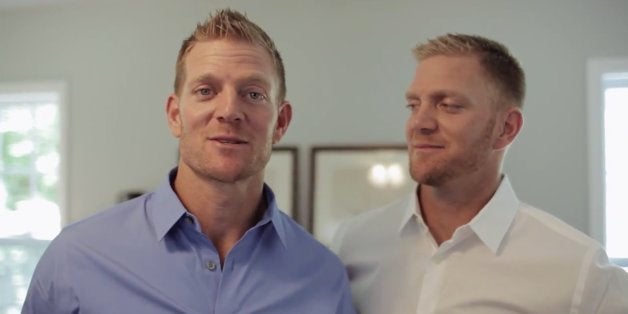 David and Jason Benham aren't gay. Each is married (to a woman), and they have nine children between them. In fact, the twin brothers lost their HGTV reality show, Flip It Forward, last April, before it even got off the ground, after videos and audio surfaced on Right Wing Watch showing David Benham condemning homosexuality as "demonic" and revealing that both brothers had led a prayer rally against "homosexuality and and its agenda." They are the sons of Flip Benham, who heads Operation Save America (which split off from the militant anti-abortion group Operation Rescue) and has stood in front of mosques yelling, "Jesus hates Muslims." And there they were at the Family Research Council's anti-gay "I Stand Sunday" rally in Houston yesterday, cavorting with Mike Huckabee.
Yet when the Benham brothers were hired for the HGTV show, their buff, chiseled looks, their sense of style and their flair for design couldn't have been lost on HGTV producers, who certainly know their audience includes lots of gay men who would be glued to their TVs watching these men charmingly buy fixer-upper homes and transform them. Interestingly, after the reports of their anti-gay activities surfaced and HGTV killed the show, the gaydar of many a gay blogger went off when they witnessed the pristinely groomed North Carolina brothers in their pastel-colored dress shirts defending themselves on CNN, or when they saw other photos of them in their just-a-bit-too-perfectly-styled T-shirts and baseball caps, looking like they were headed to the gay bar down the street. Americablog's John Aravosis noted they were dressing "as gay as possible" and commented on their "perfectly-coiffed" hair.
I recently interviewed the Benham brothers at the Values Voter Summit, the annual convention of religious political activists hosted by the Family Research Council. They were making the rounds along with others whom religious-right leaders claim have been targets of supposed attacks on religious freedom. (The Benhams, by the way, completely accept that HGTV, in canceling their show, made a business decision within the free market, and they bear no grudge against the network -- which is a bit refreshing compared with others who've been cast as "victims" of supposed attacks on their religious beliefs.) They're affable, and, if I didn't know better, I'd say they're a bit flirty. As I began to interview them, the first thing they did was comment on my outfit, both men running their fingers along my sports jacket. "Man, this guy is sharp," one of them said. "Look at this guy! I like this guy." (Listen to the audio below.) Honestly, had I not known anything about them and the controversy, I'd have thought I'd just met a pair of gay twins -- that is, until seconds later, when, with gleaming smiles on their faces, they quoted Bible verses, warned of the "depth of depravity" to which the culture has sunk and explained how "Satan has chosen homosexuality to slap an agenda over." (I should point out that I don't believe they knew I'm gay or knew anything about my background as a journalist, though of course my name and affiliation were made clear to them.) Then, at the end of the interview, they once again were commenting on my clothes. "Thank you," one of them said. "We loved it. You're a sharp guy."
Later, I ran into them again, with one of them greeting me with, "Hey, stud," and I posed for a photo with them: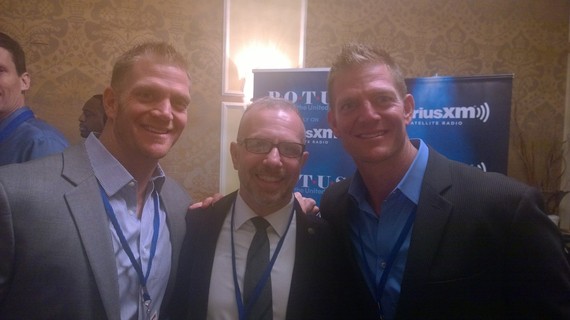 A few minutes after that, I passed the other one (I apologize for confusing them and not knowing which was which by name) as he was giving a radio interview, and he winked at me, Sarah Palin-style, flashing a bright smile.
All of this had me asking myself: What makes men "gay"? Of course, I don't mean what makes people actually homosexual, biologically, or what inspires them to desire gay sex. Rather, what makes men appear "gay" within popular culture and thought to be gay even by gay men themselves? And how has that changed? At the time that the Benham brothers' show was canceled, The New Yorker ran a satirical piece by Sarah Miller headlined, "HGTV Was Worried Audience Might Think Benham Brothers Were Gay." It included a photo of them in their tight T-shirts and fictional quotations from a fictional HGTV executive:
"We have decided to cancel 'Flip It Forward' because David and Jason Benham just look so incredibly gay," said Chip Fordew, an HGTV spokesperson. "Plus, they look like they're together. And, by together, I mean that they have sex, trade off turns on the Pec Deck, go to Tulum at Christmas, and are adopting a baby."
The Benham brothers have attributes and just a general vibe that, for years, have translated as "gay." But obviously there are a lot of straight men, even homophobes, who now exhibit these characteristics, seemingly free to act on their creative instincts, more comfortable about it -- precisely because of the queer movement's challenge to conventional ideas about masculinity. Some of these men might be bisexual, openly or not. But a few years ago straight men who were something like this were labeled with the (dreadful) term "metrosexual," except metrosexuals were straight guys who were secure in being fashionable in part because they completely accepted homosexuality and supported gay rights. The Benhams decidedly do not.
So have gay men actually liberated many straight men to the point that they can appropriate "gayness" even while still being virulently anti-gay? And is that a good thing or a bad thing?
Calling all HuffPost superfans!
Sign up for membership to become a founding member and help shape HuffPost's next chapter