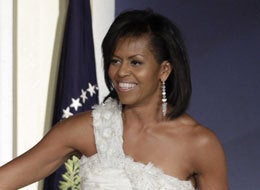 "If women themselves take the next step to live who they really are, then they can contribute to the changes taking place around us." Hilary Hart
Throughout history, the Sacred Feminine has been compared to a gem. As we know, a jewel has many facets, and Michelle Obama reflects one of them. With clarity of purpose, she exemplifies that natural, radiant style of leadership our Sisters communicate who feel free to express the truth of who they are. Both their way of authentically being themselves and the nature of their simple contributions restore our faith in humanity. Women who lead in the Way of the Feminine whisper to our heart. The world is a better place with them in it. People who are not afraid of living with an awakened heart, who are not threatened by accusations that this may mean they've lost their mind, inspire. In a word, Michelle Obamas's got heart. In a world gone awry with accusatory, blustery talking heads, America's First Lady goes about her business with clear and open heart, as well as forthright words, deeds. By example, like Hestia, she provides a living portrait of comfort in the storm.
Source of fascination. Around the world, it is not uncommon to overhear people say: "I feel like I know her, and she knows me. She seems familiar, comfortable, and natural." Why is this? Yes, Michelle Obama demonstrates the five cross-cultural essential behaviors contained in the spelling of the word heart:
1) welcomes us to Hearth and Home
2) Embraces the earth
3) Accepts the importance of showing Affection
4) Relates in refreshing, reassuring ways
5) Taps the Teachable Moment
Her capacity for connection is palpable. She's opened the White House in ways we've never seen before, believing, as does her husband, they live in the 'people's house.' We've seen photos of her groundbreaking the White House lawn alongside our children, in order to plant, educate, and encourage the importance of sharing what comes from the earth with the next generations. In venues like Miriam's Kitchen, some weeks ago, as well as with working mothers, and with military families, we've seen her relate in genuine, compassionate ways. By example, she taps the essential, the small, reminding us that we are not here on this earth to be grand or alone, but to share the moment through love. Mother Teresa understood:
"I don't do big things. I do small things with big love."
Historically, Hestia's been known as the goddess of the hearth. Michelle seems one of her daughters. In ways we've not seen before, she communicates an air of greater accessibility, and less mystique. No doubt the fact that she's got young children, and her mama, on board, helps that feeling of something strangely familiar. Regardless your politics, its hard to dismiss the appeal of a woman who's so grounded in who she is that she can welcome her mother onto the stage with nothing less than gratitude and admiration, and who can let go her own professional persona, embracing the change before her with open, well-toned arms. She's a marvelous example of that sort of woman who's beyond needing to prove herself, to 'get somewhere' other than where she is. Throughout human history, it has been the women who've worn this mantle who inspire us to be our own best selves, to give it all we've got. I love how Ani Tenzin Palmo puts it: "I think it was the Buddha's intention that in order to attain liberation, you have to give it all you've got."
Those of us, who have been pointing to the necessity of the return of the Feminine Spirit, if we are to make decisions which honor heart Wisdom, as well as the head knowledge, are smiling. Increasingly, we are seeing bits of evidence that Big Mama is on her way. She lives in endless forms of awakening men and women all over the world, those, like Michelle, who are standing in the truth of who they are. Through simple, humane vulnerability and relatedness, we return attention to one another. Myosho Virginia Matthews puts it beautifully: "In the vastness of love we can really meet each other."
The Feminine psyche is known for its comfort with vulnerability, including during times like these, when we face new frontiers. It's known for its organic connection with the finding unexpected beauty through our relation with the everyday earthly. David Whyte reminds me of a painting I once saw hanging in the Chicago Art Museum entitled "The Song of the Lark." The moment I saw the photographs of Michelle and the school children digging away in the earth to lay the foundation for their vegetable garden, the experience of this work of art came to mind. The artist welcomes us into a world that juxtaposes hard, earthy work, with the rapturous look of one who has found beauty in the song of a lark, whilst she's got grime beneath her fingernails, and is immersed in difficult labor. In her pause, with scythe in hand, she helps us feel that sort of Presence that reminding you that beauty co-exists, no matter how uncultivated, foreign our new frontier may be. Like America's 'First Mom', this woman has her feet well planted on terra firma. In the willingness to give beauty its due, in the face of hard labor, heaven is found on earth.
By way of contrast, check out politicians and what we used to call 'big men on campus' caught in their blame games. Whereas those who carry the Sacred Feminine dig into what's at our feet, do what needs doing to bring forth what nourishes, replenishes, inspires. The fact is that Sophia's Wisdom is showing up in her daughters, and this casts them in a very becoming light. Seen as the "Mother of Humanity," the Sophia archetype reminds us that 'all is well,' regardless outer appearances. She is the essence of what His Holiness; the Dali Lama calls "The Compassionate Heart."

Michelle stands in the center of what is greater than her, a reality, in itself, which makes one shine. Oswald Chambers reminds us:
"...It is inbred in us that we have to do exceptional things for God; but we have not. We have to be exceptional in the ordinary things, to be holy in mean streets, among mean people, and this is not learned in five minutes."
Michelle Obama, one of Sophia's many daughters, understands. She is a 'Heart Whisperer.'

What does your heart whisper? What heart-seed would you like to plant? What if you were to ground break by planting a pot with seeds that represent your devotion? Consider a perennial, or two. Imagine what might be possible if you became a gardener to the whisper of your heart! I'd love to hear from you and your friends, and welcome all you're willing to share/bring. Come on by!
In the spirit of this piece, I am starting a Facebook group later this week called "The Heart Whisperers." Let's gather, and grow as we focus on living more heart-based, joyful, 'song of the lark' lives together, and shine on! Love, Cara