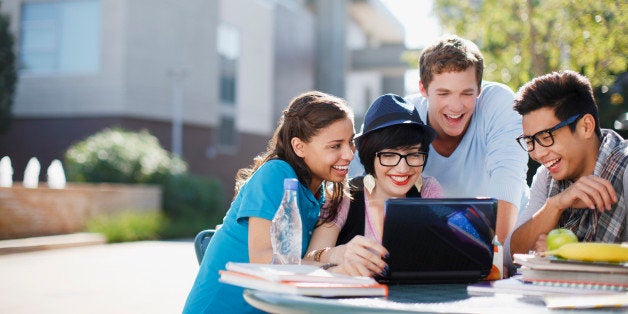 What makes you happy in college?
We reached out to college students across the country asking this very question, and here's what we got in response:
Late-Night Jam Sessions
Sometimes after a night out (or in), my friends and I will come together in our living room and have impromptu sing-alongs, busting out the guitars and ukuleles in our house and singing songs at the top of our lungs. Our neighbors may not appreciate it as much as we do, but there's something about live tunes at ungodly hours that puts us all to bed with smiles on our faces.
Freedom To Explore
What makes me happy in college is the freedom and opportunity to explore my interests either by joining clubs or enrolling in courses that I would otherwise not have had the chance to do. Unlike in high school where a majority of the courses you take are compulsory, in college you have the freedom to choose more courses that interest you and be able to study what you love. From fitness classes to organizations and events on campus, college provides a variety of opportunities to gain new skills and meet like-minded at the same time.
-Marsha Pinto, University of Toronto, Class of 2016
Shopping
-Skylar Dixon, Georgia Southern University, Class of 2015

-Julia Musto, New York University, Class of 2015
A 'Fun' Class
Just before I graduated from college a year ago, the real world seemed pretty daunting. I only had a few classes left, so I decided to step out of my comfort zone and take a "fun" class -- Intro to Painting. Waking up at 8 a.m. for a three-hour class twice a week isn't ideal during you last few months of school, but I found those six hours so peaceful that I began painting on the weekends and have now made it a hobby in my adult life. It became a form of therapy where I can be creative and have a tangible product from my long hours of hard work -- and it's definitely a cheaper and more colorful way to decorate my new apartment.
-Jessica Kane, Northwestern University, Class of 2013
'Nuff Said
Pizza.
-Melissa Andrews, Marist College, Class of 2015
Cookies
Happiness to me is these cookies.
Joy of Cooking Peanut Butter Cookies:
Preheat oven to 375
Beat until soft – ½ c shortening or butter
Add ½ c packed brown sugar and ½ c granulated sugar
Beat in 1 egg; 1 c peanut butter; ½ t salt; ½ t baking soda; ½ t vanilla
Add 1 to 1 ½ c flour
Roll dough into small balls Bake 10 to 12 min.
-Kendall Ciesemier, Georgetown University, Class of 2015
Midnight Cheesesteak
Pretty trees on ugly streets; a fraternity in the Christmas Spirit; flowers in the midst of textbooks; dorm room decor; midnight cheesesteak outings; the ice cream man during finals.
Photos taken by Whitney Mash:


-Whitney Mash, University of Pennsylvania, Class of 2014
Spirit Of Positivity
I consider myself really lucky to be involved in orientation programming for new students at my school. We spend eight days welcoming new students from all 50 states and tons of countries around the world, and they're the best eight days of the year. All 220 orientation leaders volunteer out of a genuine love for all 2,200 freshmen and transfer students, the university and helping other people. There is a spirt of wonderful positivity in the air when everyone is coming together to welcome the next batch of incredible new students to campus. We have the opportunity to make a positive change for the next people to care for our community, and we definitely leave things better than we found them. It makes me happy to be reminded of how much good my university can do for our students, and I'm constantly inspired by the students and staff that I work with.
-Jon Feldman, Northwestern University, Class of 2015
Ratatat
It's worth listening to the whole thing, but especially at 3:35!
-Eliza Sankar-Gorton, Wesleyan University, Class of 2015
Cleaning
-Hannah Krueger, Southern Utah University, Class of 2017
Macaroni Union
-- it's the perfect track when you need to calm down. And this short and simple video by gay life coach, Jordan Bach:
-Andy C. NG, New York University, Class of 2015
Netflix Marathons
Living Close To Friends
In college, what made me happy was that all my friends and I lived super close to each other, and our open schedules made it easy to chill whenever, wherever and however.
-Sara Ouerfelli, McGill University, Class of 2014
Related