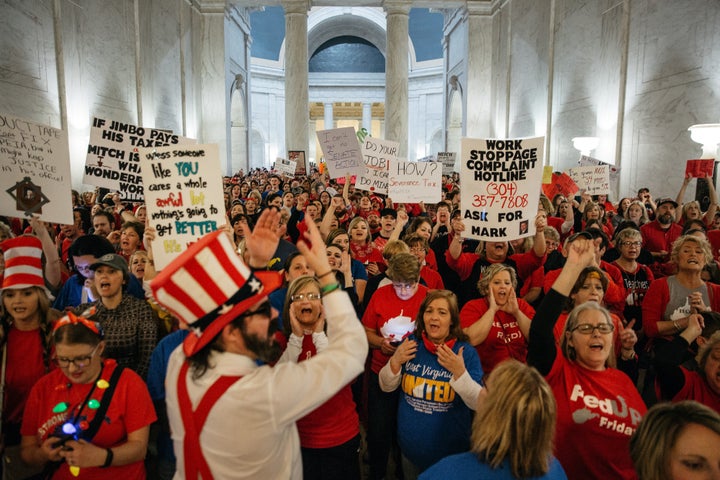 West Virginia teachers and school personnel just ended perhaps the most significant American worker strike in years ― and they did it in a state where public sector workers are supposed to have very little collective strength.
The state never intended for teachers to be able to flex muscle like that. West Virginia public sector workers don't enjoy formal collective bargaining rights under state law. They do not bargain contracts spelling out wages and benefits for members, the way public sector unions do in most other states. The teacher pay scale is set by the state legislature, making teachers' unions more like associations, lobbying lawmakers on members' concerns. Strikes are supposed to be illegal.
Despite those institutional weaknesses ― or perhaps because of them ― the unions and their members found a simple yet radical way to force the state to hear their demands on health care and pay: Shut down schools in every single county for nearly two weeks. Had the teachers been working under a collective bargaining agreement, the strike almost certainly never would have happened, since any such contract would include a no-strike clause to ensure labor peace.
"There was two months of organizing here."
Greg Cruey, a teacher and union rep who went on strike, said the West Virginia walkout should serve as a warning to conservatives eager to further weaken public sector unions. The Supreme Court may soon make the entire public sector a right-to-work zone, in a case intended to drive down membership in unions. If that happens, Cruey argued, the country can expect to see more militant actions like those in Charleston.
"Every municipality will have this situation where they say, 'Let's strike for what we want,'" Cruey said. "It's kind of a counterproductive process, where the right suppresses unions to a point where they get bigger instead of smaller. I don't think you can push it past a certain point."
The show of force from school personnel in West Virginia was unprecedented, driven by years of state belt-tightening. Teachers went on strike in West Virginia in 1990, but there were two key differences in that work stoppage: It did not include school personnel like cafeteria workers, and it only spread to 47 of the state's 55 counties. The recent strike included all school workers in every county, under the banner #55strong.
Such solidarity gave the workers an especially strong bargaining position. Early in the strike, West Virginia Gov. Jim Justice (R) traveled the state in what was widely seen as an effort to convince certain counties to reopen their schools, as a partial reopening would weaken the teachers' hand. If that was Justice's aim, it was unsuccessful. The workers who flooded the Capitol daily from all corners of the state continued to chant "Fifty-five strong" and "Fifty-five united," knowing not a single link in the chain had been broken.
Workers from each county coordinated to make sure they had bodies at the state Capitol each day representing their respective districts. The crowds appeared to be growing, rather than shrinking, as the strike carried on. With a line snaking along Capitol grounds on Monday, the state said the volume of protesters had "prompted a capacity concern" from the Capitol police and fire marshal. The sound inside the Capitol was deafening at times.
The strike drew its strength from that kind of grassroots planning. Randi Weingarten, president of the 1.7 million-member American Federation of Teachers, emphasized to HuffPost that the strike was anything but spontaneous. "There was two months of organizing here, including a daylong meeting of every single rep from all three unions from each of the 55 counties, where they came to the meeting with votes from all the counties to walk out," Weingarten said.
A secret Facebook group for West Virginia public employees grew to include 24,000 members by mid-February, as Cathy Kunkel detailed in Jacobin. There were scattered one-day walkouts in 10 counties before the state unions scheduled what was initially going to be a two-day walkout across the state. Without a satisfactory deal, workers in all counties vowed to continue it beyond two days.
The bottom-up nature of the strike became even clearer once Justice and union leaders announced a tentative deal to end it last Tuesday. The governor said all school workers would receive a 5 percent raise and other public employees would get a 3 percent raise to reopen schools last Thursday after a "cooling off" day. But the workers didn't like the lack of clarity on health insurance premiums, and they didn't trust state Republicans to follow through on the raises that Justice promised.
In a stunning turn, workers broadly agreed to continue what would then become an extremely rare "wildcat" strike, carried out without a green light from their union. Not every teacher agreed that was the right course of action. But in another show of solidarity, all educators stuck together and all schools remained closed. As one teacher put it, "My school was willing to go back today, but we stand by our brothers and sisters and aren't wavering in our support."
It was clear then that rank-and-file members were steering their unions, not the other way around. Their lack of faith in the legislature to follow through on Justice's deal proved prescient: Over the weekend, the state Senate added an amendment to the pay bill lowering teachers' raises to 4 percent rather than 5 percent. The unions responded by saying all schools would be closed again.
"This was a village with a capital V."
All along, the teachers and other workers managed to build and use public support to their advantage. By and large, residents were sympathetic to the workers and their aims, more likely to offer a supportive honk than a middle finger when driving by picket sites. Jenny Santilli, a high school Spanish teacher, said the workers could not have pulled off the strike without the backing of their school superintendents, many of whom, despite being the bosses, shared the same goals as the teachers. "This was a village with a capital V," Santilli told HuffPost.
That broad community backing bolstered the teachers' argument that the strike was about more than just salaries or insurance premiums ― it was about filling a 700-position statewide teacher shortage, keeping qualified educators in West Virginia, and investing in the state's children. It was that argument, more than anything, that convinced legislators to approve the 5 percent raise for all workers to get schools open again.
"We're already committed to making sure people in our field are registered to vote, so that they don't forget these emotions and that that carries over into November," Santilli said. "Our eyes are on 'em now."
Popular in the Community