by Kayla Woitkowski, SAS Manager of University Outreach and Recruitment
Interns have always been a part of the SAS culture. It makes sense - SAS originated while Jim Goodnight, founder and CEO of SAS, was a professor at NC State University. Incorporating students into our workforce helps us stay close to the university research and helps us drive innovation - and innovation is in our DNA. Over the recent years, though, we have re-designed our intern program to be more than just an internship. Interning at SAS is now an experience, and we are proud to have been recently listed among the Top 50 Internships from Vault, and specifically #4 for Tech/Engineering for 2017. So what is it about SAS' intern program that makes it so special?
1. SAS interns get to experience our award-winning workplace culture.
SAS is often referred to as the "pioneer of workplace culture". But why is that? I've been trying to put my finger on what makes this place so great ever since I started here just over two years ago. I think I nailed it down recently - at least from my point of view.
SAS is not my workplace... it's my second home. And I don't say that because I am here all the time; work/life balance is very important to me. I say it because when I am at work, I am surrounded by coworkers that feel like family. We take pride in our company and genuinely care about one another outside of meetings and project teams. My colleagues are always willing to lend a helping hand. I truly feel that I am surrounded everyday by some of the most intelligent and interesting people. When you mix helpfulness, compassion, and intelligence in a collaborative environment, you get amazingness. And that's what the SAS culture is to me... amazingness.
2. You can intern for a company that is making a difference in virtually every industry. And more importantly, a company doing good for the world.
When I first moved to Raleigh, North Carolina from Ohio for college almost 10 years ago I always heard about SAS because of the amazing work culture, but I had no idea the impact SAS was making across essentially every industry. Now that I work here, I'm blown away by the reach of our products. HealthCare, banking, sports analytics, government, pharmaceuticals - you name it. If there is data being produced, SAS is likely analyzing it. From fighting fraud in banking and government to helping to find cures to some of the world's deadliest diseases - SAS is making a difference around the globe every day. And it's incredible to be a part of the action.
3. Our intern projects aren't just busy work. You'll have the opportunity to make an impact.
We're a 14,000 person, multi-national company with internships in almost every area of our business. Sales interns can help generate real leads for our sales teams. Our R&D interns are contributing code to our software, helping our developers do their work more easily by creating automation tools, testing the quality of our software, and more. These aren't menial tasks. These are impactful projects.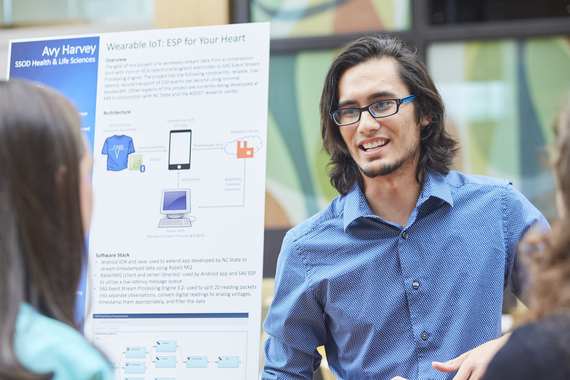 An intern at the annual SAS Intern Expo showcases his summer project to SAS employees.
Check this out: this past summer, we had an intern help build a database of photos of skin moles. The idea is that these photos could be used to help individuals identify whether or not a mole is cancerous by taking a photo on their phone. The app will then compare the photo taken with the database of cancerous moles to find correlations and share whether you might be at risk. Talk about making a difference. This intern project could end up saving lives! These are just a few examples that only skim the surface of what our interns do. We typically have internships in finance, human resources, consulting, and other areas - all of which provide a different flavor of meaningful work.
4. SAS is an industry leader in Analytics. And what is hotter right now than Analytics?
Big data is all the hype. Wearable devices and new technologies are all creating data 24/7 that needs to be analyzed. When SAS was established 40 years ago before analytics was considered 'cool', we started by analyzing agricultural data. Fast forward to today, and we've advanced our solutions to now be what I've heard called "the Cadillac of analytics software". That's because our software is reliable, trusted, and comprehensive. And we never stop innovating. Our new platform, SAS Viya, is ready for the complexity of the modern day IT infrastructure. With the Analytics field just beginning to really explode, it is a great industry for students who are seeking an exciting career path in an expanding market.
Because kicking off your career in an exploding industry means one thing for certain: Opportunities.

5. SAS Interns do more than just work. They learn, network, and grow professionally.
An internship with us is also about professional growth. We also host an annual Intern Expo - an opportunity for our interns to share what they have accomplished with over 5000 employees that work in headquarters (including our executives) via poster presentations. At the end of their intern experience, students understand who we are and what we do, they've contributed to the company in a meaningful way, learned useful skills along the way, and they finally know what the buzz is all about when it comes to our A+ culture.
6. OK, and the perks of working at SAS are pretty awesome, too.
On top of our meaningful work, our CEO and founder believes that if you treat employees like they make a difference, they will. In order to make a difference, employees need to be engaged, empowered, and inspired to come to work and do their best every day. For this reason, our Cary, NC headquarters (where most of our interns are based) features a sprawling, 900-acre campus including features like a full-service gym including classes and team sports, five subsidized cafeterias, hiking and walking trails, and much more. The internships are paid opportunities and for those that are not local to the area, we provide fully furnished, all-inclusive housing. Not a bad set up!
I feel so incredibly humbled and thankful every day to work for such an inspiring and innovative company. And I's even more grateful that my job is to help find the next generation of talent who will take SAS through its next 40 years. If you have an interest in the SAS Internship Experience, click here to learn more about our career opportunities.
Popular in the Community