A recent study suggested getting lots of tattoos might mean you have a kick-ass immune system. Or, opting for ink might be a way "for people to come together; to learn; to rebel; to respect history and keep tradition alive," says Matt Smith, 21, of Old Glory Tattoo Parlor & Barber Shop, a unisex Venice tattoo parlor/barber shop that draws locals, celebrities, and destination clients alike.
James Edward Quaintance III, professionally known as Jimmy Q, is a 27 year-old international model and one of the first tatted models to walk the European shows back in 2011. Along with Ash Stymest and Bradley Soileau he's responsible for the hot tatted boys look the industry is obsessed with right now. He's since signed with Next in Los Angeles; Wilhelmina in New York, and The Squad in London. As a Venice native, he can wax poetic about Japanese mindfulness concepts. He's a professional skater whose godfather was Jay Adams. And starting this month on Mondays, he'll be taking tattoo clients at Old Glory Tattoo Parlor & Barber Shop. Because Jimmy Q is a longtime friend of owner Shaun Foster, there had been rumors for a while. "I got a three-page letter from a woman explaining why Jimmy had to tattoo her," Foster tells me.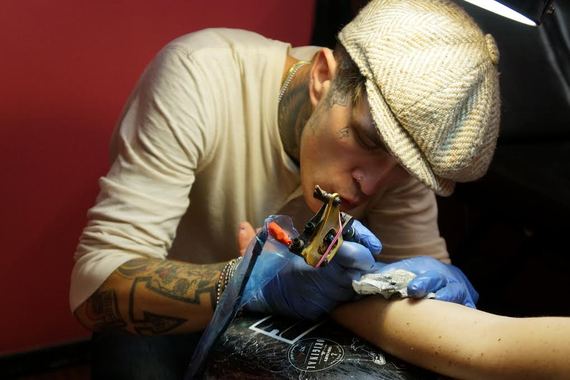 If you're a lady, you might walk right by Old Glory, as its exterior isn't one that exactly screams out to women. In fact, there's a definite club house feel to the shop. Says Foster, "When there's five chairs going and tattoos going down, it makes for a great vibe. It's a workin' man's country club."
I'm guessing with Jimmy Q tattooing on Mondays, this isn't going to be a boys only club. This might just be the best place to meet men in Los Angeles. "Our regular clientele is cool guys, locals, who care about maintaining their look," Foster explains. His staff also includes Teddy Boy Greg, a master barber and tattoo artist who's moving to Russia to open up his own spot. He's known for his precise, clean lines in both his haircuts and tattoos.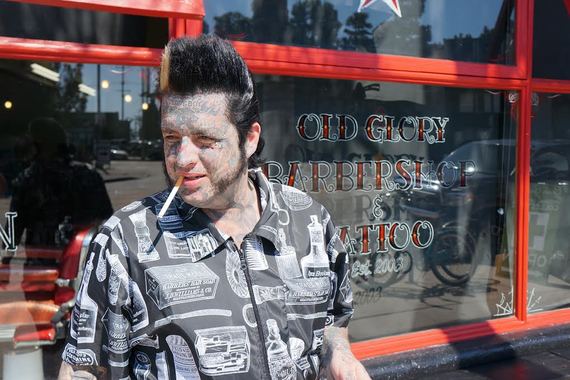 As for the rest of the men you might find here, Foster says, "Dudes come here because they care about the experience of getting groomed." And, who doesn't appreciate a man with good personal hygiene?
But for a moment, set aside the prospect of meeting a guy. The opportunity to get inked by an international model is reason enough for a gal to book an appointment at the Venice shop. And sorry, not sorry if this is a bit objectifying to men. There's certainly no dearth of articles out there enumerating the hot female tattoo artists in Los Angeles.
According to Foster, the most on-trend parts of the body for women to ink include "the ribcage, arm, and fingers. Obviously, Dr. Woo's style of fine, delicate lines is hot in L.A. right now. And Jimmy Q can "deliver those single needle designs."
But is beauty really that skin deep?
I ask one of Jimmy Q's recent clients, Dana Reichman, the cofounder of the beauty booking website Lifebooker, what made her book an appointment with Jimmy Q. "I've been thinking about getting a tattoo for years, and could never make up my mind about it. But the minute I saw Jimmy Q. I felt in my bones he had to tattoo me. And I couldn't be happier with how it came out."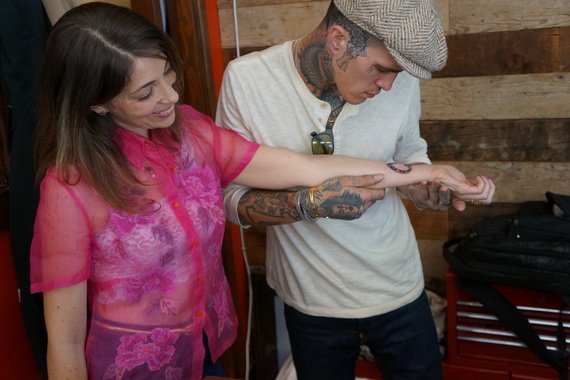 So what's so appealing about this guy? "I throw brow and never smile so I have a bad boy look," Jimmy Q jokes, gesticulating with an unlit cigarette. "But I'm a genuine good boy. A gentleman." Oh, yes. And why should women want him to ink them? "Because I'm very delicate, kind and respectable," he tells me.
Ultimately, your tattoo is about you. Or, as Smith reminds me, "because you have an intimate connection to the art." Feeling kind of shallow, I'm thinking the experience is pretty important too.
Photographs courtesy of Jimmy Q and Old Glory Tatoo & Barber Shop
REAL LIFE. REAL NEWS. REAL VOICES.
Help us tell more of the stories that matter from voices that too often remain unheard.