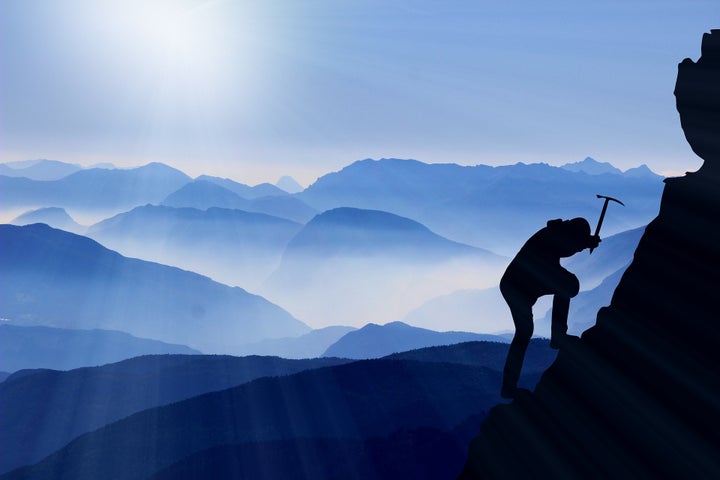 Most successful entrepreneurs have more than winning in common. They also have some characteristics unconnected to their industry that are critical to their success.
Consider even a small spectrum of success stories: a giant like Jeff Bezos, head of the Amazon empire that is getting bigger and broader by the day, say hello to Whole Foods online; or Dan Simons, co-owner of the most booked restaurant in the nation on OpenTable, Founding Farmers, that is just now venturing outside of their DC home base to a suburb of Philadelphia and has a mission to keep growth slow, steady, and sustainable to stay scratch-made and connected to family farmers; or undefeated boxer Floyd Mayweather, once the highest paid athlete, who has transformed boxer viewership and become boxing's first billion dollar fighter earning $178K per second at his last match.
What do these entrepreneurs know that most don't?
Knowing who you are and what you love is important in life and in business. It isn't existential or indulgent. It is practical. According to Dan Simons -- who coaches employees in professional and personal growth practices, time management, and the benefits of team work and transparency -- aligning your work with what you are good at (and alternately, staying away from what you aren't good at) is smart.
The business world often turns this sort of self-awareness work into a personal branding exercise, considered by some to be a key to success. Personal branding expert William Arruda suggests, however, your brand should not be linked to what you are trying to create, or how you want the world to see you, but who you actually are. He calls it "permission to be yourself—your best self" and involves "aligning who you are with what you do and how you do it."
Personal brand seems obvious for someone like boxer Floyd Mayweather, whose personality is intricately intertwined in his success. Or someone like Russell Nicolet, founder and attorney at Nicolet Law, who says "I'm just doing what I want to do….I'm super-competitive. I like winning. I don't like losing." And he doesn't. Russell had a couple come to him that had been in an accident working with a different law firm. They were positioned to possibly not even get a result that would even cover their own medical bills. Russell took the case, filed a lawsuit, and was able to turn around their situation, so that the case was resolved for three times the amount they had been offered previously. He says running a business and representing clients in court can be very similar. "If you're ready to fight hard, the results will come. You're going to win some, and you are going to lose some, but you never going to win any if you don't fight."
For others, like the Dobre twins (who are one of many using YouTube and other social media outlets as transformative business models), they are building their empires creatively and independently based entirely on a strong sense of who they are, what they like, and a desire to share it directly with the world.
Sheryl Sandberg who has moved well past her Facebook fame to a thought leader in the business world, disagrees with personal branding entirely: "If you think you are building your personal brand, please don't. You don't have a brand. Crest has a brand. Perrier has a brand. When I hear anyone talk about building their personal brands, I know that's not right… We're not packaged. And when we are packaged, we are ineffective and inauthentic. I don't have a brand, but I do have a voice."
Understanding your voice and using it is important work. If you don't know who you want to be when you grow up, or what you want to do, stop building your empire right now. Think. Get to know who you are and what makes you tick. And then get to it.
Know Where You Are Headed
When bestselling business author of all time, Steven Covey of the famous 7 Habits of Highly Effective People and its multiple spinoffs, says, "begin with the end in mind," don't be surprised this is a critical characteristic for success. Before you step one foot onto your entrepreneurial path, it is necessary to articulate precisely and clearly what you are trying to do and create.
Dan Simons says their Farmers Restaurant Group is mission driven. "We are majority owned by family farmers. We are in business to represent them, to support them, and to protect family farming for its instrumental role in maintaining the quality of our country's food and preserving our planet. When we align our operations to these goals, we have what I like to call, 'clarity of purpose,' and we don't get lost in the weeds or distracted by the next shiny thing. It makes it much easier to stay the course."
Owners of the Washington Nationals, the Lerners, are DC-area real estate magnates, a tight knit family who manage their baseball team as such, working closely and consistently, meeting every two weeks with a commitment to the future.
Mark Lerner told the Washington Post that his father and real estate entrepreneur Ten Lerner wants to win but "he's always stressed patience, and he's been incredible, more patient than me or anybody else… Stay the course.
Do it the right way. [I]t's enticing out there, but don't." With the Nats, the family is all about playing the long game. There is a lot of pressure to make quick plays in sports management, trades that promise immediate wins, which can be enticing. The Lerners are working to build a great team for DC, not just for tonight's game, but for a game ten years down the road. That is where they are headed and that is how they manage their team.
Know When You Are Awesome, And When You Aren't
Business is full of reasons to be courageous and bold. But you need more than bull in a China shop clumsy bravado. In the current world, where average is over and only creates average results, awesome is the name of the game. To play you need to be not only bold, saavy, sparkly smart, and innovative, you also need to know when you are awesome and when you should charge for the goal. And when you need to take a time out.
Consider, for example, the amazing rags to riches story of millionaire author and entrepreneur JK Rowling, who always knew she was going to be a writer and didn't stray after repeated rejections from publishers and struggling through very troubled times, as a single mom, depressed, and on welfare.
Or Fred Smith who got the ultimate smack down for his world changing idea from his Yale professor and built the FedEx empire anyway. Or even Steve Jobs who created a furor over many electronics but most especially the iPhone that no one knew they needed until they had one. The list is endless and diverse. These people are without a doubt bold and courageous, but they also have something that many of their cohorts don't. To make it and to make it big, you need to get out there and be awesome.
But you also need to know when you aren't awesome. Success also comes from being good at the gamble, or as Kenny Rogers would say, you gotta "know when to fold 'em, know when to walk away, know when to run."
Pay attention to your rough spots, examine them, and consider whether you are trying too hard to make something work that shouldn't. Or as the great and powerful Oprah Winfrey says, "Challenges are gifts that force us to search for a new center of gravity. Don't fight them. Just find a different way to stand." In business, this means always be prepared to pivot.
The tech world, in particular, is famous for such pivots. Whether it is Nokia who got their start in the 19th century as a wood pulp and pivoted all the way into the innovators of the mobile phone, or to many of the popular social media apps -- from Facebook and Twitter to Instagram and YouTube – who all started out another way. All were developed by entrepreneurs who were aware enough to realize when their big plans were not as awesome as they thought they were. So they tried something else.
Know What Relationships Matter Most
Friends come in all shapes and sizes. Sometimes it is your investors, sometimes it is your customers, sometimes it's your advertisers, sometimes it's your partners and all of the people that work for you. More often than not, it is a complicated combination of all of them. Whoever they are, it is important to really get know what relationships are the most important for the success of your company and nurture them.
Patrick Lencioni, author of the national best-seller The Advantage, has a lot of wisdom to offer on what he considers the "single most untapped advantage" in business: teamwork. Whether you are a natural team player or not, it is worth your time and effort to learn the best practices for selecting your inner circle, taking care of these relationships, listening well, and learning how best to work together.
Dan Simons, who also teaches an undergraduate business seminar at George Washington University is a believer in the power of teams, but he is also quick to remind his students and staff not to forget about your relationship with yourself.
"Be your own mentor. Develop an open and honest dialogue about how you are doing and be responsible for your actions and their impact. If you weren't great today, or in a particular meeting, figure out what you need to do to be better tomorrow. Always be working to improve yourself. This capacity to self-mentor, to know when you are doing well and when you aren't, is what helps the winners win."
Popular in the Community