This is the first post in a series written by Jaclyn Mullen entitled, "She Shall Overcome." Each post will profile how everyday women are turning their obstacles into opportunities.
We've all heard the term, "When your heart leads you in a different direction." But for most, the term isn't literal...unless you are Heidi Burns. From the moment she made her debut in this world, Heidi, the Founder of Project Happy Hearts, had to listen to her heart. She was born "blue" due to a condition known as Tranposition of the Greater Vessels. That meant, merely a newborn, Heidi was transported from a hospital in Orange County to Boston's Children Hospital for a "switch surgery." She was the 100th baby to undergo the procedure at the time.
Despite this matter of the heart in her earlier years, Heidi went on to live a healthy childhood. In fact, by the beginning of high school, she was a cheerleader and even ran on the cross country team. Then one day at practice, she collapsed. Heidi told me, "I called my dad and said, "I think I just had a heart attack." We went to the emergency room where they said I was fine. I kept running all through college and until I was 25 years old with massive amounts of chest pain."
Chest pain so bad that this time last January 2014, Heidi, now 26, underwent her second open heart surgery.
"I was sitting at my desk at my corporate, tech job in San Francisco and looked at my coworker and said, "I am almost 100% positive I am having a heart attack right now." Again, I went to the emergency room and they said I was fine. But I wasn't taking "fine" for an answer. I was 25 years old and did not deserve to feel like I was going to die from chest pain every other day. At that point, I went to Stanford Medical Center and after several tests my cardiologist and a surgeon met with me and said the fix to this problem would be open-heart surgery. My mom was with me and asked, "If this was your daughter, what would you do?" The surgeon replied, "If she was my daughter, I would have had her on the operating table a month ago." I scheduled the surgery immediately."
As she was about to go under anesthesia, I asked Heidi what thoughts ran through her mind. "I was scared that I would wake up feeling worse, or worse yet not wake up at all."
When she did in fact wake up from surgery, it was an eye opening and heart opening moment for her. She began to examine, "What makes my heart happy?"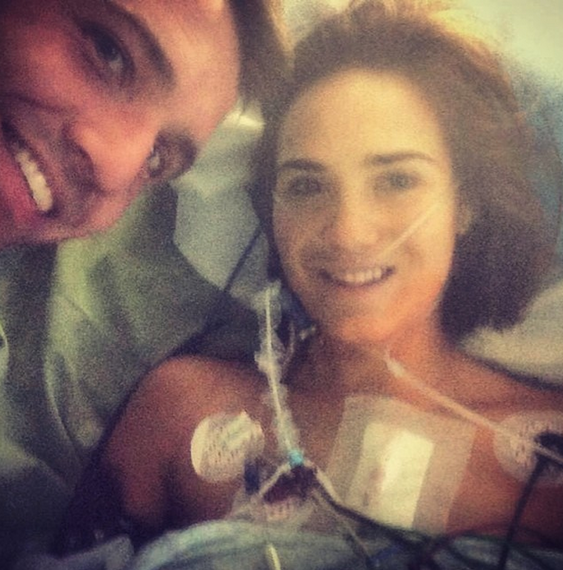 It was a question she then redirected to close friends, family and customers when she launched her social good apparel line, "Project Happy Hearts." The very first shirt had the words, "I woke up this happy" screen printed across the front. It was a nod to how Heidi felt knowing she'd been given a second chance at life.
To launch her line, which gives back to children suffering from congenital heart disorders, Heidi quickly took to social media specifically Instagram. And rather than promoting the brand, she simply posted a picture with a sign and asked a simple but often overlooked question, "What Makes Your Heart Happy?" The response was overwhelming! People replied to her post with "travel", "family", "love" and more. Before she knew it, her apparel was selling out, without the boost of any paid advertising.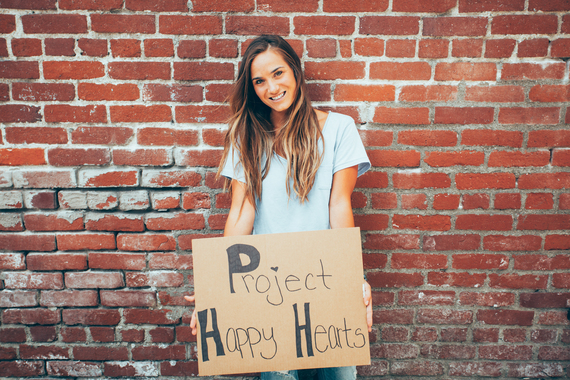 I asked Heidi if fashion had always been a passion of hers. The answer was surprisingly "no." She doesn't consider herself artistic and finds humor in the fact she is color blind. One thing that's not a laughing matter is her commitment to the mission and her passion for connecting people.
"If you wake up happy your day will be 100 times better," she shared with me.
As an entrepreneur myself, one who practically lives in the digital space and loves to blog, Tweet, post and connect (one who met Heidi on Instagram), I asked about the role the Internet has played in her business.
"If I could give the internet a HUGE HUG I would," she told me. "Social Media has allowed me to share my story and connect with so many AMAZING people. One of the first families I connected with was from Instagram, later that week I was in their home hanging out with them and praying for their baby who was in need of heart surgery. It was incredible! Also, I did a small Indiegogo fundraiser to raise money for our first product and website. It was awesome to see people form a community and support Project Happy Hearts. Online shopping, social media, crowdfunding ...that is where you are going to watch your business take off in today's world."
With the year anniversary of her second heart surgery now behind her, I also asked what she looks forward to in 2015.
"I can't release too many details... BUT, Project Happy Hearts is launching a product soon that will be in hospital gift shops throughout the United States. Our vision for 2015 is: To bring happiness to hospital patients living in the midst of chaos. We hope for the Happy Heart experience to be in 10 hospitals by the end of this year and we hope people around the world keep asking themselves, "What Makes Your Heart Happy," and then go make it happen!"
So, I can't help but ask as I end this piece: "What makes your heart happy?"
Heidi and I want to know.
Support HuffPost
A No-B.S. Guide To Life
Related
Popular in the Community