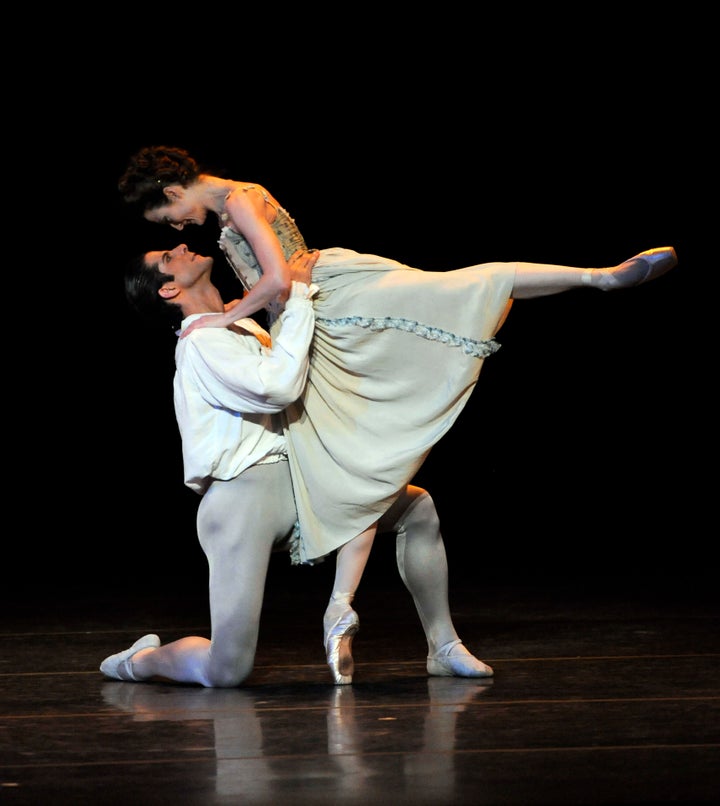 As winter storm Jonas bore down on the East Coast on a Saturday in late January, cities announced transport and road closures. People retreated inside to Netflix and chill as snow filled the streets. Stores shut down. And then, Tiler Peck, a principal dancer at New York City Ballet, posted to Instagram a video of the company being informed that the day's matinee and evening performances had been canceled.
The rehearsal studio exploded with cheers. Peck's fellow principal Sara Mearns did a giggly little victory dance and soon took to Instagram to post pictures of herself doing arabesques in the snow. It was a charming reminder of something that tutus and pointe shoes are designed to disguise: ballet dancers are people, too. They're people with jobs, just like you and me. Ballet is hard work, and even when you love your job, you get excited about a day off.
In this series, The Huffington Post profiles some of the best ballet dancers in the world, working in some of the rarest and most unusual work environments imaginable, to try to understand how they deal with the same workplace issues that confront the rest of us mere mortals. Most of us don't get literal standing ovations from hundreds of people when we do good work. And most of us don't have to visit the physical therapist at the beginning and end of every work day. But no matter what sector we're in, the big questions are the same: What does it mean to have your body under scrutiny on the job? How does it feel to be asked to represent your entire race in a company meeting? How do you find the right people to mentor and guide you?
In our first installment, we talk to Marcelo Gomes, principal dancer at American Ballet Theatre, about what it means to be a man in an industry that so many people associate with femininity, and how to be such a good team member that people fight over who gets to work with you.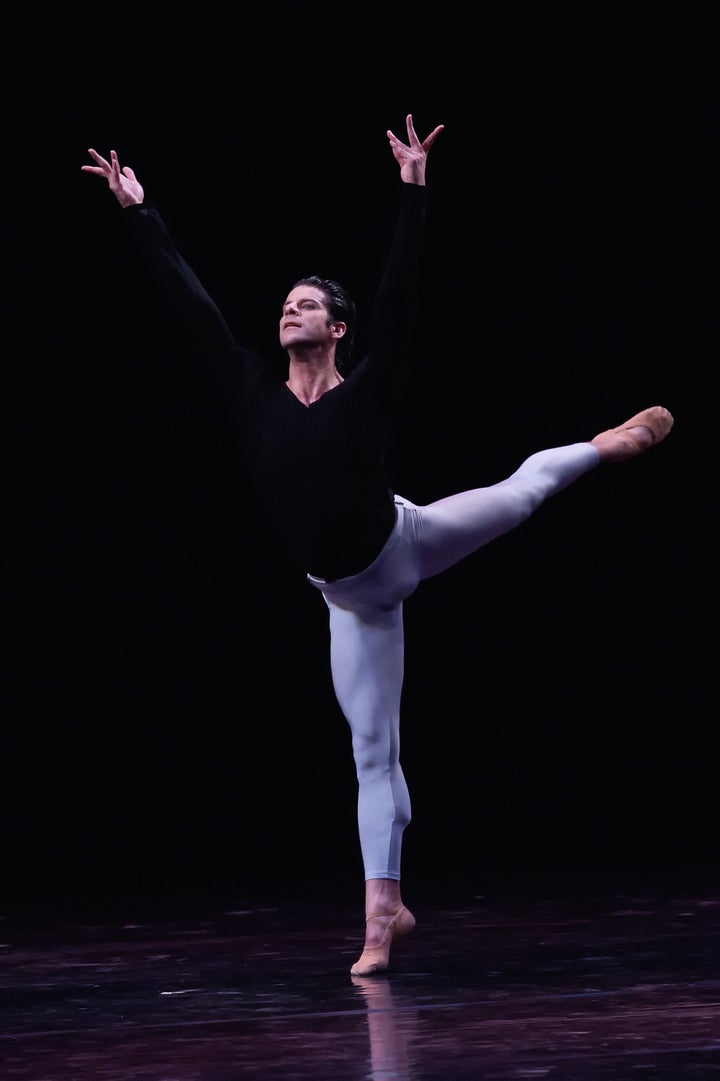 Marcelo Gomes is running late. The digital clock on the wall of the studio, one of many in the nondescript Flatiron district building that houses the administration and rehearsal space of American Ballet Theatre, shows the minutes ticking by as the piano tinkles in the studio next door. By the time Gomes arrives, it's a few minutes after noon, but you can hardly blame him for needing a couple of extra moments; he's been working his body since 8:30 a.m., and he's still got another two hours of rehearsal in front of him before lunch.
Today, he's rehearsing "The Firebird," in which he'll dance the lead role of Ivan opposite ballet celebrity Misty Copeland, who'll play the eponymous creature. He last performed the choreography when it premiered four years ago, and the purpose of today's rehearsal is to jog his muscle memory. Ballet mistress Nancy Raffa, once a member of ABT's corps de ballet, has been watching the video of one of his 2012 performances, and is there to reteach him the choreography, and to remind him how he inflected it with his own personal quirks -- a slow turn of the head here, a slightly deeper bend of the wrist there.
Because there will be multiple casts for this ballet, Gomes is joined in the studio by another principal, Alexandre Hammoudi, who also needs to relearn the steps. Hammoudi is injured today, so he's not fully dancing. As Gomes practices the choreography, Hammoudi stands 10 feet over his shoulder, half-mimicking his movements like a kind of lazy shadow.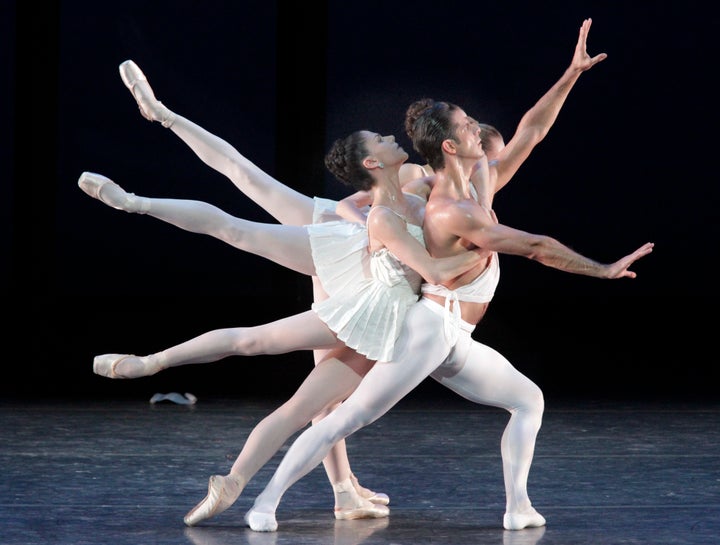 Raffa shows Gomes the first few counts of eight, and he practices them a few times, the leaps getting higher and the pirouettes faster with every run-through. Within minutes, he's sweating and peeling off his sweatpants to reveal a pair of bright red running leggings, which in turn reveal a pair of quads you might expect to find on a hockey or soccer player. But ballet demands that men develop elegance and grace, as well as the kind of brute strength required to launch yourself into the air and lift your partner above your head. Gomes is clearly immensely strong, and he's also capable of remarkably delicate, tender movements.
As Raffa shows him the next few phrases of choreography, he puts his head in his hands, laughing, "Oh my God, I have no recollection of this." "It'll come back to you once you hear the music," Raffa reassures him. He runs through it with the music, struggling a bit at the end. The pianist stops, and Gomes and Hammoudi look at each other, hands on hips and eyes wide, Gomes panting slightly. He lets out a sound that's half groan and half laugh, commiserating with his friend over how challenging the choreography is. "And it's really faster than this," Raffa reminds them.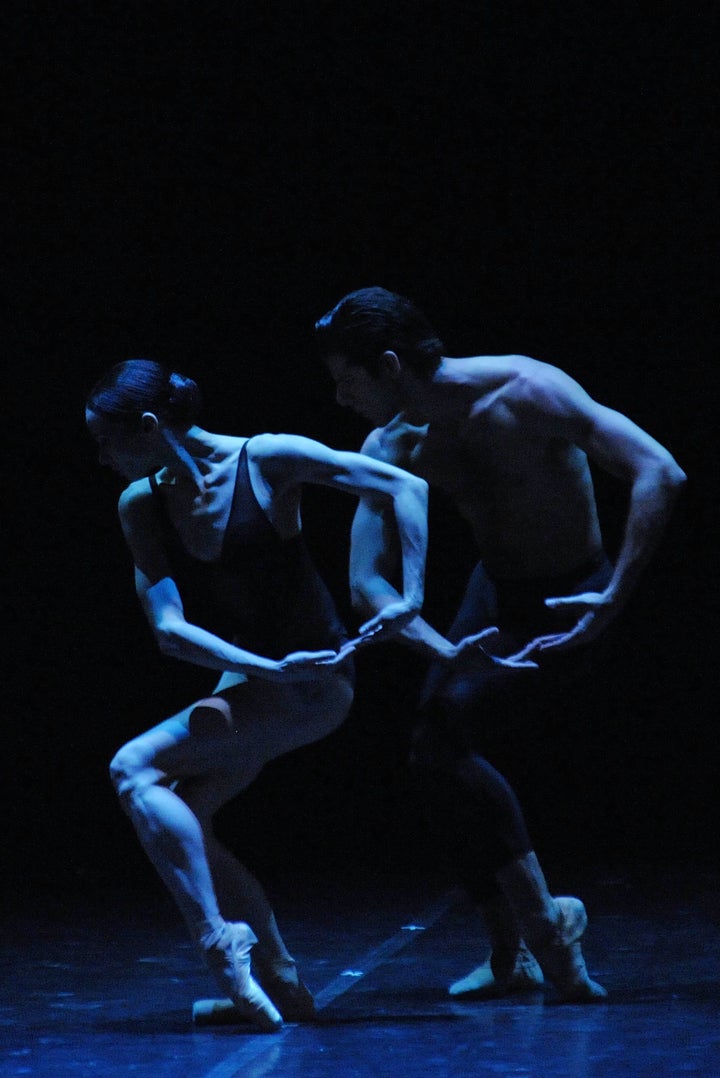 Gomes, 36, was born in Manaus, Brazil, and started taking jazz dance classes when he was 5 years old. When he was 8, he decided he wanted to learn ballet, a choice that his parents supported immediately, but that raised eyebrows elsewhere. "People made fun of me a lot," he says. He was the only boy in his ballet classes until he left Brazil at 13 to train in Florida, and then Paris. No one in Brazil minded that he wanted to dance; "it was when I wanted to be a ballet dancer that it shocked people."
Trying to explain that shock, he grasps for the Portuguese word preconceito, then reaches for the translation app on his phone. Preconceptions. "There was a bit of a taboo that I did ballet," he explains, in part because it bucked Brazil's gender norms. "Boys played soccer, and that was it. And I didn't want to play soccer. I was lousy at it. But I had to go to the matches, I had to go to practice. I still had to play. But I was so devoted to my dance classes that I used to eat lunch in the car and then go straight to the ballet studio from school. And then I was the happiest that I could be because I knew that was the place."
Though men do, of course, dance in Brazil -- a lot -- there's a difference between street dancing or samba and classical ballet, which is foreign, and widely perceived as a more feminine style of dance. Unlike in Russia, where ballet and machismo are not mutually exclusive, Brazilians, like Americans, largely associate ballet with femininity.
With femininity, and with sexuality. "People are always surprised, when they ask me if everyone in the company is gay, and I say, 'No, actually, everyone's straight!'" Gomes is gay, though, and in 2003, when he was 23, he became the first ballet dancer to come out on the cover of The Advocate; the headline was "ROMEO IS GAY."
"That was huge for me, because I wasn't fully established as a dancer at the time. But I was so sick of the little questions from the media about 'are you seeing someone?' They were pushing me to come out, and that was my way to stop the questions that were backing me into a corner." He says he doesn't ever wonder why all the roles for men in ballet are straight -- "that's where your acting ability comes in, and when I'm kissing Juliet, I'm not myself" -- but it is a little odd that a discipline that outsiders so strongly associate with gay men is built entirely on a canon of straight love stories.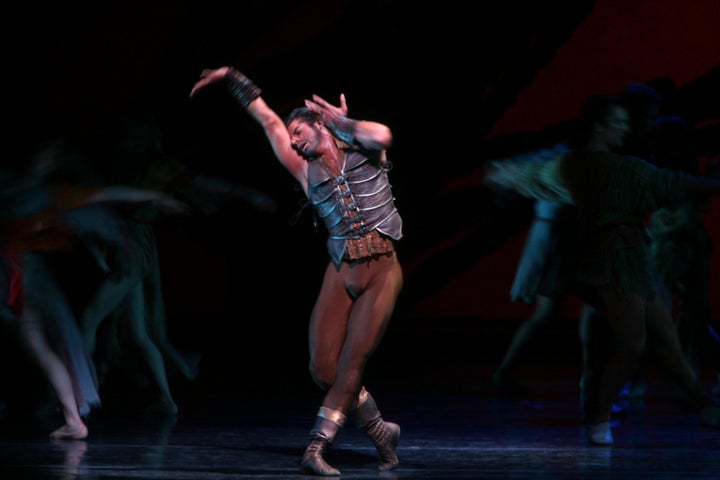 There's no room for gay characters and same sex love in "Swan Lake" or "Giselle." As for homophobia outside the ballet world, Gomes acknowledges that if he lived in a more culturally conservative place than New York City, he might encounter more negative responses than he does when he tells people what he does for a living. For the most part, he says, "the response is wonderful."
Still, the demand that men in ballet almost always play straight highlights the many, sometimes contradictory, demands that the discipline places on men. When I suggest that in a lot of ballet, and particularly in pas de deux -- a dance for two people, almost always a man and a woman, and a staple of classical ballet -- it can seem like the man is merely there to make the woman look good, Gomes visibly winces. "Ouch!" he objects. "I think that's changed a lot."
Now, he says, men are expected to be great partners who can make a ballerina look good, but they also need to be spectacular jumpers and turners, a shift that began several decades ago with the jeté and pirouette pyrotechnics of Mikhail Baryshnikov. And, to be truly world class, they need acting ability as well as technical prowess. Basically, men in ballet are expected to do it all -- but at least they don't have to do it in pointe shoes.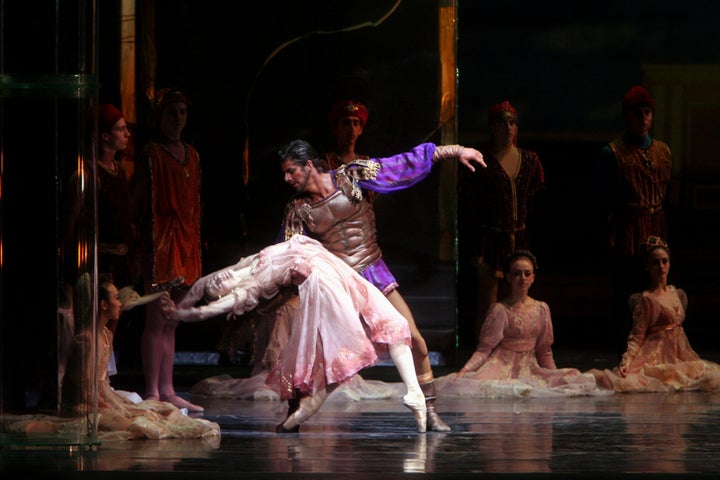 It's not unusual for male ballet dancers to find themselves in disproportionately high demand: as Gomes himself discovered from being the only boy in his classes, there's a shortage of men and a glut of women in ballet. In the junior stages, teachers are often delighted just to have a boy in the room, even if he's a middling talent. And "it's always been harder for the ladies than for the men, getting into a company," Gomes says. "There are just so many ladies, and so many great dancers out there."
Even though the numbers favor male dancers, the culture often doesn't: because ballet is so heavily associated with women, and with gayness in a world where sexuality remains stigmatized, Gomes thinks it still takes enormous determination for boys to become ballet dancers. "It's not just a mean teacher saying 'no, no, no, no, no,' which is a thick skin you need to have in order to be in the studio… when you get out of the studio, you have to face a whole bunch of other things," from incessant teasing at school to the cost of training.
Though Gomes is technically excellent and a compelling actor, it's pas de deux partnering he loves most. He prides himself on being a good partner, on making the ballerina look great and feel safe, and ABT principal Gillian Murphy has joked that she and her fellow ballerinas fight over who gets to dance with him. He's clearly flattered by his status as one of the company's most sought-after partners.
Perhaps it's no coincidence that his favorite television show to watch at the end of a long day of rehearsals is "The Amazing Race," which, when you think about it, is guilty pleasure TV's ultimate pas de deux. And when asked about what parts of the upcoming season he's most excited about, he lists the ballerinas he'll get to dance with, rather than the roles he'll play. But then, he says, he's very much looking forward to once again dancing Romeo, the role he was playing when he publicly came out 13 years ago. He's performed it many times since, but as with "Firebird," he'll have to be reminded of the steps; it's been over a year since he danced it last.
"It's nice to revisit it, one year on, one year off," he says. "Once you get it under your belt, the more things you see, the more things you experience, you see it totally differently. It's like life."
New York City performances of Alexei Ratmansky's "The Firebird" begin on May 18 at the Metropolitan Opera House.
PHOTO GALLERY
Ballet Dancers You Should Know
Calling all HuffPost superfans!
Sign up for membership to become a founding member and help shape HuffPost's next chapter