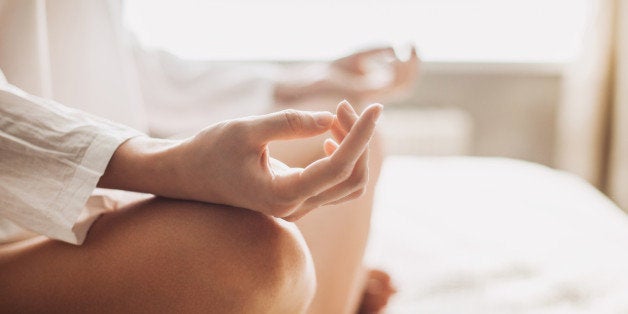 All the talk these days about mindfulness gets me down. Sit. Listen. Observe. Smell. Take it all in. But I don't want to! I meditate so that I don't have to listen to my 13-year-old threaten her 8-year-old sister or watch my son as he clacks on the keyboard, killing small virtual terrorists in a faraway video-land. I meditate to get away from it all. Twice a day, every day. What mother doesn't need a vacation?
When I first sit and meditate, the experiences of my day are stuck together like the layers of a two-day-old lasagna. I offered my daughter my overnight conditioner and it cut me when she spat out, "I have my own conditioner... REMEMBER?" I felt a current of shame run down my spine when I realized that I forgot to sign my son up for the SAT subject test. Was it OK that I told my best friend from high school that I didn't like the way she hasn't been returning my calls lately?
And then a funny thing happens. I feel as if I float to the clouds and I experience the events and people of the day from a different vantage point. Everything seems like a much smaller deal. So what if my daughter doesn't want to use my conditioner? All I really wanted was to crack the surface of her adolescent indifference and see her sweet side again. I was fishing and she slipped off my hook.
After a short time, maybe five minutes, I remember standing with my mother at the kitchen island and, apropos of nothing, she would offer to pick me up from practice or cook me an egg. Sometimes, I could feel that she had made a decision to be warm to me that day and I felt manipulated and, always, I said no to the fried egg or the ride home. The words that hung between us were awkward. In truth, I was not sure what they meant. Maybe she was sorry for being a little distant the day before.
When I meditate, I stop seeing everything from my point of view. I feel as if I can float back and forth between my daughter and myself, as if I am not limited to the boundaries of my skin. Eventually, I start to feel my soft center and my daughter's too. On the inside, we are so much alike. A little sensitive. Vulnerable. We can feel everything around us. We both have a great capacity for love, but that can be interrupted if we feel hurt. But really, we are like everyone else; all we really want is to share our love and to be loved.
I remember what it was to hold her when she was two hours old and to pick her up out of her crib as the sun brought a frame of light to the window. And, of course, I am the grown-up in the pair; it's up to me to reach into the space between us and touch her upper arm and remind her that I love her. Not regular love. Big love. To the moon and back love.
When I meditate, I remember that the real world is not made up of hair conditioner and video games. It's made of the love that runs underneath it all. That indescribable feeling is an underground river that curves before it comes to the surface. Meditation is how I navigate my way back to the deep river, and the greatest thing of all is that it is always there waiting for me. I just have to remember to turn away from the sound of the video games and move into the silence inside.
This is the eighth in a series of 10 posts by Paula Throckmorton about (re)discovering ourselves through motherhood. Follow along with the hashtag #HoldingLove!