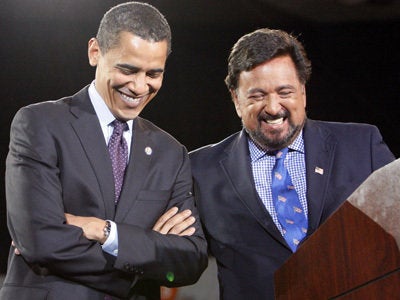 Shortly, voters will elect the 44th President of the United States. If they chose Barack Obama (D), Democrats would take back government after an eight year absence. So, what might an Obama-Biden cabinet look like?
Here is one Democrat's assessment of who might be seated around the Cabinet Room table shortly after January 20, 2009 if Obama is elected president, based on my knowledge of the various players in Democratic circles, the people who currently advise Obama and who appear as campaign surrogates, and a review of other similar assessments of who might tapped for a possible Obama administration post.
(Note: Here's an update to this post with official leaked names of who are being considered for an Obama Cabinet.)
President: Barack Obama
Vice President: Joe Biden
State: Bill Richardson, Richard Lugar, Greg Craig, John Kerry, Sam Nunn
Treasury: Sheila Bair, Timothy Geithner, Eugene Ludwig, Laura Tyson
Defense: Chuck Hagel, Robert Gates, Jack Reed, Richard Danzig
Attorney General: Janet Napolitano, Eric Holder, Hillary Clinton, Artur Davis
Homeland Security: Lee Hamilton, Tony Lake, Richard Clarke, Tim Roemer
National Security: Anthony Zinni, Greg Craig, Samantha Power, Susan Rice
Agriculture: Tom Vilsack, Colin Peterson, Tom Daschle, Jim Leach
Commerce: Kathleen Sebelius, Ed Rendell, Penny Pritzker, Olympia Snowe
Education:George Miller, Tim Kaine, Linda Darling-Hammond, Joel Klein
Energy: Brian Schweitzer, Arnold Schwarzenegger, Jeff Bingaman
HHS:Howard Dean, Hillary Clinton, Julie Gerberding, John Kitzhaber
HUD: Shaun Donovan, Shirley Franklin, Jesse Jackson, Jr., David Gottfried
Interior: Lincoln Chafee, Christine Gregoire, Brian Schweitzer, RFK Jr.
Labor: David Bonior, Dick Gephardt,Dan Tarullo, Linda Chavez-Thompson
Transportation: James Oberstar, Ed Rendell, Earl Blumenauer, R.T. Rybak
VA: Chet Edwards, Max Cleland, Patrick Murphy, Tammy Duckworth
UN Secretary: Susan Rice, Caroline Kennedy, Lee Hamilton
EPA: Kathleen McGinty, Ed Markey, Mary Nichols, Lincoln Chafee
Council of Economic Advisers: Austan Goolsbee, David Cutler
Chief of Staff: Tom Daschle, Greg Craig, David Plouffe
Supreme Court nominee (when available): Cass Sunstein, Hillary Clinton
Calling all HuffPost superfans!
Sign up for membership to become a founding member and help shape HuffPost's next chapter