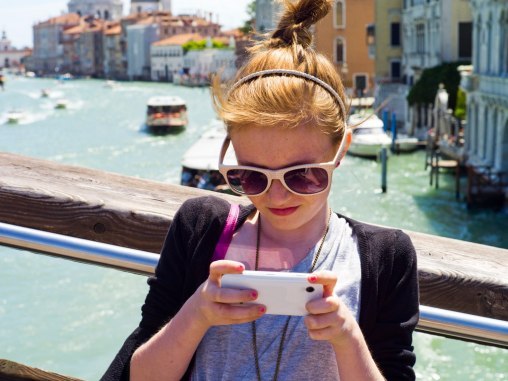 They haven't been traveling long, but it may be that Millennials, those precocious darlings of demographers born in the mid-'80s, are the world's most accomplished travelers. A recent survey by Expedia and its business-travel arm Egencia, reveals that the young among us travel for leisure more than anyone else, are well-versed in what makes for a good travel experience, and are willing to voice complaints loudly when their expectations aren't met.
Whatever your age, the travel tricks of Millennials offer generally good guidance, as the Expedia survey of more than 8,500 travelers in 24 countries reveals.
-They spring for good meals (and spend more when they do).
When traveling on business, about two in five survey respondents say they'd spend more on a meal than they would if spending their own money. Roughly the same percentage would spring for room service. It's more evidence that Millennials are traveling, in part, for the food -- and not just so they can Instagram it but so then can enjoy it.
-They take nearly nine trips a year.
Combining business and leisure trips, travelers under 30 take nearly nine trips a year. Granted, some of those might be short hops to visit college friends or nearby destinations, but in many cases, a getaway's still a getaway.
-They happily add personal days to business trips.
Three of five travelers under 30 have extended work trips into vacations, further blurring the lines between business and pleasure. And why not?
-They like in-flight Wi-Fi but they can live without it.
"In-flight Wi-Fi was not a high priority among business travelers," Expedia says, and its survey found that it's even less important to leisure travelers. While it's certainly convenient to stay connected in the air -- particularly on longer flights -- even the always-on Millennials seem to enjoy a few hours of decompression at 37,000 feet.
-They're more likely to speak up about truly bad service...
The young are the most likely age group to post a negative review of a travel company online. Expedia saw that hotels are "narrowly edging out restaurants" for the dubious distinction of most complained about travel category.
...But they also withhold their wrath. Two out of three having never posted a negative review. While four out of five Millennials say online reviews are important when making travel decisions, the majority of them don't admit to ever posting negative feedback online. Perhaps if these youngsters can't say anything nice?
More from Condé Nast Traveler:
Related