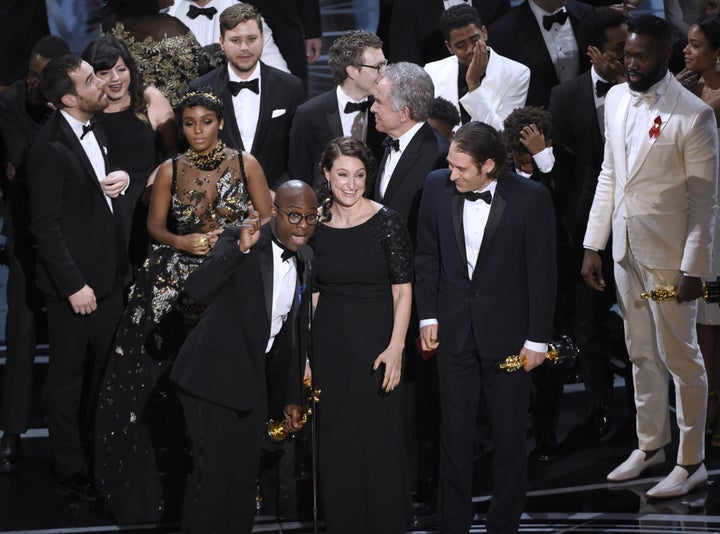 When I was a child, the moon fascinated me. Its silence, luminance, distance. I often dreamed about how it felt to be weightless, to see the earth from its surface, to be Black and queer in outer space. Admittedly, I never imagined how my skin might look in moonlight until I saw Sunday's Oscar winner for Best Picture.
Moonlight's win shattered the proverbial glass ceiling. As shards fell, galaxies both real and imagined harked. From the cosmo's of Myles Johnson's Large Fears to la chambre of Baldwin's Giovanni's Room to the mouths of Marlon Riggs's Tongues Untied. Black Queer literary giants stood taller.
The victory resounded beyond literature, bells rung in the ears of every moonlight across the world. And there we were, free Black and brown queer, trans and nonbinary children, witnessing and winning.
And yes, the taste of victory is sweet. The sensation: infectious yet unfamiliar. Too often, Black queer creators taste not the ambrosia of victory, but, instead, the poison of defeat. Positioned far out beyond the seats of desperation in the hallways of hope, Black queer artists wait and ask: When will it be our turn?
Tarell McCraney said after winning Best Adapted Screenplay:
"This goes out to all those Black and Brown boys and girls and non-gender conforming who don't see themselves, we're trying to show you, you and us, so thank you, thank you, this is for you."
Moonlight saved my faith in filmmaking. At a time when I felt like my work was unworthy, Moonlight's victory says otherwise. The win brought validity to my capstone project, which centers around a Black queer homeless youth: a story inspired by my own experiences with abuse, familial betrayal, and homelessness. Similar to McCraney and Jenkins, I hope my authenticity resonates with those whom I have never met and shines as bright as my ancestors who dance across the sky.
Those ancestors like Baldwin and Riggs witness us telling their stories and others to larger audiences. But oddly enough, great triumphs always seem impossible until they are done. Like traveling to the moon, a Black queer film winning an Academy award for Best Picture seemed impossible until it wasn't.
"There was a time when I thought this movie was impossible, because I couldn't bring it to fruition. I couldn't bring myself to tell another story. Everybody behind me on this stage said, no, that is not acceptable. I want to thank everybody up here behind me."
But sometimes those behind us do not support us in our totality. For instance, my soon-to-be alma mater Morehouse College has not always been the best at including my queerness and non-binary identity in its community. Though I attend a historically black men's liberal arts college, there are times I feel like the blackest things about me — my poorness, my queerness, my rejection of the Western gender binary — are rejected.
In those times of rejection, I imagine Solange's lyrical cranes in the sky as I try desperately to drink, to dance and to work my pain away in an paradoxically oppressive space. In those times of rejection, literature became my escape. In those times of rejection, I chose filmmaking for my liberation.
The Quran says, "To save one life is to save all of humanity." Film saved my life. Moonlight saved my life.
So yes, we must focus on wins, not the mix up. The chaos doesn't deserve the attention. Moonlight deserves it all.
For once in a blue moon, Black queerness surpasses white cis heteronormativity at its own game. For all the wrong reasons, many speculated Moonlight to lose. But for all the right reasons, it won. And victory's taste is irrefutably delicious.
Indeed, Sunday night's win was for so many as Jenkins named but, in particular, it was for so many other Chirons, for so many Black boys who in moonlight look blue, for so many other moonlights.
At last, congrats to all my moonlights. Then, and henceforth, we shine brighter than a million suns. May the world never again try to eclipse our luminance.
Calling all HuffPost superfans!
Sign up for membership to become a founding member and help shape HuffPost's next chapter
BEFORE YOU GO