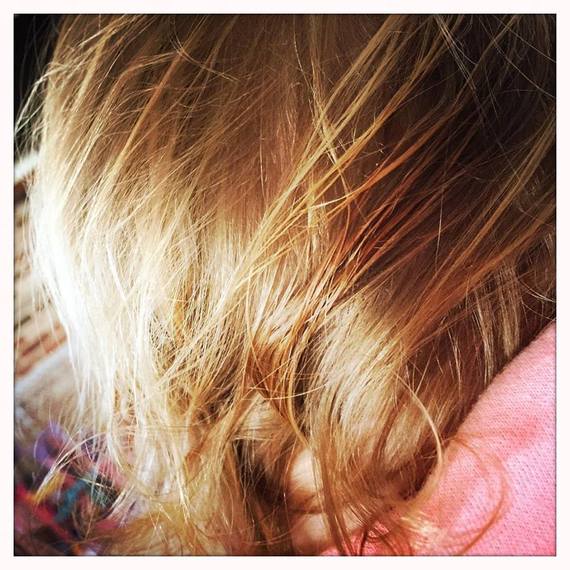 As I read a story to my youngest that I read to my oldest, I glanced over and saw her freshly washed, still drying, soft hair and had déjà vu.
She has the same hair as her sister did 16 years ago. That makes me want to savor the "hold me" moments she has often. In her world, she's on the cusp of freedom from babyhood into kidworld of her siblings.
I'm on the brink of a new frontier as well, with her being my last baby, no more diapers and no more anchor to that me. Being a mother has caged me, grounded me, freed me, limited me, taught me, and made me. It's made me learn to love myself and get past others' opinions, even my childrens'. If I think too hard about this process, I'll skip the present if this moment and be sad.
You see, with each child, I fall in love. It's a holy moment. Who doesn't love that? Even in the dark nights where I don't know how to deal with a fussy newborn, I knew my purpose was soul deep and instrumental to who I am. A baby at my bosom gave me a sense of being connected to the flow of the Universe in the form of love that doesn't question. A higher power loves me without conditions, I have been blessed in so many ways, five ways being my sweet beings I bore.
A mother never ponders her true love for her children, no matter whether she likes the circumstances or behavior of that second. I seek to know them fully, past my idea of them and must teach them ultimately never to seek to please me, no matter what mixed messages I give on the daily. I'm human. I like order and control to feel better, just like they like freedom and space to feel like themselves. I want them to listen within rather than to me and I must remember to remember this. Oh, these loves.
As I look at this picture, I wonder if she'll have long blondish locks or short pixie cut of lavender. I'll love her equal either way.
What do I hope to teach her in the next 16 years... love yourself, forgiveness is freedom, be true to you always. That you have a cosmic helper, God, a Source, giver of Light and Love. And that you will always be okay. (Besides the fact that I will love you beyond past forever into infinity squared.)