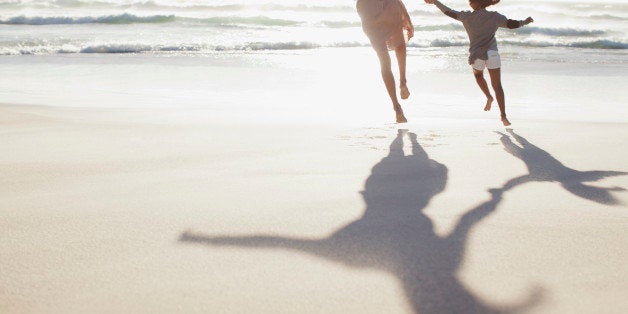 My girls wake in the morning and so do I and we begin the dance with the eating and the cleaning and the errand running and the exercising and the napping and the actual dancing. It is busy and I keep up and keep it together, but little kids are exhausting. I manage it all and we do our days but the constancy of their world, of their needs, of their dreams, leaves me threadbare by the time the day is done.
I'm sitting on the floor one day, changing the baby's diaper, when the 3-year-old sees an opportunity to climb on my back. She scales my body, feet on my hips and then my shoulders, my hair and ears certain grips for her hands and she wraps herself around my body, squealing in glee. I continue to take care of the baby, blowing raspberries, while talking to my three-year-old who is still climbing my body about what she learned that day. The 5-year-old of course doesn't want to be left out, so she jumps onto my feet and we all begin to sing Row Row Row Your Boat, rocking back and forth and back and forth to the song.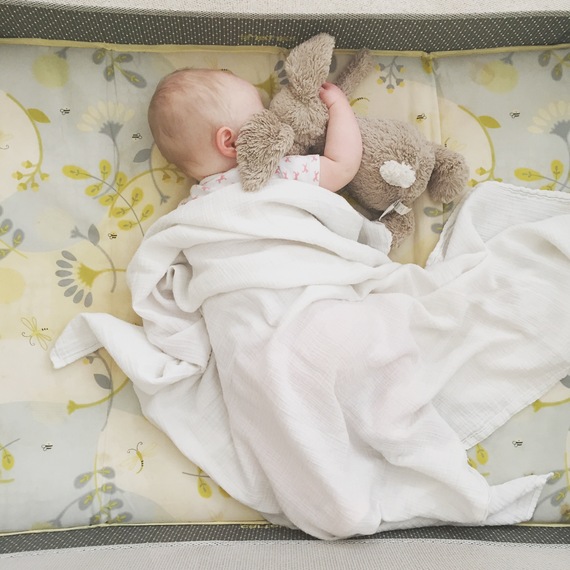 This is how we do our days, my babies and I. We operate as one, waking with the sun and collapsing to the stars. Within those two bookends, the needs are so constant, the noise so continuous, each child needing my undivided attention or a meal or an activity or to be changed or to be cuddled, that it's as if I run a daily marathon from one need to the next, one child to the next.
And so this is what I tell her about when she asks what it's like. I think of motherhood and I think of this, the constant chaos.
We had started to chat as we walked out of the building together and she made a joke about the size of her pregnant belly. Seeing me with my three, she confessed how overwhelmed she is anticipating a new baby's needs to care for in addition to her other two.
"I don't know how you do it," she said. "What's it like?"
"Oh, it's wild," I said laughing, and we parted ways.
And it is. It is wild and constant and tiring and hard because spending yourself for the sake of another always is.
My girls and I climb into the car and my oldest makes a joke that is so funny, the comedic timing so perfect, that we all collapse into fits of laughter.
The following morning, I sit on the floor with my baby, my 9-month-old. I lean against the wall, coffee in hand, watching her still clumsily crawl her way across the floor. She catches my eye, speeds up towards me and flings her whole body across my legs, laying her head down on my thighs in an exhausted act of sheer adoration.
That evening after my husband gets home, we sit on our front porch, our fingers loosely tangled together as we hold hands, watching our babies play outside and the moment is so perfect, the ordinary everydayness of it so profound that my breath catches in my throat.
These moments right here are what it's like too.
I wish I would have told the exhausted and overwhelmed and threadbare mama in the parking lot about that.
About how motherhood is absolutely hard and demanding and constant and tiring and wild and sometimes we're a bit of a mess because of it.
But she also needed to know about the joy.
She needed to know that there's the beautiful and the hard and the worth-it parts of having children and somehow, miraculously they can all be tied up in the very same moment.
I wish I would have told her that it's sweet but also a little bit bitter sometimes too. It goes fast but also slowly sometimes too. That sure, it's hard, but it's also so good and that it's totally possible for something to be both -- that feeling one doesn't negate the other.
It's knowing that I am the exact mama that these babies need but also that they are the exact babies that I need.
I make sure that they have veggies on their plate but they make sure to request doughnuts with pink sprinkles just because it's a Tuesday. I match their top to their pants but they put on that sparkle skirt too because it's time to twirl. I match the toys to the correct bin as I put them away and they build a fort with every piece of furniture in the room.
I anchor them to the ground and they remind me to soar.
They force me to become a master in the art of paying attention. I notice, I listen, I smell, I hear. I am so desperately aware of the flying minutes, the moments I can still grasp, that I feel myself becoming the mama who says to others: Please, please don't wish this away. It is so special; they just grow so fast, you see.
It's everything and nothing, it's the constant needs and the wide open minutes, it's the exhausting and the mundane and the everyday ordinary and the ache of knowing that these moments are so fleeting, this season so irreplaceable.
I wish I would have told the exhausted and overwhelmed mama that it's going to be tiring and it's going to be wild but they'll witness you come alive.
I keep looking for the easy or the noteworthy or the tidy or the silence to find beauty, to find rest, to find peace.
And then I'm interrupted with a noise or a need or a bedtime. As I sift through the constant and the chaos but see joy in the everyday ordinariness of it all, I discover peace was right there all along, standing guard in midst of the wild because peace is always right next to gratitude.
So we put them to bed and clean up the dishes and the shoes and the toys and the muddy footprints that scatter across the kitchen floor. My husband and I lay in a heap on the couch too tired to even talk, but our toes touch and we begin to laugh about how wild this season is and I breathe it all in deep- the wildness and the mess and the clutter and the constant but also the magic- remembering that joy can show up even right here, in our mess, this most unlikely place, saturating our ordinary days.