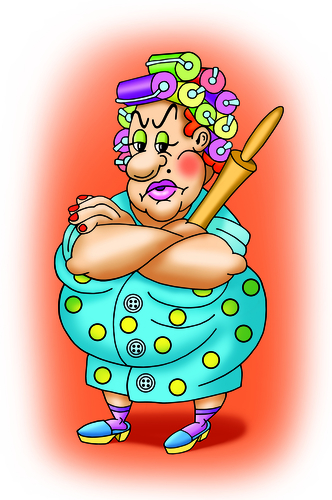 Vlada13

Ever read any books on how to be the best mother-in-law possible? There is one rule repeated in every single chapter: Keep Your Mouth Shut.
I asked a good friend about the Keep Your Mouth Shut rule. She looked at me in disbelief. As if, how could I possibly not know that?
"Listen," she entreated earnestly, "Compliment their parenting skills when you see positive actions and shut up the moment you don't. Whatever you say will be discussed between your son and his wife and you don`t want to make your son`s life miserable."
I casually asked another friend.
"I wouldn't say anything to my daughter-in-law, because she would take it the wrong way! Even if it's the exact same thing her mother just told her."
See what I am saying? I figure that if the above was the template followed for years -- hell, centuries -- by mothers-in-law, there had to be a lot of women out there just dying to spew forth on what they would like their daughters-in-law to know if by chance they didn't keep their mouths shut.
Mother-in law #1
I wish I could get my daughter-in-law to understand how important it is for the family to get together at regular intervals, not just for Christmas and Easter. When a family is all together interacting, the family becomes much more cohesive -- more in tune with the all that is going on in the different lives in their individual families. And the extended family becomes more of a unit and a source of support.
Mother-in law #2
I'd like my daughter-in-law to know, that like me, one day she will be the matriarch. And as a matriarch, it is also important to feel comfortable enough to be able to suggest and give advice in a manner that is not meant to be demanding, but helpful. I would like to feel that I am a valued member of the family, respected for my age and wisdom, and not irrelevant.
Mother-in law #3
I hope my daughter-in-law feels comfortable enough to ask for help whenever she might need it.

Mother-in law #4
Advice I would like my overwhelmed, career oriented daughter-in-law to hear? "Get some help with the laundry, honey. This frees up time and might improve your mood. And maybe, just maybe, you will be less snippy to my son."
Mother-in law #5
I'd like to be invited over. Not all the time. Just once in a while, maybe even once a year. It doesn't matter that the house is messy or cluttered -- you and my son are wonderful parents to your twin boys, so there's no way your house will be as uncluttered and clean as mine (which isn't as clean as my mother's!). I am not judging you.
Mother-in law #6
I'd like to go out to lunch with you sometime -- just the two of us -- like you do with your friends, your mother, and your three sisters.
Mother-in law #7
I couldn't figure out why there was so much tension at your house. You were short tempered, unresponsive to a new degree and generally pretty dismissive of me. By chance, I found out from one of my grandkids that you had had your hours cut severely at work and your cash flow was significantly reduced. If I had been privy to this information, I could have had a better understanding of the emotional climate at your house and offered to do whatever I could to ease the situation. It's hard to have empathy if I don't know the situation.
Mother-in law #8
Early in your relationship, my son shared with you some very negative stories about how horrible a mother he felt I was. Being a single mother was tough, but I kept him clothed, fed, with a roof over his head, and didn't turn to drugs or alcohol. He and I have since buried the hatchet, but you seem to still harbor great resentment toward me for this. Since I assume you are in this marriage for the long run, why not try to make things as pleasant as possible between us? Teach your children to be kind and loving. Set the example.
Clearly Facebook is an issue with the next two mothers-in-law.
Mother-in law #9
Respond nicely to one of my Facebook posts. It might even make my son happy.
Mother-in law #10
I'm not advocating two family vacations together each year, moving into your house when I need help because I'm finally feeble, but just put slightly more effort into our relationship. I know that I have tried to do that. I always "like" your Facebook posts, even when it's showing you doing very silly things that I would never do.
Mother-in-law #11
I raised the man you chose to marry. How bad can I be?
There's hope. Even for those mothers-in-law who don't always follow the cardinal rule of keeping their mouths shut and their opinions to themselves. One daughter-in-law related to me the following saga:
I took your favorite son and friend from you -- which made you sad and angry. Not wanting to strain our relationship, I allowed you to provide unsolicited advice, make snide comments and buy my husband his underwear.
One humid, hot morning, I was frying bacon for breakfast and you made one-too-many comments about my cooking. I threw the pan in the sink, bacon and all, got in your face and told you, "Enough is enough," in way more colorful language.
I left the house in tears, staying away for several hours. When I returned home, you were sitting on the front porch with our infant daughter. You looked at me and said, "I finished the bacon." We both burst out laughing. After that, we were best friends for life.
Your death left an emptiness in my heart. You provided me with valuable child raising information and I taught you how to say the f-word. You learned to stand up for yourself and I learned to be kinder and more understanding. What I would like to say to you? "THANK YOU."

Previously published in www.americanisraelite.com/archives/category/incidentally-iris
Follow Iris on her Facebook page www.chicktalk4boomers.com
and her website www.irisruthpastor.com
PHOTO GALLERY
The World's Most Glamorous Grandmothers
Calling all HuffPost superfans!
Sign up for membership to become a founding member and help shape HuffPost's next chapter