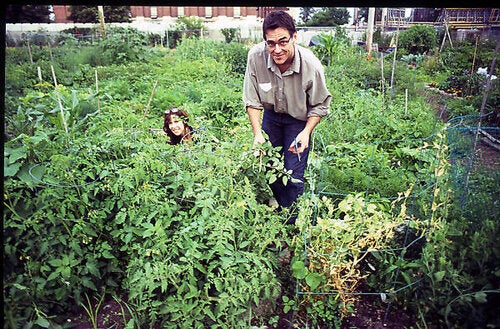 The Huffington Post is teaming up with the No Impact Project for No Impact Week, an exciting week-long experiment in lowering your carbon footprint one day at a time. (Check out the guide here.)
No Impact Week starts this Sunday, October 18th and we want to know why you have decided to lower your impact.
Colin Beavan, aka No Impact Man, had many reasons for why he was motivated to go no impact, and one was that he wanted to know, "Is it possible to become happier by reducing my impact on the environment?" The answer, he found out, "was a resounding yes!"
Whether personal or political, we want you to videotape your reason for joining No Impact Week so we can share it with HuffPost readers. In under one minute, tell us what motivates you, or get creative and SHOW us what motivates you. For example, Patricia Foulkrod from Los Angeles wrote us to say seeing her local garbage dump spill into the ocean motivates her to produce less trash. She'll be visiting the dump to show us what motivates her to reduce her consumption habits. You can show us anything that motivates you, there are no rules.
Uploading your short video is easy, jut press "Upload Your Story" to use the YouTube video uploader below. You're video will be submitted directly to HuffPost, but you'll need a YouTube account. The deadline for submitting videos is Monday at 5pm EST.
If you aren't video savvy, you can also email your explanation (200 words or less) to submissions+noimpact@huffingtonpost.com.
What you share will help inspire others to take the No Impact challenge, and stay strong over the course of the week.
To Sign Up For HuffPost's No Impact Week which starts October 18th, Click Here!
Popular in the Community