On Memorial Day, I did a workout called "The Murph" at my Crossfit gym (or "box" as it's called in the world of Crossfit). It's a killer workout that commemorates Lieutenant Michael Murphy, a Navy SEAL who died in Afghanistan in 2005. Murphy was awarded the Medal of Honor and the Purple Heart. Quite a story.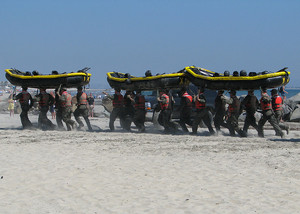 Crossfit gyms worldwide honor Michael Murphy every year on Memorial Day by doing his favorite workout which consists of running a mile, doing 100 pull-ups, 200 push-ups, 300 squats, and then running another mile (20-pound weight vest optional). This is the second year in a row that I completed the workout.
Before the event, a former Navy officer and member of my gym did a talk about Michael Murphy to honor his heroics and explain the significance of the pain we were about to endure -- which of course doesn't compare to the sacrifice Murphy and so many others have made.
There were quite a few people donning "The Murph" tee shirts as we all geared up for the start of the event. Participants ranged from elite athletes to those just looking to get in better shape. What I found inspiring (other than the obvious) was how the trainers (elite athletes themselves) made non-athletes that were participating feel.
"Do the best you can. The fact that you're here and a part of the event is appreciated and says plenty. We're here to cheer you on. Just do the best you can and remember why you're doing it."
Apache Crossfit (they all have different names) could not have done a better job at honoring those we lost while making me feel proud to be, not just a part of the event but, a part of Apache. I can tell you first hand that not all Crossfit gyms do a good job at making everyone feel included and important.
It's similar at so many financial firms that I visit across the country. Like with anything, there's good and bad. Not all firms do a great job at inspiring and setting their producers up for success. Does yours?
As a sales producer (financial advisor, broker, agent, rep, planner, other), take advantage of mentors, training, and other resources that are available to you. If they're not available to you, find your Apache firm that will set you up for success.
But before you do, look in the mirror. If your sales managers are successful, are you listening to them? Are you making your calls? Setting up sales appointments? Networking? Getting involved in associations? Fundraisers? Your community? Do enough people know what you do?
Are you setting yourself up for success?
Calling all HuffPost superfans!
Sign up for membership to become a founding member and help shape HuffPost's next chapter