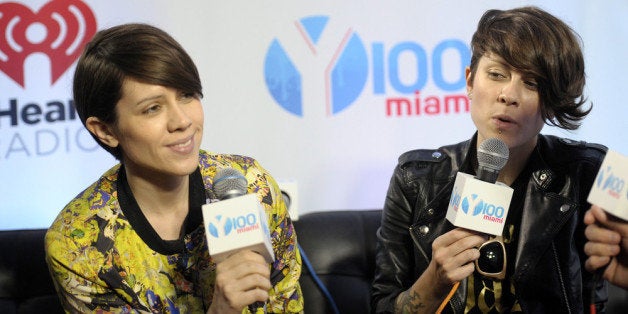 When I was a little girl, I had two great loves: Dylan McKay on Beverly Hills, 90210 and Joey McIntyre of New Kids on the Block. I discovered a queer theory right there, intermingled into cassette tape culture, smack dab in the middle of my childhood. Many years later, a few things would make full circle and I'd speculate how these circles can and have overlapped with being the gay person that I am, connecting me later in life with the pop culture idols who helped me come out, love myself and just so happened to idolize the same hunky dudes I was so in awe over when I was still holding a lunch pale.
I used to glorify what it must feel like to be a teenager -- what magazines they read, what music they listen to, how lust and rebellion, or flirtation and innocence caused for daydreaming, leaving me with pangs of curiosity. But what was I thinking about? As an eight-year-old, I wanted every single bit of "it" -- not just going to the prom with Dylan McKay, but the entire picture: Dylan's cool little bungalow, Kelly's platinum blonde hair, the way they looked at each other. It was romantic, hot and youthfully charged. And, it wasn't that I wanted to be with Dylan, or wanted to be with Kelly (or Brenda), it was that I wanted their chemistry, with anyone. And I knew that it would be cool if it were a combination of the two, which I would later label: an attraction to androgyny.
At my 10th birthday, a friend bought me a bright yellow mesh top and the kind of big hat you might see on the TV show Blossom. I freaked out because this ensemble was as close as anyone could get to a perfect Kelly outfit. Showing off my new hip clothes, my friend Sara pointed out that I looked like a girl from a summer movie we were all obsessed with, Camp Nowhere. In a scene where child actor Andrew Keegan is working under a car, the girl walks in to the garage and he slides out beneath her, saying, "If you were wearing a skirt right now, I'd be in heaven." Sara, acting as Keegan, got down on the floor and we re-enacted the scene, giggles and over-theatrical dialogue included.
Now, many of us role-played as kids, often taking on gender roles that we grew up around --the dad and the mom, a doctor and a nurse, characters. And we switched roles too, because it's what was "fair." I preferred hanging out with tomboys because we were bound to go on adventures. They were sporty, witty, weird, confident, gutsy and most importantly, protective. I always felt like if anyone was trying to bully or harass me, these girls would have my back. To make matters really interesting -- many of those childhood friends turned out to be gay, just like me.
Apart from the role-playing and my growing curiosity, I'd find myself wrecked in sudden panic, feeling wrong or sick, and I didn't want to be "found out." In fact, I distinctly remember sitting at my desk in middle school while my other girl friends were out on dates with boys, me having ah-ha moments I was sure I'd never forget (and I haven't), wondering to myself, "What's wrong with me?" "Am I...?"
Fast-forward into the future, beyond the '90s. It's January 2013, and Tegan and Sara are releasing their seventh album, Heartthrob. I didn't come out until I was around 24-years-old, but from age 18, I'd been listening to Tegan and Sara while juggling my continuing denial, and they were there along the way for the painful, beautiful, crazy, confusing ride of my self-discovery and total truth. Several years prior to coming out, I'd stay up late to watch the new, groundbreaking Showtime series, The L Word. Somehow, unbelievably, my entire gamut of queerness and pop culture would come together, the circles finally coming together in a Venn diagram like way, in a series of videos Tegan and Sara created: the Heartthrob Interviews.
In the series, they interview various celebrities, asking them the first person they thought was a heartthrob. In one video, Sara Quin raves about her fanatical love as a kid for New Kids on the Block, recognizing now more than ever that she wanted to emulate Joey McIntyre's cool life, not necessarily smooch him. (By the way, aside from his perfect coif, Joey had the ultimate hipster lesbian wardrobe.) They also interview L Word star Kate Moennig. She responds: "Yes, Luke Perry -- Dylan McKay." When asked if she wanted to be his friend, his girlfriend, or whatever, she says: "I wanted everything." Sara poses the most relevant question of all: "Can you now make the leap and see that you are the Dylan for a lot of people?"
I knew then and there that attraction is about a complete aesthetic we integrate deeply into our minds and manifest -- regardless of our path to truth. Just like the adage: Wherever you go, there you are -- it's innate. As kids, when we are at our most sexual and primal, when we gender role-play and "play make-believe" we do something for our psyche: We believe-make. Sexuality is, like Moennig's infamous character Shane once said, "fluid," and as kids, we were open to possibility. How could we not be? We had yet to understand the heart-breaking ebb and flow of relationships, romantic or otherwise. And somehow, the presentation of anything that sparked our interest, or peeked our intrinsic desire, is just that --our knowing. Roles change, but they still fit the feeling. For me, and for the actress who's aesthetic made me want to tune in to the L Word in the first place, it happened to be through characters like the heterosexual relationships we witnessed on the racy teen drama, 90210.
Coincidence? How is it so that these LGBT pop culture figures, people who have influenced us -- me -- so much in the process of coming out, were so completely aligned with the same childhood idolisms? Have we taken cues from previous crushes and characters and aesthetics we admired as means to piece together our own overall aesthetics as adults? In an interview with Glamour magazine in 2013, Tegan Quin hypothesizes a similar sentiment: "I've become even more interested in the idea of 'Are we replacing our teenage heartthrobs with real versions of them?'" The rose-colored notions I had as a kid were like little waves of uncorrupted emotion, pure instinct. I crushed on Joey, and Sara Quin wanted to be Joey. No one could have called it in 1991, but here we are crocheting the fabric together now. Have they replaced our teenage heartthrobs? Sort of. But I'd go further to say they authenticate something in us that is youthful. Like the lyrics of my favorite Bear in Heaven song goes, Lovesick teenagers don't ever die / they will live forever.
Yes, I was enamored by that teenage mystique. I wore Love's Baby Soft perfume and imagined I was on a California beach with no worries in the world, but the gender binary was an open door and I was and am attracted to sexy, weird, cool, free and confident -- the stuff that loving yourself and loving another person are made of.
Popular in the Community