Kalpana Bhandari works on ENVISION, a global USAID project implemented by RTI International that aims to control and eliminate NTDs by 2020. Follow the conversation @RTIFightsNTDs.
As a numbers nerd – officially known as a monitoring and evaluation advisor – for a global neglected tropical disease (NTD) project, I think about these diseases every day in relation to data sets and spreadsheet formulas.
But my first experience with NTDs was a terrifying one.
When I was about 5 years old, living in a village in Nepal, I was so sick that I vomited worms. Like you, I cringe at this memory. Looking back, I think I was infected with a severe case of roundworm, a type of NTD.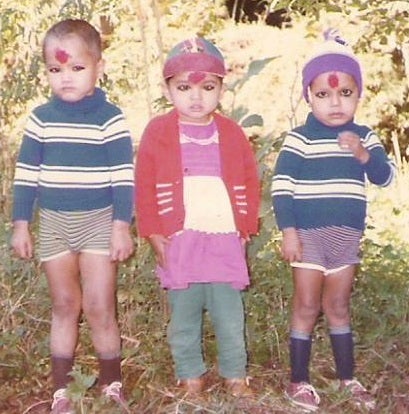 A group of parasitic and bacterial diseases, NTDs affect the world's poorest people and cause substantial illness for more than one billion people globally. Fortunately, more than two decades after my own illness, a coordinated global effort to control and eliminate NTDs is being led by the World Health Organization and Ministries of Health with unprecedented support from pharmaceutical companies, donors like USAID, and non-profit organizations. To give a sense of the scale, since 2000 about 2 billion treatments for intestinal worms, like roundworm, have been donated from pharmaceutical companies Johnson & Johnson and GSK (GlaxoSmithKline) to treat children around the world.
A Family Commitment to Improving Health
I visited my aunt, Ganga Acharya, during a recent trip home to Nepal. She lives only 40 miles from Kathmandu, Nepal's capital, but it is a five-hour car ride on bumpy serpentine roads. Despite magnificent views of the Himalayan mountains and lush rice paddies, her village lacks proper hygiene and sanitation.
My aunt has served as a female community health volunteer (FCHV) for more than 15 years. Along with the approximately 52,000 other FCHVs throughout Nepal, she forms the health system's backbone, providing basic maternal and child health, family planning, and community-based health services. The Atlantic labeled volunteers like my aunt as 'the women who keep Nepal healthy'.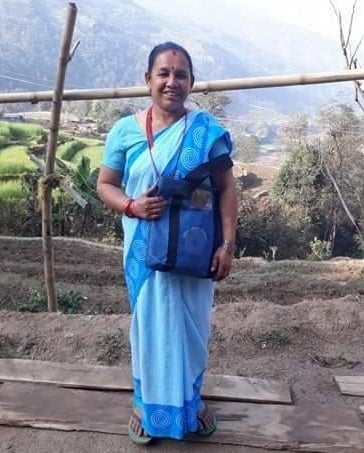 Although many FCHVs are illiterate or semi-literate, they are trained by Nepal's government and trusted by their communities. They are on the frontlines of Nepal's fight against NTDs, creating awareness and distributing medicines during mass treatment campaigns.
During these campaigns, my aunt walks from door to door, providing information on NTDs, distributing preventive medicines and recording every treatment in a register. Once the campaign is finished, she compiles her data and sends it to the local health center, where it then goes up the chain and reaches the national Ministry of Health.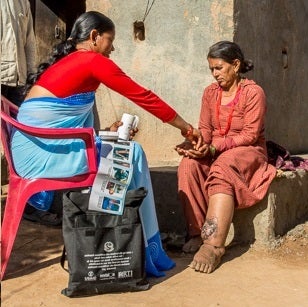 Eventually, in RTI International's Washington D.C. office, I compile numbers from the mass treatment campaigns supported by USAID, including data from my aunt's district. That is where I was born and raised, so the numbers are personal to me. Behind the statistics of people treated, I can feel my aunt's hard work, and see the faces of my aunts, uncles, and cousins benefitting from treatment.
Striving for Equality
Beyond my home country, I look at the bigger picture of how many people are treated across the countries and NTDs that USAID is targeting.
I am particularly interested in examining whether women and men are reached equally by NTD treatments, since women and girls are disproportionately affected by NTDs. For instance, several NTDs are more common among women than men, and women often face barriers to accessing health care, such as a lack of power to make decisions regarding their health.
USAID began collecting treatment numbers by gender in 2012, and generally, we see a promising picture: Across the board, we are reaching men and women equally with NTD preventive treatments.
Follow up studies are needed to understand these numbers better, and to help other health programs learn from these lessons.
Women at the Center of NTD Progress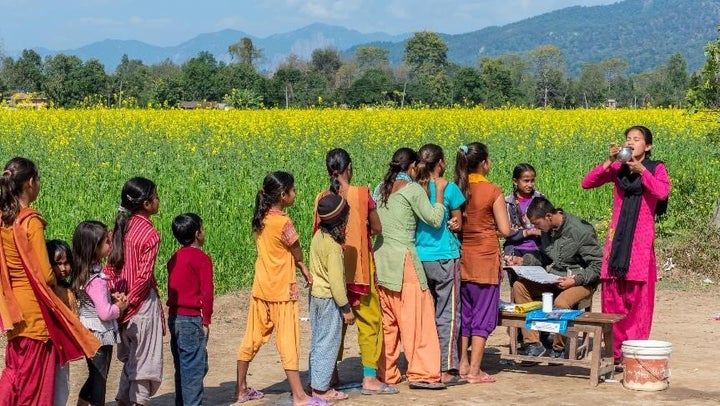 Visiting my aunt reminds me that the role and impact of women in the fight against NTDs goes beyond data and numbers. There are some values we will never really be able to understand from a spreadsheet. My aunt shared with me that being an FCHV empowers women and increases their status in the community. She feels joy and satisfaction in serving her people.
It's a joy I share. If this global movement had existed when I was a girl, I probably would have lined up and taken the medicine, just like millions of girls and boys throughout the world today. So when I look at her and her work, I see myself as a five-year-old girl, but one who never has to worry about getting worms.
To my aunt and the thousands of other volunteers throughout the world working every day to keep their communities healthy, I want to say thank you for your dedication and commitment.
This article is part HuffPost's Project Zero campaign, a yearlong series on neglected tropical diseases and efforts to eliminate them. This series is supported, in part, by funding from the Bill & Melinda Gates Foundation. All content is editorially independent, with no influence or input from the foundation. If you'd like to contribute a post to the series, send an email to ProjectZero@huffingtonpost.com. And follow the conversation on social media by using the hashtag #ProjectZero.
Popular in the Community