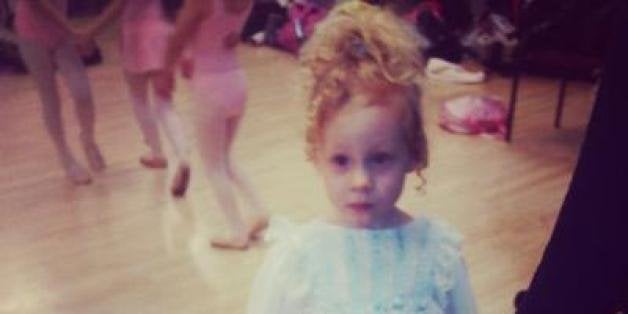 Last week, my daughter and I were in a production of The Nutcracker at The Joffrey Ballet School. It was exhausting, to say the least. We rehearsed twice a week for twp months and she had to stay up way past her bedtime for tech rehearsals and performances. Before the show she cried because she wanted to be onstage NOW. After her part was done she cried because she wanted to go back on stage NOW. It was also very hard to keep her quiet when the director was talking and when we were supposed to be frozen during the party scene. When we were onstage, I had to react to everything that was happening while keeping my toddler calm.
I know what you're thinking; my 2-1/2-year-old didn't have to be in The Nutcracker. I am complaining about being tired from something I decided to do. I could have said no when she asked to be in a show. If she persisted, I could have ignored her and turned on the TV. It would have been much easier that way. My back still hurts from lugging her around Manhattan to and from rehearsal. So, why did I put myself in a situation that would cause my terrible 2-year-old to throw more temper tantrums than usual?
Well, over the summer my daughter asked to be in a "show." Her daddy and I are both comedians, so that must be where she got the idea. I was thrilled when I found out her ballet school lets 2-year-olds participate in their production of The Nutcracker. She played a party baby in the party scene so she got to live out her dream of being in a show without having too much pressure. I was told if she cried I could take her offstage. It was a party scene, after all, and what 2-year-old doesn't act cranky at a party?
My daughter loved the rehearsals. She made friends with the other dancers and talked about them non-stop. She walked to school singing the only verse from The Nutcracker she knew over and over again. Every night before bed she practiced her moves and asked when she got to go to another rehearsal. When it finally came time for opening night, she surprised me by being completely comfortable on stage.
It was a great experience and I am so proud of my daughter. I know I am biased, but she was really cute in The Nutcracker. On the surface, that may look like the reason I dragged my daughter to all those rehearsals; so I could see her be her adorable little self onstage. And yes, it is a part of it, but a very small part of it.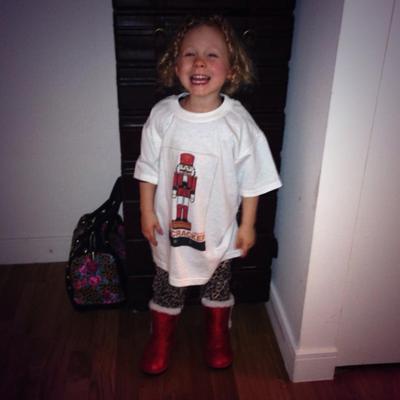 The real reason I let her be in a show at such a young age is because of the giant smile in the picture above. And why is she smiling, you ask? Am I holding a lollipop? A toy?
Nope! She's smiling because she is wearing her special Nutcracker shirt and it has her name on the back. She's smiling because she made a ton of new friends while doing something really fun. She's smiling because she worked really hard for two months and now she finally gets to share her hard work with her family. She's smiling because she's proud of herself.
As a mom, I often get bogged down with the day to day tasks of caring for my daughter. There are no perfect kids or mothers but I try to teach my daughter some of the more important lessons like listening, using her manners words, and that at the grocery store she shouldn't run around screaming gobble gobble like a turkey. But what I've found is that the most important thing I can teach her is to have pride in herself and her accomplishments.
Most children who take ballet, don't grow up to become prima ballerinas but for me and many other parents who sign their toddlers up for classes that's not the point. For us, it's about letting our kids experience the joy that comes from hard work and doing something all by themselves.
I have no idea if my daughter will want to be in The Nutcracker again next year. Her first show could also be her last or it could be the first in a lifetime of opening nights and curtain calls. Only time will tell. But no matter what she chooses to do with her life, I will always remember the enormous smile on her face after her first performance when she turned to me and screamed, "I did it! I'm a dancer!" because at the tender age of 2 she was able to experience the happiness that comes from pushing yourself and succeeding.