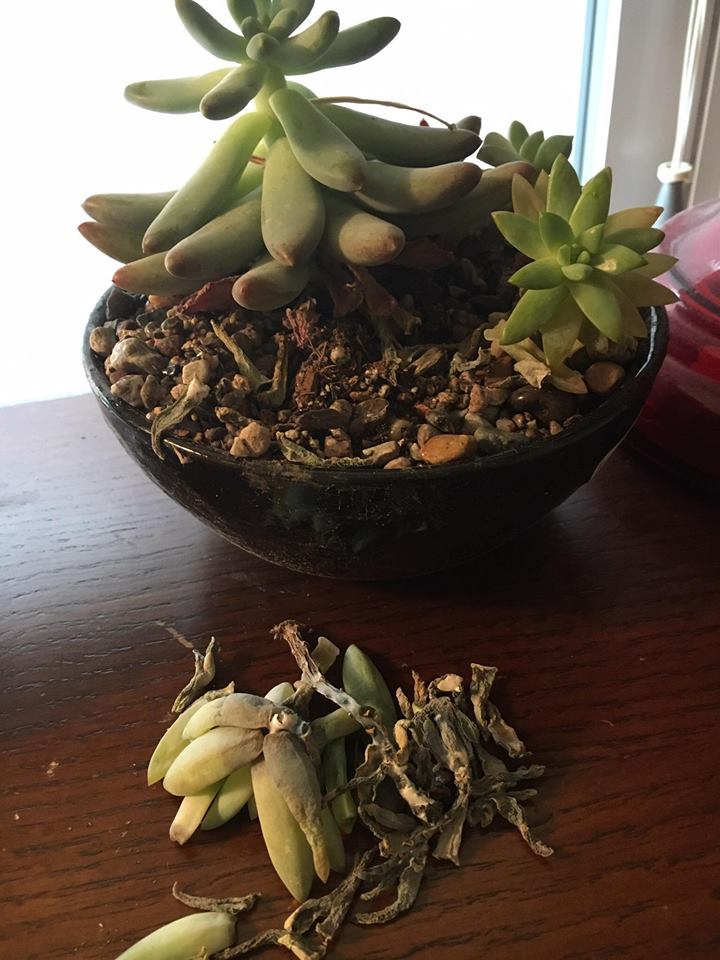 See this? This is my succulent.
This, in fact, is the only remnant of my third succulent arrangement that I bought after the first two succumbed to the very same illness this sucker right here has.
What's the illness, you ask?
Succulents are easy, they say. They're hardy. They don't require much and they're hard to kill and they look pretty and they're totally trending on Etsy.
Except around here—where there are two smallish sized humans and two medium sized humans and two large sized humans and one dog that all are slightly less hardy than, say, a succulent, and require much more than a sunny corner of the house and an occasional squirt of water—all "easy to keep alive" means is you're moving to the back of the list, buddy.
And the list is long, isn't it? It's three square meals cooked from scratch with farm fresh organic and locally sourced ingredients prepared with love (read: take out) that everyone hates and makes gagging noises over and feeds to the dog when you aren't looking.
It's a never ending mountain of laundry that we are doomed to cart up and down 800 flights of stairs everyday like Sisyphus except worse because it also smells like armpits mixed with old milk.
It's bills too, and groceries and work and worrying about them and worrying about us and worrying about our marriages and worrying about our parents and worrying about our cholesterol and cancer and trying desperately to remember if we locked the door before we laid our head down.
It's taking on the full responsibility of an entire household like a martyr goddess because (a) we're good at getting sh*t done and (b) we love the heck out of these people and want to see them thrive.
So the succulent falls to the bottom of the pile. Tomorrow, we say to ourselves as we lie there debating checking the doors for the second time, we will take care of it. We will water it and trim it up nice and clean off the dead parts and put it in the sun and love up on it a little bit until it remembers that it's supposed to grow and not wither away into just another mess we have to clean up.
Because here's the thing: this succulent is so many of us, you guys.
It's so many of us mamas and caretakers and lovers and servers who get so busy in the noble pursuit of keeping the people we love alive that we have moved our own (hardier) selves right down to the bottom of the list.
Where we are busy being neglected.
Where we are thirsty and wrinkly and shriveled up and well, kind of sad looking.
And I get it. Believe me. Sometimes I get so wrapped up in some silly mama task like cleaning out the kid's closets, and maybe the radio is on and I'm jamming a little bit and my caffeine has kicked in and it annoys the freaking hell out of me that I have to stop and pee or eat or attend to some other stupid basic human need like catching my breath.
But other times I accidentally sit down on the couch before it is sit-down-on-the-couch-time and my body is like "oh thank God," and my kids are like "oh hell no" and I can physically feel myself drying up and dying a little.
And it's times like that, when I feel this weird kinship with my succulent that was once lovely and is now sort of struggling, that I'm compelled to remind us all that "harder to kill" doesn't mean immortal.
Let this sad guy be a warning to us all. And maybe the impetus to sit in the summer sun. Because nothing will thrive without a little loving care, including us.
Liz is a writer, blogger, teller of stories, believer in truth, and mama to four. She shares her stories on her blog lizpetrone.com and all over the internet. She can also be found on Facebook, Instagram and Twitter.