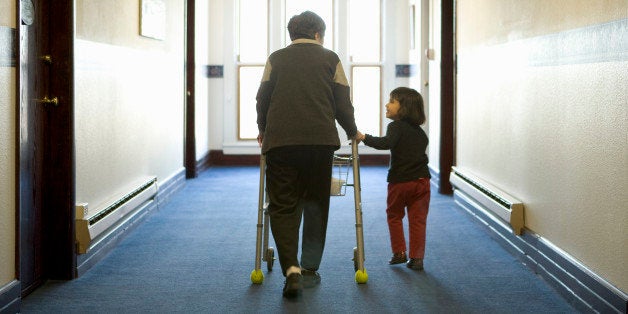 Recently my grandmother passed away. It had been a long time coming. She had been in an assisted living home for quite awhile and the dementia was getting the best of her. It's one of those events that is just sad. It wasn't an unexpected surprise, it's for the best as she's finally at peace, but it's just plain said.
Shortly after I heard the news I did what any 21st century social media-phile did and took to Facebook to let people know the news. I did this in part to let friends know who had spent time with her while I was growing up. Also to alert people to why I may not be my usual awesome self for awhile. And more or less just to get it out there in the open. Keeping things inside isn't healthy and putting it out there for the entire world to see is a good way of expressing all the feels.
What happened following my announcement wasn't anything that should be shocking, but to me it was a stark eye opener.
So many people commented on my status expressing their condolences. People I forgot I was Facebook friends with. People I have a surface level professional relationship with. People whom I've only known through the computer as well as those I've known for decades. It was touching and heartwarming and it taught me a new 21st century lesson.
I should comment more on others' Facebook statuses.
The love and sorrow that poured out onto my FB page reminded me that people cared. That they were participants in my life regardless of how inactive they may be. That they were paying attention and were on my side when I needed them to be.
So often I'm just a Facebook scroller. I might chuckle and hit "Like" every now and then but I'm pretty passive as far as interaction goes. And I think I've gotta stop that.
Anything from a simple "haha!" to a more in depth emotional response is valuable to the person on the other side of the computer screen. It lets them know you saw them, heard them,and wanted to make a personal connection with them. It lets them know they are interesting and admired and worth being noticed. In a world of distant communication, a simple comment informs someone that, at least for a moment, you were close to them in spirit.
It may sound silly to get so philosophically worked up about Facebook, but I was so sincerely touched -- and surprised -- by the multitude of responses I received that I've decided to start doing the same. I'm committed to taking the few mere seconds to write a quick comment on the things people choose to share on their Facebook pages. Whether it's commiseration, adoration, pride, or sadness, I want everyone I see in my newsfeed to know I see them and I hear them and I love them.
While the circumstances which led me to this revelation are sad, I think my grandmother would enjoy knowing it spurned me on to connect with people and let them know they are loved. That's something she always did well with me.
Related
Popular in the Community