In this case, it's a beautiful winter scarf my mother gave me toward the end of her life, probably the last gift I got from her. After she died in 2004, I became more attached to it. The time I thought I'd lost it, I went into a full-blown panic. It was only partly that I didn't know where to find a replacement for this embroidered wool scarf whose label said "Made in India." Mostly, it was feeling that I'd lost my connection to my mother -- a connection that was restored as soon as I found it.
The intensity of my feelings about the scarf surprised me, because I had felt so distant from my mother for most of my life. But because she was kind, loving, and needy, my feelings for her were layered with guilt, and the guilt so thick it sometimes felt like torment. After she died, I just felt sad and intensely aware of the scarf, which I wear around the collar of my coat all winter long, every year.
I lived silently with this welter of feelings year after year. I didn't know whom to talk to about it, or what to say; the scarf was attached to a free-floating, inchoate grief. Or was it something other than grief? For years, the feelings were beyond any words that I could summon. In 2011, my brooding gave way to curiosity, and I began to wonder about the experience of other women. If this one gift meant so much to me, if it unlocked the door to so much history and such complicated feelings, might other women have such a gift themselves?
What My Mother Gave Me is the affirmative answer that question. Each of the contributors describes a gift from her mother -- three-dimensional, experiential, a work habit, a habit of being, a way of seeing the world -- that magically, movingly reveals the story of her mother and of their relationship. The pieces run from short and sweet to long and wrenching, from hilarious to mournful, from heartwarming to heartbreaking. And the treasured gifts shimmer in their variety and uniqueness: an etiquette book, a plant, a necklace, a horse, a passport, a trip on the Circle Line boat around Manhattan. One woman received from her writer mother the habits of writing a thousand words a day plus one charming note. Another got the gift of taking the impossible in stride. And one was given a few bottles of nail polish that changed her life.
Singly, each piece is a gem to me: a gathering in of memory, affection, and gratitude, however tormented the relationships once were. Taken together, the pieces have a force that feels as elemental as the tides: outpourings of lightness and darkness; simple joy and devastating grief; mother love and daughter love; mother love and daughter rage; the anguish of suffering mothers and daughters powerless to help them -- and the spoken and unspoken weight of missing all the mothers who are gone.

Having had an unhappy mother, I found myself astonished -- feeling a mixture of envy and disbelief -- by the stories of happy mothers and daughters. At first, I thought it was the younger writers whose mothers were happy, those whose mothers had more control over their lives and their finances than women of my mother's generation. But as essays arrived over a period of months, I saw I was wrong: there are happy mothers from all generations in this collection. Such mothers -- it's clear from these pages -- raise more lighthearted offspring than unhappy ones; or do I mean only that the absence of torment is palpable in their pages?
As essay after essay reveals, a single gift can easily tell the story of an entire life. Yet for all the richness here, it's striking how modest almost all of these gifts are. A used cake pan, a homemade quilt, a wok, a Mexican blouse, a family photograph. It just might be, after all, that it's the thought that counts -- and the packaging too. I don't mean the paper and the ribbons, but the emotional wrapping, the occasion for the gift, the spirit in which it was given, and everything that happened before and after. This is another way of saying that, as gift-givers and recipients -- whether we are mothers, daughters, aunts, sisters, or cherished friends -- we may not know for quite some time which presents will matter most.
Elizabeth Benedict is the editor of the new anthology, What My Mother Gave Me: Thirty-one Women on the Gifts That Mattered Most (Algonquin April 2, 2013), from which this piece is taken. She is the bestselling author of five novels and The Joy of Writing Sex: A Guide for Fiction Writers. The anthology's first event is Tuesday, April 9, at Washington DC's Politics & Prose Bookstore, with contributors Susan Stamberg and Eleanor Clift.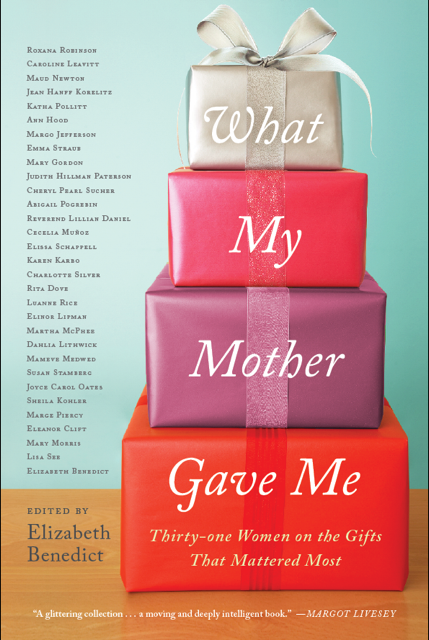 Calling all HuffPost superfans!
Sign up for membership to become a founding member and help shape HuffPost's next chapter