My mother always told me it was better to be smart than to be beautiful. "If you are smart, eventually you will afford to be beautiful." A successful career could result in an abundance of money that could buy the right clothes, find the perfect haircut and shade for my locks, and tackle any plastic surgeries if ever necessary. We knew plenty of people who could attest to that. So that was that, all I needed were the brains, and someday, I would be a dashingly beautiful lawyer.
I was an only child until I was 6 years old. My mother and I walked the streets of Mexico City visiting every museum and historical place. She worked at a TV station and I would come along and watch the magic of filming TV shows, along with the horror of Big Bird taking his head off only to reveal a sweaty, ugly, scrubby man. But all the same, I was learning.
I was reading classics at an early age. Jane Eyre, Little Women, and my favorite, Mark Twain. Bilingual at a young age, my mother began to feed me those classics in English as well; although Mark Twain was never an author I willingly picked up to read in English.
When my father's railroad business failed, I was able to continue to attend one of the best bilingual schools in Mexico City thanks to a scholarship. Scholarships followed me into middle school and high school.
However, my senior year in high school my family moved to my dad's country, the United States. For the first time in my life, I attended a public school, and for the first time in my life, I had elective classes. So I decided to take a psychology class. While I found the public school system to be a joke, I did find my psychology class fascinating. So much indeed, that I told my mom I wanted to be a psychologist and not a lawyer anymore. My mother, in her dreams for my life, did not see psychology as a good choice, but I was like her, strong-willed to the core.
The change of a degree was only the beginning of the shattered dreams of the future my mother had for me. I married young, even before I had a degree under my belt. Worst of all, I married a kid who wanted to be a pastor. She loved Andy dearly but she would ask him occasionally, "When will you have a real job?" I did finish my degree and I became a social worker, but when I had my first child at age 24, I quit my job. Then at 26, another baby girl joined our family, except this baby girl was different, she had Down syndrome.
How would I be able to break the news to my mother? "It is better to be smart than to be beautiful." I knew what "smart" meant in the context of that statement, and I doubted that my daughter with an extra chromosome would meet those expectations. My mom was coming to the hospital to meet her new grandbaby. I would tell her then. I needed time to gather my thoughts. I wanted to own the words I would use when I delivered the news. I was afraid. Afraid of the stigmas of our Mexican culture. Afraid because my mom looked away from people with disabilities. Afraid that she too would see Nichole as broken. One that would never be smart... or beautiful.
My mother arrived at the hospital mid-morning, ready to meet her new granddaughter. She smiled and awed at how beautiful Nichole was. She took her from my arms and settled in the rocking chair by my bed while Andy took a break and went for a walk. She rocked my baby, back and forth.
I wanted to tell her that God had picked us for a reason. To tell her that somehow this was part of God's plan. I wanted to justify how it was OK that my child might not be smart.
I sat at the edge of the bed, watching them. Watching my mom, her expression.
"She has Down syndrome!" I blurted out.
My mom continued to look at Nichole, continued to rock, same smile on her face.
She knew. And nothing changed. I watched them, rocking together. Grandmother and child.
"Take a picture of us, will you?" she asked, "I want to remember the day that God sent a little baby girl to change my life."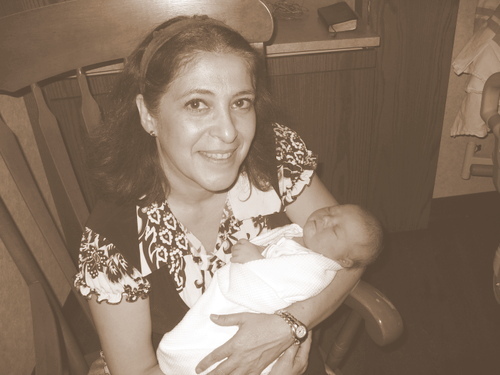 My mother and this relationship we had. So tested, yet so strong. More than anyone else, I cared about what she thought. Maybe because I knew I was so much like her. Maybe because if I saw strength in her, I knew I could be strong too.
Six years later, Nichole runs to my mom whenever we see each other. "Ga-ma!" They hug, they kiss, and Nichole buries her fingers into my mom's hair, twirling her fingers in her grandma's dark curls. And I hear my mom say to Nichole, "You are so beautiful Nichole, and you are so smart. You are teaching me so much about life." Then I see her wipe a tear from her eye, and grandmother and child embrace once more.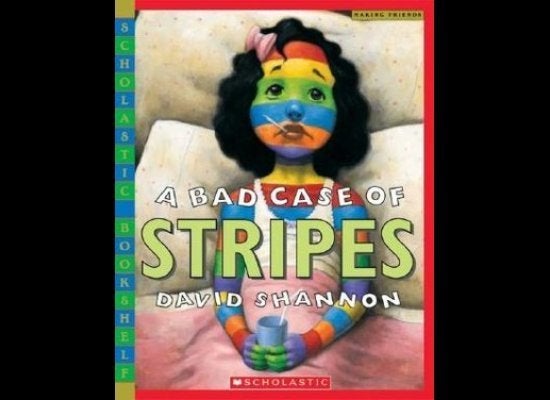 50 Children's Books with a Positive Message