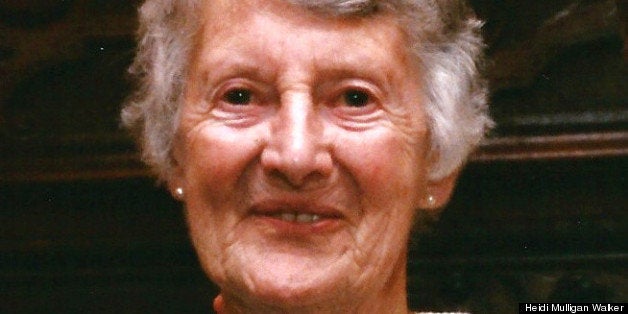 My Nana, Elsie May Meacham, passed away in Southport, England on May 10 at the age of 92, exactly one week shy of her 93rd birthday. In her final week she was surrounded by her three children, three of her 13 grandchildren and also met her 17th great grandchild. I was very fortunate to be able to visit her over Christmas, on Boxing Day, a tradition we had started while my family and I were living in the UK. I knew that would be the last time that I saw her because in all of the years we had been visiting, Nana she always came outside and waved us off until she couldn't see our car or train anymore. This last visit was the only time that physically, she just wasn't able to do that. Over the months since then, I have found myself thinking of Elsie May often and realizing what an impact she has had on my life. It made me realize that we are not just parenting our children, we are raising future parents, and the example that we set in the way that we live and parent today will have a lasting impact on future generations. So, in honor of a life well-lived and a parenting legacy to be very proud of, here are some of my favorite things that I feel we can all learn from Elsie May.
Remember what it is like to be a child. One of the most important qualities my Nana had was an immediate rapport with children. Her brother and sister had died of scarlet fever as children, within a week of each other, and telling the story, even all of these years later, it was obvious that the emotion of that loss remained. I always felt that the vivid memory of that childhood event allowed her to remain very in touch with how children feel and how they experience the world. She always had some little toys on her kitchen window or on a bookshelf, and little cups for drinking at the ready. She always enjoyed treating herself to some sweets during a shopping trip into town and always had some to share. Whether I was visiting her house as a child myself, when we visited her in Liverpool or when we were visiting her in her one-bedroom apartment in Southport, with three, young great-grandchildren in tow, she was always happy to have the sound of children around. She remembered that not being the case as a child herself, and she never wanted children to feel they weren't welcome. By remembering what it was like to be a child, she just never seemed to age.
Share your stories. When I told my children that their great-grandmother had passed away, immediately, my 8-year-old son, Cole, recounted a story she had shared with them about living in Liverpool during World War II. Despite it being a very challenging time, she also remembered it as a time of community and camaraderie. A time when, despite being faced with the worst of what human beings are capable of, you also experienced the best that people had to offer and had the chance to learn what you were made of in the process. In sharing these stories and many, many more with all of us over the years, she brought the past to life and shared important life lessons in the process. I know my children will tell her stories to their children in the future and in doing so, will teach them things that are hard to convey in history books.
Share books. I have just gone and grabbed a book off my daughter Madison's bookshelf called Her Benny by Silas K. Hocking, which was written in 1879. This book is the first book that my Nana's father shared with her as a child and it started her love of reading. Over the years, we all shared many books with each other and as a result, we stayed connected over the miles by a love of reading and a shared experience. A book shared by my great-grandfather in 1920's Liverpool is still being shared today with a great-great grand daughter in North Carolina. A love of reading has been passed down through many generations.
Be a good listener. We have a running joke in our family, which is that having a cup of tea will help solve any problem. By virtue of being part of a family, there will always be many opportunities to listen to each other share happy stories, sad stories, challenges faced, hearts broken and mended, milestones passed. Whenever we would start to tell a story, Nana would always say, "let me put the kettle on," a tradition my mother continued. Over the years, we have settled in over many cups of tea while each story is shared. Nana always listened without judgement, listened with understanding, listened with patience, and in doing so allowed us to come to our conclusions, create our own solutions. We knew she was always there to listen, whether it was in person or over a long distance phone call. I do the same today with my parents, as do my six siblings. I will miss being able to share stories with Nana, but I will remember how important it is to listen in that way so that my children will be able to pass that same skill on to their own children. My daughter and nieces already enjoy having a cup of tea, so the tradition lives on.
Stay in touch with current events. On that last visit in December, Nana shared our shock about the ending of the last "Downton Abbey" episode. During the Royal Wedding I called Nana (I was living in China watching it on the BBC), and I knew that she would also be glued to her TV, watching it in Southport. We chatted and chatted, loving every minute of it. I remember calling her while watching 9/11 unfold, sharing our shock and dismay at the events that day. Nana always enjoyed watching "Top of The Pops," and was up-to-date with which bands and songs were popular. She always got the daily paper and watched the news. She stayed in touch with what was happening and in doing so, she stayed in touch with us. She experienced Beatlemania first-hand, but she also knew who the popular bands were today. I hope I can say the same when I am 92.
Welcome each new day. Before going to bed at night, she would open the curtains in the living room so that when she woke up, she would be greeted by the new day. I have been doing this since she passed away and am appreciating the view of the birds outside who are no longer disturbed by the sound and action of me pulling the curtains back.
Make sure guests are comfortable. Whether we were staying for a night, a weekend, or longer, Nana always had a drawer ready for us to unpack, make ourselves comfortable and at home. She made little cupcakes that she called 'come-again cakes.' When we were in England during our junior year abroad, we visited Nana with our friends in tow. Looking back, I cannot remember how she managed to fit six college-aged girls into her one -bedroom apartment, but she did and we knew she loved every minute of having us all stay.
Pass down lullabies. My daughter only had one entirely sleepless night when she was a baby, and it was on a trip to visit The Isle of Wight. Lucky for me, both her great-grandmother and grandparents were with me. As we all took turns carrying her around the hotel room, trying to settle her, we all sang her the same lullabies. My Nana had sung those to her children, my mother to us and, despite my terrible singing voice, I sang them to my children as I rocked them to sleep. Even now, if one of the kids is having trouble getting to sleep, one of those lullabies will soothe them.
Allow your children to fly from the nest and be genuinely happy for them in their freedom to do just that. This is the final life lesson that has been passed down from Elsie May, and now that I have children of my own, I realize what a gift this truly is, is to pass onto your children the strength to follow their heart, to live their lives and to help them fly from the nest. Even if this means that you may be separated by miles, and at times oceans, by being happy for them and supporting them as they discover their life purpose, they will always be happy to return. And they will always know that when they do, you will put the kettle on and enjoy listening to the stories over many cups of tea and that way you will always be on the journey with them.