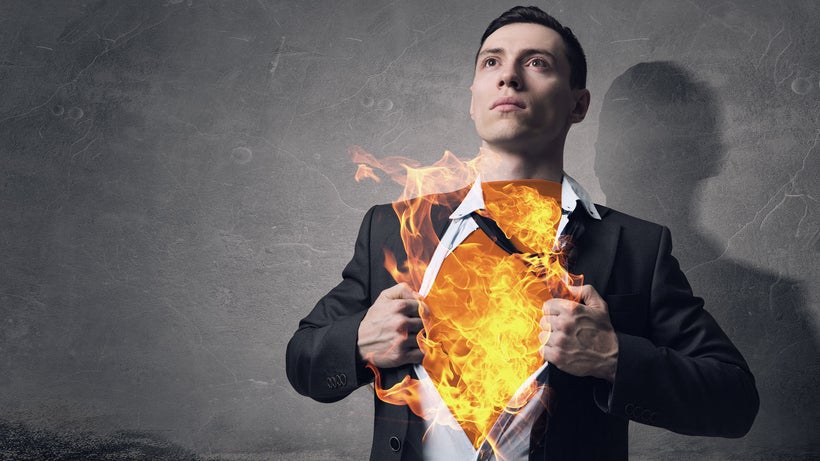 Ask anyone in the ad world what they do and they'll say 'x' role- and then, after a thoughtful pause, they'll correct themselves and say, but what I'm really passionate about is 'y' – they're really a poet, they're really a chef, they're really a charter boat captain – we're a conflicted bunch, but not without reason.
These secondary pursuits are often the things that make us tic as humans, and recognizing that being successful humans is what makes us successful marketers, it's no surprise that agencies have begun to experiment with giving a growing number of employee's time to focus on these secondary pursuits. According to a recent Harris Poll conducted on behalf of Career Builder, nearly 1/5 of employees making more than 100k are actually participating in a side project.  Berlin Cameron, where I am employed, recently began a pilot program called 'The Side-Hustle.' It's a simple program- employees receive one day a month to focus on their 'other selves' fully and plainly and the benefit we've seen even in early practice is inspiring.
According to a recent Harris Poll conducted on behalf of Career Builder, nearly 1/5 of employees making more than 100k are actually participating in a side project.
My personal 'Hustle' has been bringing a technical sock product to market over the last 18 months. What I've learned in managing the product development, distribution and partner agency (FB, GDN, Amazon, Suppliers) briefing process has evolved or reinforced many aspects of how I look at the role of an agency partner.
A few things that stood out:
Marketing likes to live in isolation. Try not to let it.
To a consumer your product, marketing, UX and brand are all the same thing- so it makes sense that the product, marketing, UX and brand team, need to be on the same team. In contrast; subdividing disciplines at scale makes logistical sense. It makes teaming easier. At aids in accountability. Unfortunately, it also leads to inefficiently designed brand engagements and product experiences. A huge advantage of a startup is being small enough that the entire consumer experience can be governed in one or two rooms of employees. From an agency perspective, your advantage is that you look horizontally across your client teams. There is real opportunity in helping unite desperate teams of a large client organization.
Don't stop at comfortable. Stop at clear.
I thought I had a pretty solid handle on providing clear direction.  Then, I tried to give a Hong Kong-based factory representative (fluent in English) instructions on how to construct a sock  designed to ease the process of getting into and out of wetsuits by creating (what I believed) was an exhaustive brief.  My words were taken to the letter. Failure ensued. Then confusion. The reality was, I wasn't as fluent in development as the expert who was executing, and in turn, I did not provide the most effective direction- even when I thought I had. This is not saying that your client partners are not skilled brief writers. But, if you've never made a sock, sometimes it is hard to tell someone how to make a sock.
Goals are different than briefs.
To the above point- too often we take our client tasks on literally. Which is counterintuitive, considering we're meant to be the expert in a given practice. Good agency folks are going to attack here- but at some point in history we've all pointed back to a brief and said- that wasn't the ask. Taking the time (and occasional senior intervention) to clarify the master plan vs. tactical execution is not only going to lead to less rounds of work- but will involve your thinking and expertise sooner, which is where they will be most valuable.
It's time to kill the tension between branding and conversion.
After attempting to higher three (albeit young) ad teams that repeatedly placed the value of my products 'brand' over the products benefit, I was reminded of how brazenly marketers can wield the almighty 'brand' sword. There is a time and place for every marketing execution.  Identify the appropriate funnel stage for a products lifecycle and work from there.  We don't get to elect one RTB tipping point in the minds of consumers because it tells a better story. Excellence is moving product. Move product. Never. Ever be ashamed of moving product.
You cannot solve a brand problem without solving a consumer problem first.
Almost every brief I've seen come in from a client in the last 10 years started with the word 'Objective' and each of those objectives was the objective of the company in question. In a world of overnight product commoditization, if a consumer doesn't like your product features they can Kickstart their own- and they are- so we seriously need to reassess whose problem it is that we're trying to solve at the beginning of an assignment because this is where we can really add value and offer proof of differentiation. Products aren't the only thing on the hook for this. The most valuable campaigns find a way to address a target's need through the marketing itself.
Bryan's Side Hustle 'WETSOX' (www.wetsox.com) is an (almost) two-year-old outdoor apparel company selling in 240 outlets in the US, via Amazon and a direct channel, and is on target to break 200k in 2017.
Career Builder reference:
Calling all HuffPost superfans!
Sign up for membership to become a founding member and help shape HuffPost's next chapter
This post was published on the now-closed HuffPost Contributor platform. Contributors control their own work and posted freely to our site. If you need to flag this entry as abusive,
send us an email
.