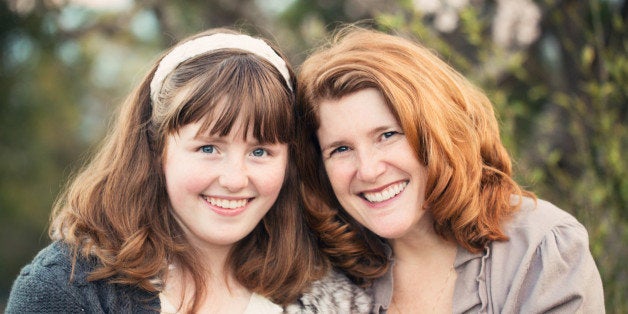 One of the byproducts of marrying my now ex-husband is my relationship with his two daughters. I was clueless about what I was getting into with teenage girls and had no experience with divorce at any stage. In the beginning it was fun and easy. Their father and I had the time and money to entertain them. We went shopping, out to dinner, and to special events like the Nutcracker Ballet. But inevitably our weekends became more challenging. After all they were teenagers, their mother wasn't happy about the divorce and their father and I had our own struggles to contend with. Looking back I'm eternally grateful for the experience of being a stepmother and am blessed to have them in my life. Their mom, too. Here's what they taught me:
Children have their own set of needs. Don't add yours to theirs. Stay focused on being the parent. It's all about them. You had your time pre-divorce. Once the papers are signed, start living your new life. If you find you didn't quite get the settlement you need, suck it up and make it work. The last thing anyone, including your friends and especially your children, wants to hear is what a lousy divorce you had. About the only good topic for conversation is how well the children are doing. Make it happen.
Children are in their own world. They don't care about the day to day things like bills piling up or how you're going to pay for the upcoming birthday party. Let them have their lives and keep with their routine. And it's not a treat to skip homework because they're at dad's that night. Nor is it helpful for anyone to let them stay up later than usual. Children need structure. Trying to be the "cool" parent is a short term solution that can lead to a much bigger problem, such as therapy when they're in their 30s.
Don't let your kids prey on your newly-divorced status for more stuff. They don't suddenly need new toys. All they probably want is your time. New X-box? Wow, really? Nothing says I love you more than letting your child park himself in front of a television for an afternoon. When he's not dating and still gaming at 25, you can be sure you were part of that problem.
Distance does not change love. Be supportive if your co-parent has to move. Don't make an issue about the location or drive time. Love isn't measured by the mile. And there's a lot of bonding opportunity when you're together on the road. Enjoy it for the few years you have left before they're out on their own. Time together is fleeting.
Teach your children to speak up for themselves. Don't let them go through you to communicate to the other parent. Unless there's something serious going on like bullying at school, do yourself a favor and make them independent thinkers. Who better to practice on than a parent. (Unless the coparent is abusive. Whole other issue.) It's not your responsibility to tell your coparent that your daughter doesn't like tomato sauce on her pasta.
Never speak badly about your coparent. This is the ultimate divorce hall-of-shamer. First of all, your ex is a reflection of you. You married him so there was some connection. Let the past go and hold your head high. No one has to know how embarrassed you are for having done so. And now, his role in your life is your coparent. He is the father of your children. To the kids, that's all that matters. Respect!
It's all in the spin. Whenever I watch a tv show or movie with all the negative drama of divorce I cringe at the stereotype. Getting divorced is one of the greatest things you can do for yourself. If you were in a miserable situation and had the strength and courage to get out and move on you should celebrate every moment of your accomplishment! There is no reason to think that your children see it as something bad and shameful, unless you make it that way. After all, they still have their coparent. They've got a better you, and maybe even a better coparent. Make it a win-win. Show it in your new attitude on life and how you carry yourself. Be the role model you want for them.
Stay tuned in to the little things too. If your child has a stomach ache don't assume it's the flu or his diet. This was one of my biggest mistakes. I thought for too long it was my cooking. Turns out, it was anxiety and I discovered years later that my son's father and half-sister had the same thing. Once it was diagnosed, we were able to get to the root of the problem and work through it.
The kids will survive. I have two amazing step daughters to prove it! I had the privilege of being part of their life during a challenging time and we all made it through. In addition they're great role models for my sons. A while back I was concerned for them with all the craziness that life can bring, divorce or not, but I stepped back and rode it out and it all worked out fine. I'm eternally grateful that our relationship survived and that I was able to "keep" them in the divorce.
Extended family is a wonderful bonus. Not only are my step daughters awesome but their mother and I became friends too. She's wonderful with my sons and we have a unique bond. She's a trusted guardian and we're very lucky to have her. Ditto for my coparent's family. They stay in touch and I really appreciate that.