Have you noticed more women are dropping F-bombs a lot lately? At first it scared me, but then I really started to listen to what they were saying and found myself dropping some F-bombs more and more. The F-bombs I'm talking about are Freedom, Flexibility and Financial opportunity (and you thought I was referring to the widely used expletive, didn't you?).
Today's 21st century woman still wants it all, but in a different way. She wants the freedom to be her own boss and make her own decisions. She wants the flexibility to work during hours that fit her lifestyle and focuses on what's most important to her and her family. And she wants more opportunities to create her own financial stability according to her gifts and talents and not the status quo.
This certainly rings true for Georgiana Haynes, a full-time architectural designer and part-time independent Avon Beauty Boss. I got a chance to talk with Georgiana on her view of freedom, flexibility and financial opportunity.
Georgiana is a Queens, New York native who has always had an entrepreneurial spirit. At the age of 17 she became an Avon representative to pay for college and make her dream of becoming an architectural designer come true. Not only did she pay for college by having her own Avon business, she just recently paid off all her student loans and other debts by continuing to be an Avon representative while working for an architectural firm, for over 15 years.
Most people that know Georgiana aren't surprised at her success. From an early age Georgiana's mother instilled in her a strong work ethic and modeled what being a true woman is. As a first generation college graduate with a West Indian heritage, Georgiana took her limited means and created unlimited possibilities by following her heart.
For many women today, following their heart means leaving the comfort and security of a 9-5 corporate job and finding freedom, flexibility and financial opportunities by owning their own business. In a recent online survey (commissioned by Avon and released on October 17, 2016 for National Boss Day) conducted by Finn Partners, 77% of the women in the survey said they would love to be or love being their own boss, yet only 4% currently own their own businesses.
Avon is making it easier for women across the country to become their own bosses and live a life of freedom, flexibility and find financial opportunities. "As an iconic American brand with a 130 year history of empowering women, we arguably have inspired more female entrepreneurs than any other company in history, says said Scott White, CEO, New Avon LLC. We have the right tools and support to help [women] build a successful social selling beauty business. The 'This is Boss Life' campaign spotlights that there is nothing more beautiful than succeeding on your own terms."
We see Georgiana succeeding on her own terms and living the "Boss Life." When I asked Georgiana what her personal mantra is she stated, "Don't put limits on your life because anything is possible." Living by her mantra has opened many doors of opportunity, giving her the freedom and flexibility to decide how financially lucrative her Avon business is.
So for all the women who are contemplating following their true heart's desire, take advice from Georgiana who said, "Don't be afraid to take the leap. Look at what's really important to you and take back control over your life."
To learn more about the Avon Boss life visit their blog.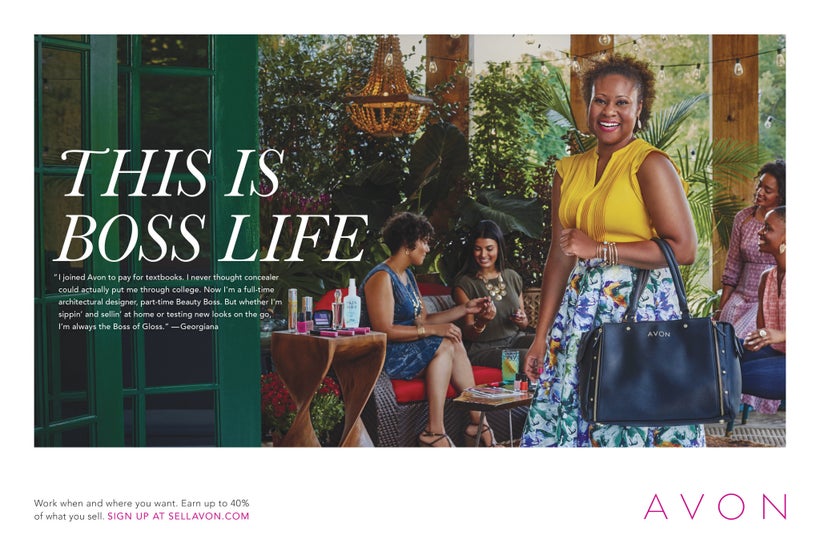 Calling all HuffPost superfans!
Sign up for membership to become a founding member and help shape HuffPost's next chapter
This post was published on the now-closed HuffPost Contributor platform. Contributors control their own work and posted freely to our site. If you need to flag this entry as abusive,
send us an email
.