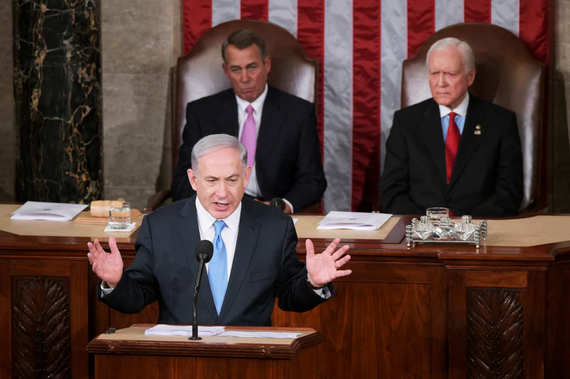 In the aftermath of a speech from Israeli Prime Minister Benjamin Netanyahu to the United States Congress on Tuesday, speculation is rife on what impact, if at all, his remarks will have on the success of the on-going nuclear negotiations between the P5+1 countries and Iran.
Yet it is what he did not say that provides the strongest rationale from a civil society perspective for why a deal must be reached.
During his speech, Netanyahu claimed that Iran is not a reliable negotiating partner because it "hangs gays, persecutes Christians, jails journalists and executes even more prisoners than before."
The irony in this is that while Netanyahu holds these reasons out as the basis for rejecting a deal with Iran, it is that very deal--and peaceful resolution of the nuclear impasse--that could provide the space to work on reversing these negative human rights trends.
In a report released just hours before Netanyahu took the podium, UN Secretary General Ban Ki-moon expressed alarm over Iran's high execution rate, retaliation against activists, attacks on women, increasing restrictions on freedom of expression and imprisonment of human rights defenders, among other issues.
Faced with these grave developments, apart from the geo-politics of the world stage, many leaders in Iranian civil society support the resolution of the nuclear issue and say a deal will open up needed space for their efforts to bring forth greater freedoms in daily life.
Efforts like that of prominent human rights lawyer Nasrin Sotoudeh--who holds a sit-in protest in front of the Tehran Bar Association every day to demand the removal of an unjust suspension of her legal license. Or those of leading human rights defender Narges Mohammadi, who in recent months, has been detained and interrogated several times for her activities, including for a stirring speech she gave demanding accountability on the anniversary of the death of a reformist blogger, who was reportedly killed under custodial torture. Or that of student and women's rights activist Mahdieh Golroo, who was jailed for several months for protesting the inadequate response of the Iranian authorities following a series of recent acid attacks on women in cities throughout Iran.
Stuck between the oppression of the Iranian authorities and an international community that, in recent years, has isolated them socially, financially and diplomatically, these activists and others only stand to gain from a peaceful resolution of their country's impasse with the international community over its nuclear program.
Which is why Netanyahu's list of Iran's human rights violations, far from being a reason against striking a deal, is actually a reason for it.
Calling all HuffPost superfans!
Sign up for membership to become a founding member and help shape HuffPost's next chapter