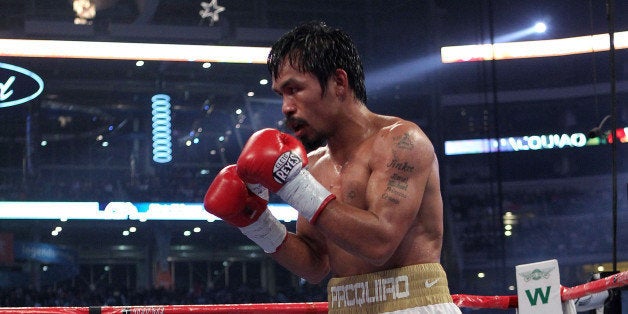 In his landmark book Influence, social psychologist Robert Cialdini identifies six principles that help marketers and salespeople achieve results. According to his research, these "Principles of Persuasion" are immutable, hard-wired constructs that trigger us to buy.
Two of Cialdini's principles are "authority" and "social proof." Authority creates a path set by experts that others will follow. Social proof is the leveraging of peers as a reference point to guide one's buying decisions. In other words, if I'm in the market for a pair of gym shoes, I will be influenced by what authority figures (pro athletes) are wearing, and by what my friends are wearing.
This is why people like Manny Pacquiao make so much money endorsing products. Celebrities leverage their authority and the admiration of a buyer's peer group to elicit buying behavior to sell the product.
For these reasons, endorsements are a very, very powerful tool. Nike, the "King of Endorsements," knows this dynamic better than any company on the planet. They have spent billions of dollars in the last decade paying athletes to influence us to buy their shoes and branded gear. And buy we have. According to Forbes, Nike is the most valuable sports brand on Earth.
Endorsements can also backfire. Nike has some experience with this, too. Consider Ray Rice. Michael Vick. Tiger Woods. Lance Armstrong.
And most recently, after an endorser asserted that LGBT people are "worse than animals," Nike expressed their outrage at boxer Manny Pacquiao's homophobia. They severed business ties with him. They claim to demand more from their endorsers. They say they do not condone attacks against the LGBT community. They oppose discrimination of any kind.
Nike's response to apparent bigotry sounds great. As a member of the LGBT community and American consumer, I want to spend my money on brands whose values generally align with mine.
The problem is that Manny appears to have held this anti-gay stance longer than just this week, and Nike has had an endorsement deal with Manny since the mid-2000s.
Nike has sold a large fortune's worth of products based on Manny's good word. They have made millions on Manny's ability to influence us to buy Nike products. Many LGBT gym bags are filled with Nike shoes and athletic wear.
Today the LGBT community seems vindicated that Nike dropped Manny. The pages of Huffington Post abound with blogs and comments celebrating an apparent LGBT victory. But is that enough for our community?
Can't Nike do more to vet endorsers responsibly before they offer up 8-figure contracts? Couldn't they make sure that a spokesperson's values align with theirs before a deal is inked, or is it okay for Nike to just leverage those principles of persuasion until a scandal hits?
Severing ties with Manny is a good start, but shouldn't the LGBT community demand greater diligence from the brands we choose to support?
What do you think? Sound off in the comments below.
Calling all HuffPost superfans!
Sign up for membership to become a founding member and help shape HuffPost's next chapter