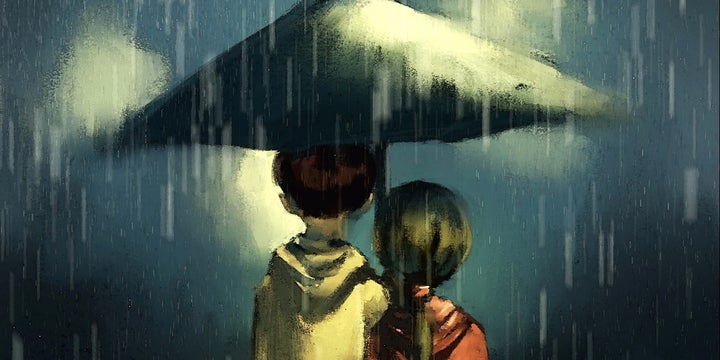 "You were gone for all these years. Now you're back and still not here," Nadine Horton shares about her husband's return home from treatment for alcohol abuse.
This is a sentiment far too common and far too closeted, among romantic partners supporting a loved one in recovery. In fact, most individuals in this position report high feelings of anger, worry, distrust, anxiety and frustration in their relationships. Meanwhile, partners living in recovery most often report feelings of love, happiness, trust, desire and hope.
If these sort of emotional disconnects are common in relationships impacted by addiction, even after treatment, why isn't it something that's frequently discussed? Because of this, people like Nadine end up feeling isolated or guilt-ridden. The truth is if you are supporting a partner through recovery, you aren't alone and your recovery matters too.
The Mighty caught up with Nadine, asking her to share her experience in hopes of illuminating the realities — for better or worse — of loving someone in recovery. She has worked through 15+ years of recovery alongside her husband and while it hasn't always been easy, there's hope for restoration.
Here's what she had to share:
Q: What was your first conversation like when you spoke to your husband during his treatment?
Nadine: "My daughter and I went to visit him together and I just remember it being a really awkward experience for both of us. I could tell our daughter was happy to see him, but just didn't know how to talk to him. For me, I felt like I had nothing to say. I battled very mixed emotions. I knew I loved him very much, but that man was gone and for that, I was angry. At the same time, I felt guilty because I knew I had a role to play in this awkwardness we felt. I hadn't made an effort to speak with him during treatment."
Q: How did you feel when your husband left treatment? Were you looking forward to his return home?
Nadine: "By no means was I ready for my husband to return home and I was extremely lucky we had another option. He was able to go live with his mother for a little while, which was relieving for me. It took away that pressure of going back to a family unit, because we didn't feel like 'one.'
It afforded us a neutral space where he and I could have time alone to talk and reestablish our friendship. I needed to learn to trust him again and find a level of comfort — that was really important for me emotionally. After a few months, I could feel myself relaxing around him. I started to see the person I fell in love with. Although I was still 'on the fence' emotionally, we made the decision for him to return home with my daughter and I."
Q: Did anyone prepare you for how you would feel or what the recovery process might be like?
Nadine: "Not at all. No one had a conversation with me to explain what to expect emotionally or even just practically. No prep, no nothing. Even in light of that, I didn't form any of my own expectations either. I just really hoped the person I fell in love with would come all the way back and that more than anything he would reconnect with our daughter. Looking back, I wish I did have that support or preparation. I felt very alone for a long time. Now I know I didn't have to."
Q: How did you and your husband work toward repairing your marriage?
Nadine: "Well, the first couple of years were rough. My husband was doing all the 'right' things: working two jobs to make money again, apologizing for being gone for so many years and attending AA meetings religiously. However, I still didn't feel like I had him back. In fact, I even grew resentful of his overzealous commitment to AA. Recovery was number one in his life and he was so afraid if it wasn't, he would relapse.
My husband was getting a lot of support, yet I felt very alone. I didn't have an outlet in the same way he did and I would bury my feelings. I eventually broke down and shared my honest feelings with him. I told him I felt ignored for a long time and I think that was our breaking point. We started to rebuild our marriage when we started to openly communicate about the way we felt — the good, bad and ugly parts."
Q: What would you say to others who are supporting a partner through recovery?
Nadine: "First and foremost, do not blame yourself for your loved one's condition. Guilt can take over your life, so it's important to remember, 'I didn't cause it. I can't control it. I can't cure it.'
Once your partner finds recovery and commits to it, education, patience and honest communication are key. Educate yourself on the recovery process and understand their recovery journey will and has to become, the most important thing in their life. Also understand this in no way diminishes their love for you. Be patient with your partner and yourself. The chaotic, drama-filled life you once led is now gone and will be replaced with meetings, meetings and more meetings. You need to give yourself and your partner time to settle into that routine and find the balance. Most importantly, speak openly and honestly with each other. There will be a lot of feelings on both sides and you need to be able to express those in a way that preserves the love that is there.
Ultimately, recovery is a lifelong commitment and it takes time. Being aware, having a support system for yourself and finding your own recovery is just as important as the recovery of your loved one with the addiction. If you do it with open, honest communication and love, you will find your relationship stronger than it has ever been and there is nothing the two of you can't overcome!
If you find yourself in Nadine's shoes, take heart in her story. There is hope for a restored relationship and you don't have to do it alone. If you're in need of a support community or insightful information, visit Recovery.org to explore some of your options.
Related