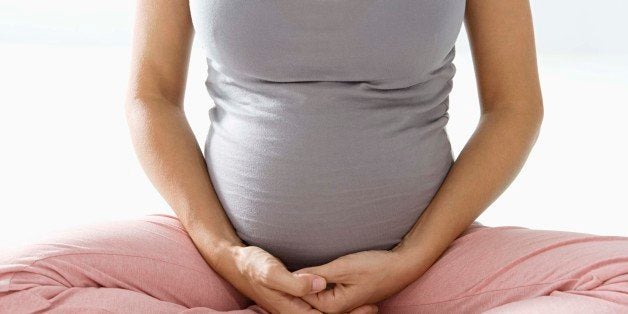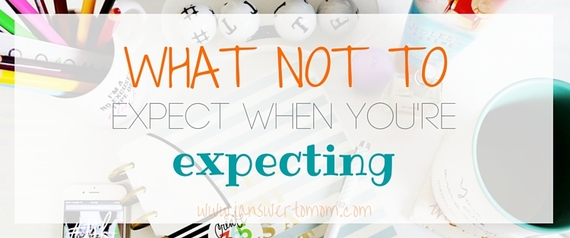 We've all heard the advice, seen the movie, read the books, and researched the heck out of parenting websites to prepare for parenthood. Everyone has something to say about having a baby. Breastmilk or Formula? Avent or Dr. Browns? Paci or Thumb? Bed-Share or Crib? Trust me, there's a debate out there for every situation and everyone will think they're right.
Regardless of how much an expecting mom prepares, there will always be something that's left out. Here's what not to expect, when you're expecting...
1. Don't expect the morning sickness to decrease after the first trimester. It could last your entire pregnancy. Most of all, it could come at anytime, not just in the morning.
2. Don't expect the 10 minute doctor appointments to only take ten minutes. Even if it's just to re-check your blood pressure, you will always have to wait for something.
3. Don't expect everyone to be sensitive to the feelings you have while pregnant. Not everyone thinks it's bad to smoke around you, eat rare or even medium-rare steak in front of you, or take you on long trips without a bathroom break.
4. Don't expect the ladies in line to use the restroom allow you to pass just because you have a bump.
5. Don't expect restaurants to change their menu times because you're craving biscuits and gravy at 10:00 p.m.
6. Don't expect your monthly visitor to not come knocking, even while you have a 9 month long house guest.
7. Don't expect to rest, like the doctors insist, during your third trimester. There will be too much cleaning and preparation to do... even at 2:00 a.m.
8. Don't expect those who are throwing you a shower to do so on your schedule. It's their party, they are the host, and they'll throw it when they want to. Also -- freebie -- don't expect to be a part of choosing the theme. You may be all about pink and purple butterflies for your new little girl, but chances are, the theme may scream lime green and pastel blue dragonflies instead.
9. Don't expect the classes to be relaxing and leaving you feeling prepared and ready. Especially for new moms, the classes are terrifying and may leave you feeling like a failure before you even have a chance to perform.
10. Don't expect to have every question about delivery and labor answered by your doctor before it happens. They have a way of giving you information that kind of answers your questions, but not wholly; and you leave even more confused than when you came in for your delivery consult.
11. Don't expect your birthing plan to be considered when the laboring process actually begins. Everything happens on a whim. The hospital staff will handle everything as it comes at them, and not only ignore the fact that you've given them a plan, but ask you a question, probably in the middle of a contraction, that you already answered on the birth plan itself.
12. Don't expect the staff to keep family members out of the room while you're in labor, even if you've told them who you want in there or if the number of people allowed in the room is maxed out already.
13. Don't expect to have a peaceful delivery where you can make everyone happy, including your spouse. During those moments, you literally are only thinking about yourself and your baby.

14. Don't expect people who are staying with you in the hospital to stop eating just because you can't have anything until after delivery. Chances are they'll stuff their face in front of you or come in smelling like a cheeseburger.
15. Don't expect the doctor to be present when you're close to delivery. More so, don't expect the doctor to be present during delivery. Delivery nurses get that job most of the time, especially if you progress quickly.
16. Don't expect to have a textbook delivery. Anything could happen. Prepare for every possible way of delivery so there are no surprises or anxiety if they suggest other avenues of delivering your baby while you're in labor.
17. Don't expect the epidural to work. Some get an epidural and they take a nap. Some get an epidural and they can still feel a lot of pressure. Some get an epidural and they can feel everything. Prepare by practicing natural birth relaxation methods even if you aren't planning on delivering naturally.
18. Don't expect your baby to come out looking beautiful. You'll be in love no matter what they look like. But chances are, your first glimpse of them will be horror. You'll ask your husband if he's a character from Men in Black disguised as a human, because there's no way that baby is anything but an alien.
19. Don't expect to get to hold your baby immediately. The hospital protocols and the health of your baby, or even yourself, will determine how long you have to wait before seeing them.
20. Don't expect to have ice cream right after delivery. Even though you've been dying for it for 10+ hours, no one will care about your cravings.
21. Don't expect everyone to ask you how you're doing when they visit. Truthfully, they just want to see your new baby and take selfies. Even more truthfully, you may think you won't mind, but you will.
22. Don't expect to sleep the first 72 hours of having a newborn. You'll be switching from "I have no worries" deep sleep, to "oh crap, I closed my eyes for three seconds, is my baby still breathing" sleep.
23. Don't expect to love every minute with your newborn. Your emotions will be on the biggest roller coaster of their life. It's okay to cry and it's okay to allow your husband to take care of things for an hour while you compose yourself. These feelings won't last forever.
24. Don't expect to take a shower alone, or even take a long bath, for the next 5 years. Kids know what you're doing, how long you've been doing it, and how to get on your nerves while you're doing it better than you think.
25. Don't expect to love anyone or anything else more than you love the one that calls you mom. It's a love that's irreplaceable, uncontainable, gushy, and unconditional.

Oh! And every time they smile at you... you will love them just a little bit more.

What did you experience that you weren't expecting with your pregnancy?
Tell us in the comments or tweet me!
Shela Yount is a stay-at-home-mom who loves inspiring other moms and wives with her words. She owns I Answer to Mom, a blog for moms and wives; and has an exclusive resource library available just for you! Visit her blog to check it out!