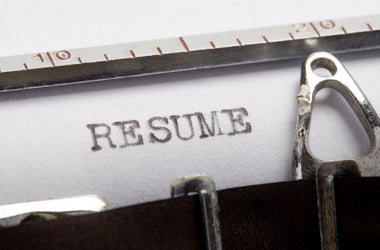 There are a million things out there giving you advice on how to format your resume, what you should include, how long it should be, and more. Sometimes it seems like we're constantly bombarded with different "facts" about resumes and what makes yours stand out.
I may be able to help. I am a Recruiter and Business Developer in the staffing industry. What does that mean for you? It means that not only do I see hundreds of resumes per week for open positions, but that I also work directly with the clients: the companies looking to hire someone. I get to get their exact feedback on resumes, interviews, candidates, and more.
Which means I see how resumes perform from every angle.
Instead of a list of Do's and Don'ts, which I have addressed before in a more general Resume Triage article, here is just a list of DON'TS.
1. Don't worry so much about length. The one-page rule is an outdated myth. You aren't handing your resume out on the street, it's all electronic, you're fine to be on 2 pages. I'd rather have your actual experience and responsibilities anyway. When you get 50+ resumes for one spot, being able to see what you have done in the past really helps distinguish who could be a good fit for the role.
**Also, side note: If you make your font really tiny in an attempt to cram everything on one page, it makes your resume very difficult to read. If your resume is a puzzle we are supposed to squint to solve, no one will want to read it.
2. Remove both your "Objective" and your "References upon request" lines. They are unnecessary. The entire objective of a resume is to get a job, so remove your generic objective and address everything in your cover letter. References will always be provided when a possible employer requests them. Both of these statements are redundant to the resume itself.
**Instead of an objective, put in a "Summary" section at the top that summarizes some of your skills, years of experience and biggest accomplishments! This can be either paragraph form or bullet points, and is a great way to introduce yourself.
3. You don't need to list any jobs over 10-15 years ago. Unless you have only had one job in all that time, you don't need to go back any further. Even if it is experience in the same field and is relevant, the skills in that job in 1997 probably aren't updated and relevant to the skills you use now, so spend your time showing your current skills, and don't worry about the older positions.
4. We don't care about your personal interests. You don't need to have a section on your resume showing that you like parasailing, biking, and modeling board shorts on the weekends. It's not relevant to the job, and prospective employers don't really care about what you do in your personal time. Heck, current employers don't either, unless you are doing something illegal, I suppose. Save the space on your resume for job-specific relevant information. That's not to say we don't care about you and your personality. We do! But we will get that from meeting you and talking face to face, and don't need that on your resume.
5. If you are in a more "serious" profession, don't try to get fun with your resume. Law firms don't want flowcharts, weird formatting, or a picture on top of your resume. If you are in the Creative world or IT or other similar professions, the rules are a bit different! Check with recruiters specific to your industry for more details on this.
6. When you make your resume in Word, try to avoid text boxes. You don't need them, and if there is any sort of mistake, typo, or error in your resume and I go to fix it for you, text boxes make everything more difficult!
7. Use one font, one color, and one font size. Except for your name, which is usually a larger size, keep your resume consistent and clean looking. The more colorful, the more sizes, it all makes it harder to read. And a hard to read resume won't get more than a cursory glance.
8. Ask for help! Send your resume to a recruiter that works in your field and politely as them to take a look! Most recruiters I know are happy to help. Ask friends/family who work in your field to take a look. Utilize your resources, it is always a good idea to ask for a second pair of eyes.
A strong standout resume isn't one that is colorful or silly or has pictures or video. A standout resume is clean, consistent, has relevant information, and conveys that your skills fit the position. It shows that you have most of what the job requires, and that you are technically proficient in the tools they are asking for.
While these rules aren't 100% consistent across every single industry, these are very good rules to follow for a strong and clean looking resume that hiring managers will be able to easily read and assess your background and fitness for a role.
Have any questions about these or other resume issues? Comment below and let's discuss! Trust me, you aren't the only person who wants to know!