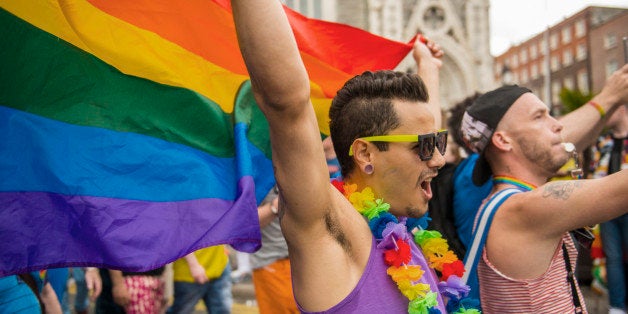 If the LGBTQ community is not serious about moving past pride as a once needed but now largely needless concept for us, then we will assimilate into extinction as a culture, not because we are "getting what we want all along" with mainstream acceptance, but because we failed to further develop the creative muscles as a community that originally made us a force to reckon with.
Boycotts for Christopher Street West's (CSW) Pride Festival --largely known as L.A. Pride -- are underway as CSW's new leadership are shaping the festival into a money-making music festival. In order for our struggle to continue to mean something more than summer weekend parades and parties, we must keep our eyes and ears to where patriarchal heteronormative thought systems seduce society into prioritizing capital gains and building hierarchies around relationships, bodies and genders.
The creative muscle we yearn to flex are ones of usefulness in seeking equity for all. We need a solidarity movement for international elevation of LGBTQs. We need a deep understanding of how homophobia and transphobia in and around us makes it easier to celebrate with straight pop artist headlining a music festival (that will no doubt cause a swell of non-LGBTQ attendees) than to honor our transgender kin. We need the LGBTQ people living openly and freely to understand on whose shoulders we stand; to remember back when a parade was a solidarity march; and to know that at one time "pride" was the only defense against defamation and demonization in the greater landscape of society that thought of us as mentally ill at best and evil at worst. The truth is, Carly Rae Jepsen concerts upset many of us because our work is not done. Many of us are mourning the loss of protests and actions, organizing and dreaming, not because these times have past, but because many of us assumed a milestone (read: marriage equality) was the promise land.
As a writer and ministerial student, I am very conscious of word choices. Pride was an idea that was desperately needed during the beginning of the movement, and as our movement evolves, we can begin to ask ourselves what no longer serves. Often, when Pride was started, it felt like the greatest example of who we were to the public -- free, self-affirming and happy! Something that we were not collectively viewed as before. But now, what message should we be interested in transmitting to ourselves and the world?
I have faith in how we are changing the world. Pride was the answer to rejection, whereas Faith is the answer to truth. And we are not living as a walking debate (Pride) but as a demonstration of the power of authentic living (Faith). Faith does not denote religion for me. Faith is an instrumental tool for transcending hope, by taking action in accordance with the truth as we know it. Hope is that our rights will be won; Faith is demonstrating that our rights were only questionable in direct relation to our self-worth and our beliefs. And, of course, when we get to the truth of being created equal, purely, divinely, from the same matter that creates the stars and moon, we must surely know that Pride is neither good nor bad, but unnecessary.
With this in mind, it is my wish that all artist, activists, elders and seekers in the LGBTQ community consider introducing solidarity marches to their local pride activities; solidarity marches that draw support to our international LGBTQ siblings that are being challenged; solidarity marches that might be uncomfortable and sobering; solidarity marches that may be paired with direct actions in non-LGBT friendly environments, that might be inconvenient but will be the ingredient that will draw forth the spirit of our community once again. It is my wish that the next time thousands of LGBTQ people come together, it be centered on our ability to change the world for the better, not just to idolize pop singers for accepting us. It is my wish that we not attack those who solely seek the dance celebration or who aren't interested in the history or next steps, but that those of us who have the vision use our hands, move our feet and speak our minds. It is my wish that we reinvent ourselves as the fringe members of society, not because we are outcasts, but because we proudly stand on the edges as the vanguard, demanding that the human race once again expand its capacity for unity, diversity and love.
REAL LIFE. REAL NEWS. REAL VOICES.
Help us tell more of the stories that matter from voices that too often remain unheard.