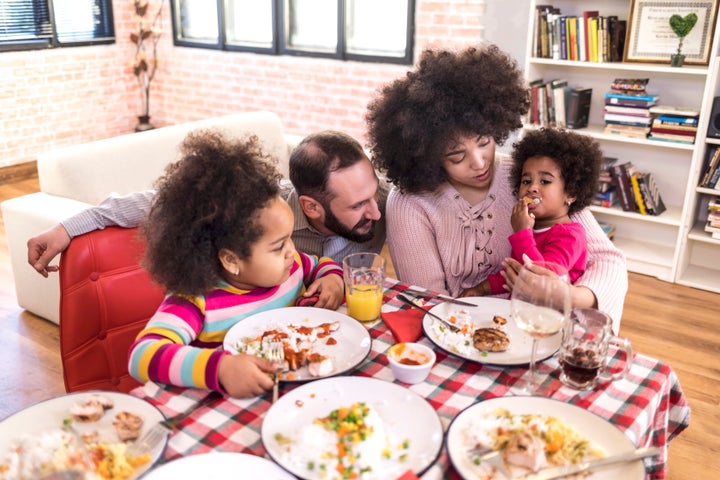 Dinnertime is an important part of family life, providing an opportunity for meaningful conversations and routine-setting. And of course, there's also the food component.
Parents want to keep their kids happy and healthy, but it's not always easy to come up with nutritious and delicious dinner ideas that will appeal to the whole family.
HuffPost asked a group of nutritionists what they serve their kids for dinner, and they shared their general guidelines and kid-approved dish ideas.
Deconstructed Versions Of 'Adult' Dinners
"I most often serve my 6-year-old son a deconstructed version of what the adults are having for dinner. If we're having a three-part dinner, that's easy, but if it's a soup or otherwise more 'adult-style' meal that I don't think my son will love all mixed up (such as a pasta dish with lots of different vegetables and sauce) I'll pull ingredients out for him in separate piles so it looks familiar but doesn't require any short order cooking." ― Kath Younger, a registered dietitian and blogger at Kath Eats Real Food
Kid-Friendly Proteins
"I often give my children chicken or steak fajitas or quesadillas with salsa, shredded cheddar cheese and whole wheat flour tortillas. I also give them fish, like baked cod with a breadcrumb crust or baked salmon with lightly sautéed vegetables ― usually broccoli or steamed carrots ― and white or brown rice." ― Elisa Zied, a certified dietitian nutritionist and author of Feed Your Family Right!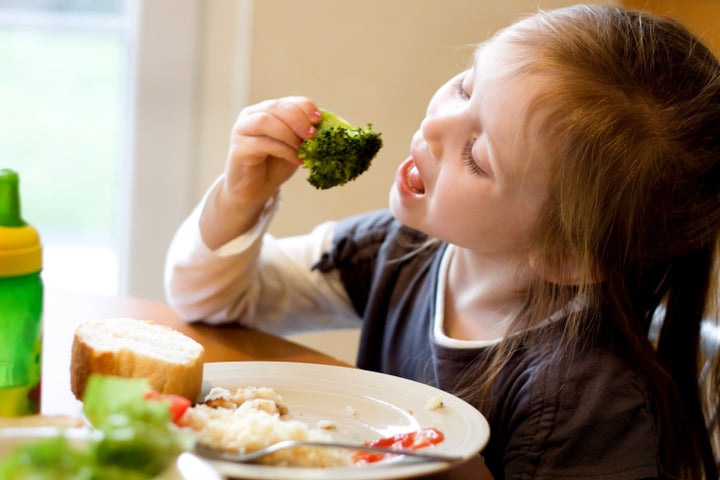 Mix-And-Match Options
"Dinner at our house tends to be mix and match because my 9-year-old daughter doesn't eat much meat, but my 7-year-old son loves it. The 4-year-old eats everything ― just not that much of anything. So a typical dinner would include a vegetable like steamed broccoli or roasted Brussels sprouts with a little organic grass-fed ghee on top for some good fats, and the main dish could be lamb tacos with an option for black beans for my oldest. I offer plenty of colorful toppings, including radishes, avocado, napa cabbage and cilantro. This way I'm not making two meals ― just swapping in ingredients. Everyone likes to build their own tacos anyway!" ― Frances Largeman-Roth, a registered dietitian nutritionist and author of Eating in Color
Whole Grains, Veggies And Proteins
"Feeding growing school kids with changing palates can keep any parent on her or his toes. As a mom and nutritionist of an 8-year-old daughter and 9-year-old son with two different sets of taste buds, I have felt like a short order cook at times catering to a different set of taste buds. While they are working on their homework, I am preparing a dinner that typically covers three areas: whole grains, vegetables and a protein. So my kid-friendly go-to dish that satisfies both their palates in under 30 minutes: pan-seared curry fish, brown rice and a green vegetable ― sautéed spinach, green salad, broccoli or green beans. To lock in freshness, I blanch or lightly sauté the vegetables. With an eye on sales and reducing food waste, I go to the frozen section in the market to get a bag of fish (no farm-raised), bag of vegetables and ready-to-serve brown rice." ― Tambra Raye Stevenson, founder and culinary nutritionist at NativSol Kitchen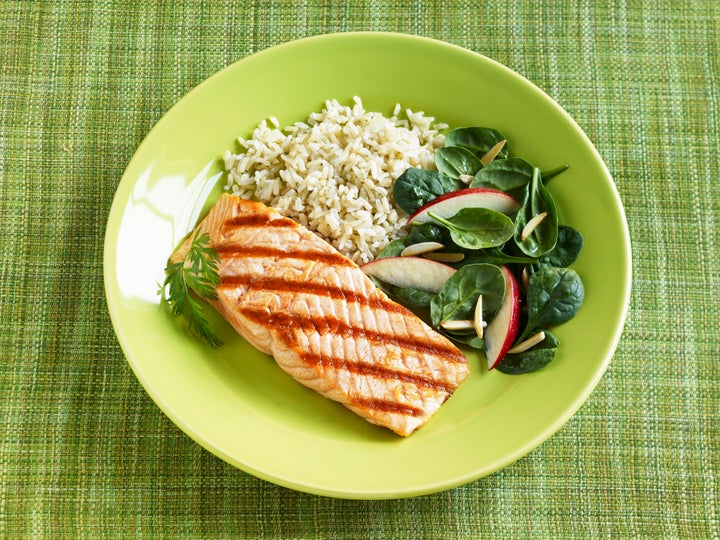 Simple, Organic Dishes
"When I make dinner it's the same for my kids, my husband and myself. I always incorporate protein, whole-grain carbs and vegetables in each dinner. I use organic ingredients whenever possible, and I don't make overly complicated dishes because I simply don't have the time. I typically do not make dairy dinners except the occasional homemade pizza, and my family loves any and all vegetables so long as it's made in the air fryer or roasted in the oven with a little olive oil and spices.
Some examples of dinners I make include sesame-crusted salmon with organic brown rice and broccoli, curry chicken breast with organic mashed potatoes and green beans, meatballs with brown rice spaghetti and vegetable soup, and pan-fried turkey scallopini with mushrooms, roasted butternut squash and vegetable blend (frozen organic and prepared in the air fryer). For a super quick dinner, I make an omelet with asparagus and red peppers, along with spelt toast, or a modified version of shepherd's pie using ground chicken, sweet potatoes, zucchini and carrots.
We have a 'this is not a restaurant' policy. You either eat what is presented or you can skip dinner. I have four kids and they all eat vegetables, including Brussels sprouts, with no issue whatsoever. The key is to start when they're young and also to get their input when they truly don't like something, so you can make it in a way they will at least tolerate it." ― Rebecca H. Lazar, a registered holistic nutritionist and founder of Real Health and Fitness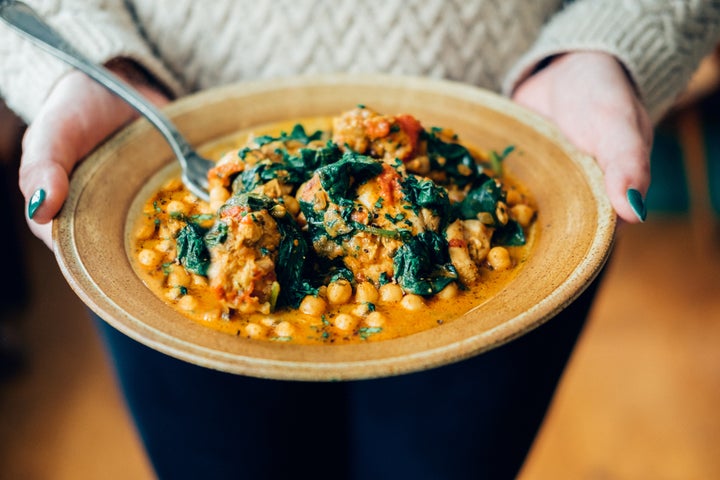 Whole, Minimally Processed Foods
"My son is a vegetarian by choice and as a registered dietitian mom, I respect and support that decision. Since I prepare the majority of the family meals and we don't have any allergies, I tend to make a vegetarian dish that is balanced and includes proteins, fats and carbohydrates. My big emphasis is on feeding my kids food that comes from whole and minimally processed sources. We typically have some non-starchy vegetable paired with a legume and a grain or starchy vegetable. Simple yet delicious. So for example, last night, they had curry chickpeas with potato and collards served with red rice. The night before, I made a homemade tomato sauce with garlic, onion, carrots, mushroom and zucchini served with pasta, and the night before that, we had mixed mushroom stir-fry with broccoli leaves over a baked potato. We all eat the same foods and we always eat dinner as a family. From the time that both of my children were born, I've spent a great deal of pleasurable time in the kitchen creating foods that I enjoy and look forward to sharing with them." ― Maya Feller, a registered dietitian and owner of Maya Feller Nutrition
Plant-Heavy Plates
"First and foremost, my children eat what my husband and I eat. From the time they were ready for table foods, I've tried to steer clear of 'kid food' and short order cooking. Most dinners in our home include either pasture-raised meat or poultry or wild-caught fish, accompanied by a large serving of salad or cooked vegetable and a healthy starch. We always have fermented vegetables on hand too, so sauerkraut, pickles and carrots find their way on our plates at either lunch or dinner most days too. I encourage the kids to fill half their plates with plant foods like vegetables, fruits, beans and nuts, and I try to purchase plant foods from a variety of color groups each week." ― Dena Norton, a registered dietitian and holistic nutrition coach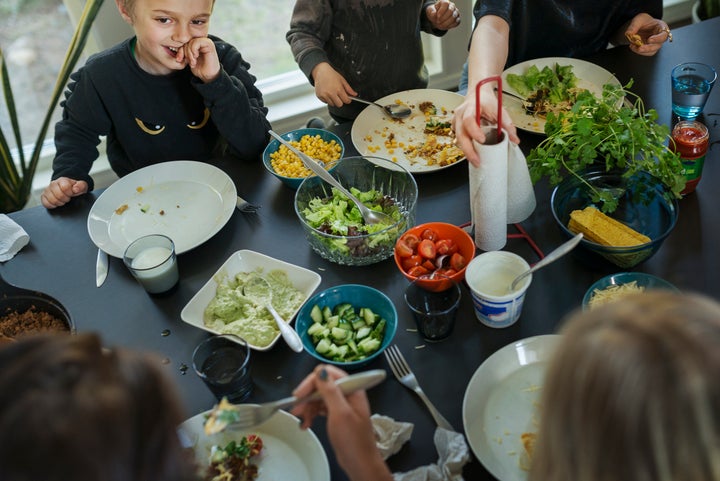 Crowd-Pleasers
"While I'm always encouraging my kids to try new foods (especially vegetables that tend to be a little less popular with my kids), most nights dinner is fairly formulaic, meaning we eat the same popular meal choices fairly frequently. Choices like meatloaf, lasagna, spaghetti, tacos ― dishes that almost seem a little cliché as a family meal. But I've found that there's something comforting about knowing that what you serve isn't going to start a cascade of cries pleading 'No, not that!' I do try to vary things by adding in new choices to the menu ― for instance, taco night might include a new black bean salsa, or I might serve roasted eggplant on lasagna night as a side dish, to keep things interesting and hopefully expose my kids to new foods. But ultimately, my goal is to make sure there's something on the table for everyone to enjoy." ― Regan Jones, a registered dietitian and founding editor at Healthy Aperture
Filling, Gluten-Free Meals
"Our family follows a gluten-free diet. My kids are 10 and 8 years old, and they are very active in competitive sports. I love to feed my kids healthy, organic, whole foods that are fun to eat and fun to help prepare. One of our favorite kid-approved dinners is a smoked organic chicken. I rub the organic chicken with a blend of olive oil, lemon zest, garlic, fresh herbs, sea salt and fresh black pepper. I stuff the chicken with herbs like rosemary, thyme and sage, and lemon wedges. The chicken is smoked until the skin is crispy and the meat is tender and juicy! I serve the chicken with baked sweet potato fries (which my kids love to help make) or a rice pilaf cooked with bone broth, plus a simple green salad with homemade olive oil-based vinaigrette, and orange wedges. This protein-packed meal helps my kids repair muscles at the end of an active, busy day. It satiates their big, hungry appetites with healthy fats. The flavors are really something ― my son gobbles up the drumsticks from the chicken! That makes me happy! I am glad they eat their fill ― there is nothing worse than a still-hungry kid once the dishes are done and the kitchen is closed." ― Sara Peternell, a board-certified holistic nutritionist
Quotes have been edited and condensed for clarity.
Support HuffPost
A No-B.S. Guide To Life
Popular in the Community