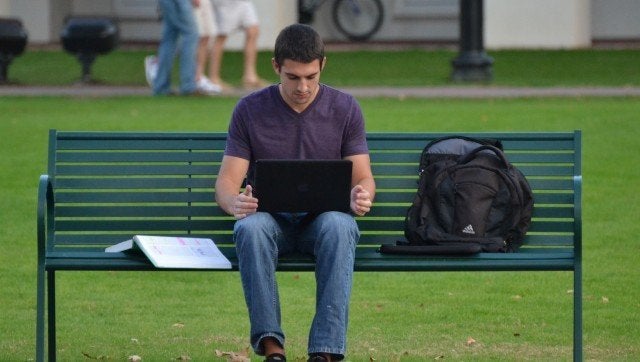 Getting America back to work is a top priority for President Obama. The nation's community colleges now offer proven solutions to high unemployment. But they all need additional help from Washington to educate young people, guide career-changers and train displaced workers.
To the president's credit, he recognizes the importance of community colleges. He held a summit in D.C. for community college presidents and called them the "unsung heroes" of higher education. I was also privileged to attend a meeting with the President and five other college presidents to discuss college affordability.
I am also pleased that the president mentioned community colleges in his State of the Union speeches. But he needs to do more. President Obama can stem the tide of unemployment across the United States through his further support of community colleges by:
•Reinstating the cuts made to Pell Grants so that students can take classes during the summer. If we want to fast-track students to get the education they need to find a job, they need to have funding from Pell Grants for summer courses. This is essential. Pell grants are the only option for lower-income students, and now increasingly middle class students, that provide an opportunity for higher education.
•Offering tax incentives to businesses who partner with community colleges. Training their present and future workforce is a priority for businesses. I believe that there would be hundreds of new programs established at community colleges by local businesses if there were a tax incentive to undertake such programs. Setting up these courses at community colleges, whether it be an associate's degree or a certification program, is time consuming and expensive and there is little money on the state level to fund them. However, they can yield impressive results.
•Encouraging businesses to provide tuition re-imbursement for their employees seeking additional training to stay current with rising industry demands. Employees should encourage their workers to get on-the-job training combined with courses at community colleges. A tuition re-imbursement program would be a win-win situation. Again, offering businesses tax incentives would increase attendance at all institutions of higher education to the overall benefit of the nation's economy.
•Increasing funding from the Department of Labor for training programs at community colleges. Last year, many states received money from the Federal Trade Adjustment Assistance Community College and Career Training Grants Program, which plans to invest $2 billion over the next four years. This money should be available immediately rather than being parceled out over four years. The Department of Labor should also create a data bank of best practices so that community colleges can share information about successful training courses. With online education, students have access to courses around the country and are not limited to their local community college.
•Making manufacturing a priority. A strong manufacturing sector is critical to economic stability. Even now, many manufacturing companies are forced to outsource work overseas because they cannot find trained workers. There have been great strides made by community colleges to train highly skilled workers for manufacturing jobs, but we need to do more. Government stimulus grants to manufacturers should include a stipulation that they set up training programs at community colleges.
In researching my recent book, The Community College Career Track: How to Achieve the American Dream Without a Mountain of Debt (Wiley, September 2012), I identified dozens of examples of community colleges working with local businesses to train workers. Some of them are:
The shipbuilding facilities of Northrop-Grumman in Newport News, Virginia, offers a co-op program to Thomas Nelson Community College students, who major in computer-aided drafting and design or mechanical engineering technology. Students attend classes for free while they are paid to work and train at Northrop.
John Deere pays the tuition of students at Southeast Community College in Milford, Nebraska, who are pursuing associate's degrees in applied sciences and aiming to work as technicians at the company's dealership.
Tyler Junior College in Tyler, Texas, is home to a corporate training academy for local power company, Luminant, which puts up more than $175,000 a year for scholarships for student earning an associate's degree in power plant technology.
At the same time, community colleges have to do a better job of promoting their programs and business alliances. Companies should see their local community colleges as an invaluable conduit to educate present and future employees. Government needs to increase its support of the work of community colleges.
If this happens, we will all benefit and be well on the road to economic recovery.
Related
Popular in the Community