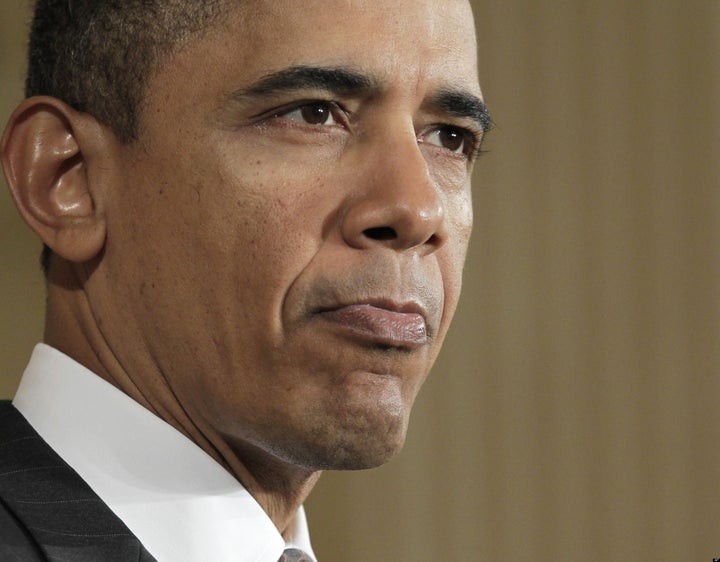 Sam Stein contributed reporting.
In Tuesday evening's State of the Union address, President Obama is emphasizing several high-profile economic themes, urging big-picture, bipartisan action on the jobs crisis, the budget deficit, and America's global competitiveness.
But some of the pressing topics facing the nation were omitted from the speech, as Obama didn't mention gun control, climate change or the decline of the middle class that was the theme of his presidential campaign. Of particular note was his decision not to discuss the ever-deepening foreclosure crisis plaguing communities across the nation, even as he touted stock market gains and surging corporate profits.
The housing market is entering one of the darkest years in U.S. history. Last year, one million American families lost their home to foreclosure, taking a heavy toll on communities and market functionality alike.
Obama said he's seen the way the world has changed in a declining American landscape that includes shuttered factory windows, vacant storefronts, deserted mainstreets, dwindled paychecks, and disappeared jobs. Foreclosed homes, arguably the saddest images to materialize from the recession's steady erosion of the American middle class, are absent from his vision.
"I've seen it in the shuttered windows of once booming factories, and the vacant storefronts of once busy Main Streets," Obama said, according to the text of his remarks as prepared for delivery. "I've heard it in the frustrations of Americans who've seen their paychecks dwindle or their jobs disappear - proud men and women who feel like the rules have been changed in the middle of the game."
In last year's State of the Union address, Obama pledged to help families "move into more affordable mortgages" and highlighted public discontent with Wall Street malfeasance.
"Some are frustrated; some are angry," Obama said in the 2010 speech. "They don't understand why it seems like bad behavior on Wall Street is rewarded, but hard work on Main Street isn't."
Obama promised in early 2009 that his Home Affordable Modification Program would "enable as many as three to four million homeowners to modify the terms of their mortgages to avoid foreclosure." The program has sputtered and that goal is now clearly out of reach without significant reforms to the plan's basic structure.
Congressional Democrats who work with borrowers battling bank abuse are concerned about the implications for economic policy.
"I'm deeply disappointed that the president isn't acknowledging the foreclosure crisis and its impact on millions of Americans currently facing foreclosure and the millions of additional Americans who will face foreclosure this year," a Democratic aide told HuffPost. "You can't disregard the impact of this situation on our economy, and you shouldn't ignore the fact that Wall Street had a part to play in this and is not being held accountable. It's like that robo-signing thing never happened."
But where Obama dodged a critique of Wall Street, Rep. Paul Ryan (R-Wis.) briefly mentioned financial malfeasance in his rebuttal, though Ryan neglected any direct mention of mortgages or foreclosure.
"Poor decisions made in Washington and Wall Street ... caused a financial crisis, squandered our savings, broke our trust, and crippled our economy," Ryan said.
Among other major domestic issues, at least one gun control advocate seemed resigned to the fact that Obama wouldn't mention gun control, even in the wake of the horrific assassination attempt on Rep. Gabrielle Giffords (D-Ariz.).
"The thing about it is, when you have these mass killings they take on their own narrative," said Jim Kessler, a former director of policy and research at Americans for Gun Safety and co-founder of the centrist-Democratic organization Third Way. "With Columbine it was about the gun show loophole. This one really became about civil discourse. And I can't necessarily argue with that choice."
"You might hear him talk about it later in the year," a senior White House aide said. "But it is not in the State of the Union and quite honestly I don't think there was ever a plan to do so."
Calling all HuffPost superfans!
Sign up for membership to become a founding member and help shape HuffPost's next chapter