More elderly pedestrians are killed in Hawaii than anyplace else in the country. I've noticed our streets are dangerous because of a total systemic state of disrepair. This is a story of Honolulu's dangerous sidewalk infrastructure.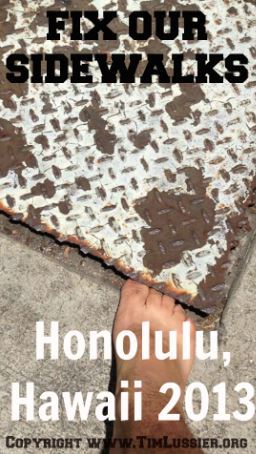 Why would we let our keiki (children) and kupuna (our elders) be in so much danger? I probably wouldn't think about this topic if it wasn't for the broken concrete sidewalks I've walked on or the metal grates gaping up that have almost cut off toes.
"This woman is a real leader," I said as I pointed to a barely five-foot elderly lady earnestly and powerfully pushing a "walker" in the Makiki area of Honolulu. A middle-aged businessman strolled past her at about twice her speed and a young woman jogged past each of them. All three enjoyed Hawaii's famous weather and made their way with their day. People walking to run errands or exercise is something often seen on these streets I walk daily.
I was taken aback by the courage the lady who had to fight through all of the barriers in her life and continue forward strongly with her "walker." She stunned me when she beautifully agreed with my assertion that our sidewalks are badly in disrepair. "These are our streets" she said.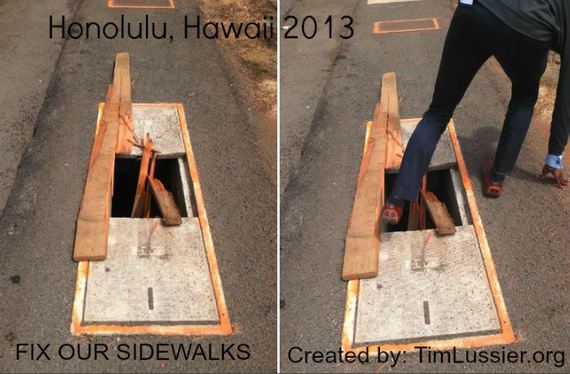 We the citizens own these streets and it's time to fix them.
Another time in Waikiki, I complained out loud to a security guard for a tall condo building about a metal grate on the sidewalk. He went out of his way to put an orange traffic cone over it. He made the same remark. It's incredible how much pride people have in their community.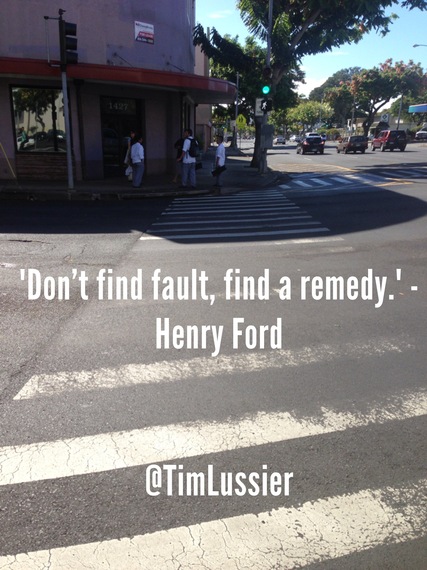 Hawaii ranks seventh worst in road conditions, says Business Insider. Their report states 26 percent of our roads are in "bad condition" which results in $503 in additional vehicle operation cost. "Driving on roads in need of repair costs Hawaii motorists $456 million a year in extra vehicle repairs" says American Society of Civil Engineers which also says "49 percentof Hawaii's roads are in poor or mediocre condition."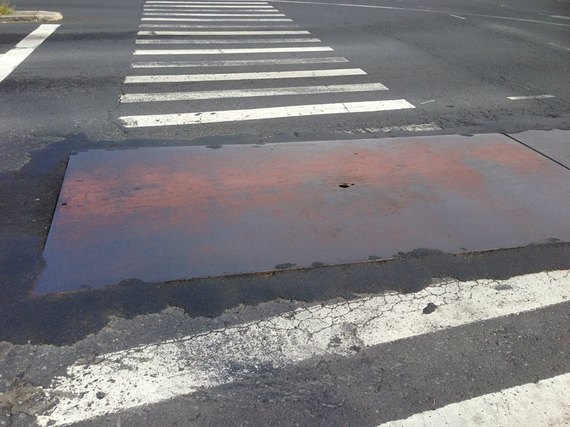 What kind of community lets this kind of disrepair exist? Years ago a government agency poured concrete to build a sidewalk and let it crumble into pieces. Urban and dense Honolulu forces its children to walk home from school on broken sidewalks. It was refreshing a few weekends ago spending the day with the Hawaii Bicycling League discussing government reform and safe streets at TEDx Honolulu. It's so nice to know others feel as strongly as you. If only our government leaders addressed structural problems the way they funneled pork projects like building a massive and widely unpopular rail system. I saw the frustration of my friend Charles Djou when he served on the city council as he advocated for and worked for better recycling and trash services. Fixing problems was real to him and his attempts in public service were often stifled by good intentioned politicians that promoted clumsy poor policy.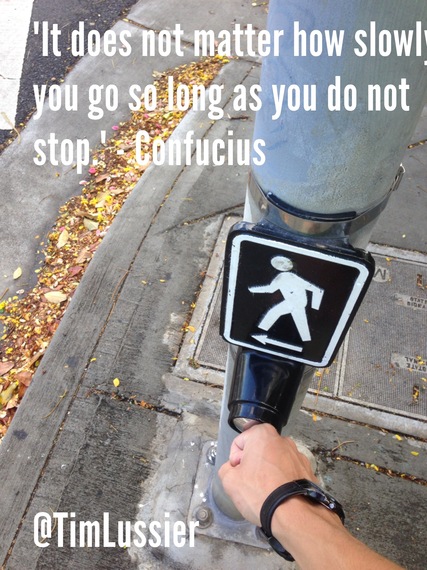 Do you think people are getting killed due to the dangerous hazardous conditions of our roads and sidewalks? It's not just that there are dangerous roads; it's not that people are just being injured in accidents, it's that many of these fatalities and injuries are preventable if we would repair and maintain our infrastructure. "I hit a deep pothole the other day. I thought I busted my tire" says my friend Joseph Gedeon, President of Green Apple Marketing Company.
Some states like Massachusetts have a hard time paving their roads because of the snow that often destroys the asphalt during tough snowy winters. Oregon must deal with rain and snow tires that tear down the same material. Hawaii's one party government and political machine won't allow any changes to the Jones Act. We are forced to pay even higher shipping prices for asphalt and concrete and therefore we suffer from less imports and worse road/sidewalks.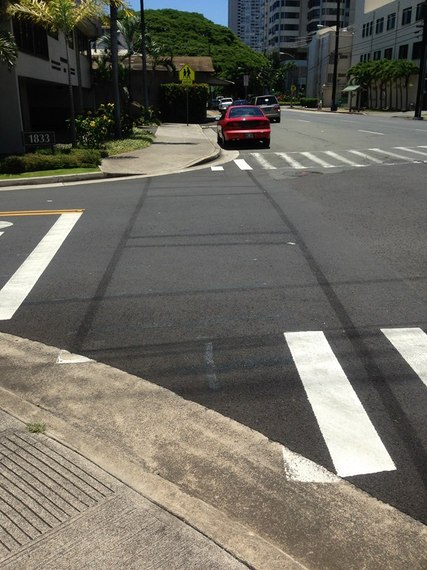 Our walkways do not just need what could be described as third-world repairs to bring up to "best practice" or acceptable standards. We can't just ignore the need for flat paths for people in wheelchairs, walkers or those who otherwise could not be free to be travel.
I have found three grates within a mile from my residence (near Makiki) with Hawaiian Electric Company, Inc. aka "HECO" and Hawaiian Telcom metal grates that are collapsing down with a lip rusting UPWARDS. Not only could you trip and fall, if you are elderly, you could be killed from the fall. If you have slippers on, you could actually slice your toe into two. A Google search of "american disabilities act honolulu streets" brings up more lawyers advertising their injury lawsuit services than blog posts or programs working on this issue. Liberal political adviser and University of Hawaii at Manoa Richardson School of Law school student Josh Michaels says "Honolulu is the greatest city in the world, but we need to dedicate more resources to roads, sidewalks, and our entire infrastructure. Not only are broken grates unsightly, they're incredibly unsafe."


Panos Prevedouros has dramatically improved infrastructure plans and solutions that involve outside the box problem solving and actually deliver on reforming services instead of managing the decay. I saw a "Water and Sewer" sign the other day by the airport. These are two other infrastructure areas in need of serious fixes. Hawaii Pacific University Sustainability Coordinator Josh Prigge adds an interesting insight to this issue. Growing up outside of Portland, Oregon gave me a holistic appreciation for well-thought-out infrastructure, including bike lanes and mixed use transportation system. "I know that the addition of more bike lanes and bike-friendly infrastructure will help to alleviate some of the sidewalk issues in Honolulu." He goes on to say "The City and County of Honolulu is in the early stages... of... investments in a more bike-friendly infrastructure. This will not only take more bikes off of the sidewalk and increase pedestrian safety, but will also lead to a quieter, cleaner, and a healthier Honolulu."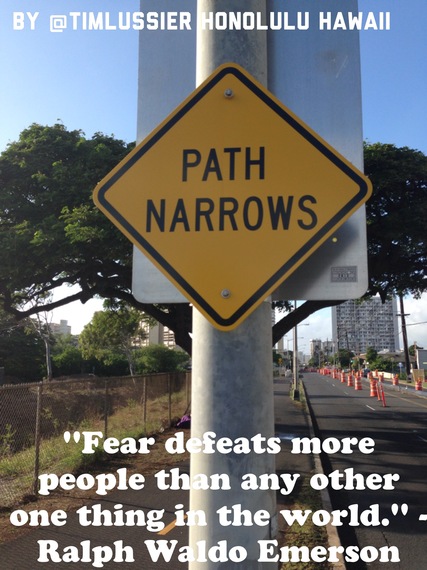 For the four years I've lived in Honolulu I've walked or rode the public transportation system "Da Bus." Many of our leaders never get out of their cars and walk our sidewalks. Civil Beat posted a video of Honolulu Mayor, Kirk Caldwell, as he rode a bike around Downtown Honolulu. This mayor may proclaim he's fixing more potholes than the last mayor, but I haven't seen the the mayor fixing the metal grates that I actively am worried about people tripping on.
Some have said that ten percent of the people in any group do ninety percent of the work. The same is true with local civics that most people don't get involved, they are too busy tending to the needs of their families and trying to pay their bills and pursue happiness. You, me and the lady I met on the street are the leaders that must be the change we wish to see in the world.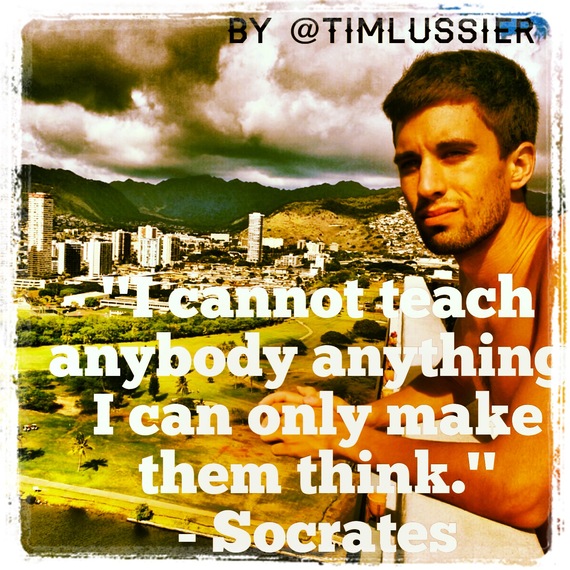 Most governing is done at the local level. The best governing is done at the local level. We must have local governance and focus on the important things that matter. Keep our power and tax dollars local.
Our sidewalks and roads are important. Let's show some Aloha for our community and fix the sidewalks for the elderly, those with special physical needs and everyone I meet every day on the street.
Mahalo for reading and joining the movement to fix our streets,
REAL LIFE. REAL NEWS. REAL VOICES.
Help us tell more of the stories that matter from voices that too often remain unheard.