Remember this jingle? "Hold the pickle, hold the lettuce." Or this one? "If you ask for something pickle-less, anything else would be ridiculous."
That underscores CSC Digital Marketing Lauren Wilkinson's point: To get the most "bang for your buck," whether it's digital marketing, web development, research, strategy or more, stop paying so much attention to what the competition IS doing and focus more on what the competition ISN'T doing. While you're at it, throw in some passion and education; be clear about your audience, and then speak to them with a well-defined strategy.
The jingle, as you probably know, comes from Burger King with its "have it your way" campaign. Burger King and McDonald's were fierce marketing rivals from the moment they both entered the market in the early 50s. At that time, fast-food joints were new to the scene and, while most loved the idea of convenient and quick, they were less enthusiastic about what they saw as the "one-size-fits-all" menu with no room whatsoever to make any changes.
Now, McDonald's did let people make simple changes, such as extra or no pickle, mayonnaise, ketchup, etc., but they were pretty quiet about it. Burger King saw an untapped opportunity, seized it and, for 40 years, we heard the slogan "have it your way." They really didn't do anything that much different from McDonald's, but they were much more vocal about it.
A few years ago Burger King updated that slogan to the more personal "Be Your Way," to celebrate individuality, a subject that's been trending for some time now.
CREATING KILLER CAMPAIGNS
As an entrepreneur, I have to pay a lot of attention to social media. For me, it's not just about accumulating the most Facebook friends or LinkedIn connections. I have to be able to engage, participate and respond to needs.
There's certainly no shortage of articles from the so-called "gurus" who tell you how to do social media, from "get personal" to "use visible buttons to make sharing easier" to "develop catchy taglines." They're all valid ideas, but I wanted a deep-dive. CSC Digital Marketing really walks its talk; they create award-winning strategies that increase engagement, traffic, and conversions, and THAT results in sales.
When CSC Digital Marketing began working with the Gatlinburg CVB (Convention & Visitors Bureau) they created an innovative and inspirational social media strategy that evoked emotional connections. They were awarded the IFEA Gold Pinnacle Award and increased Facebook connections by 100% in two years.
This is just one thing they did for Gatlinburg. Who doesn't love the month of October? This photo went viral; we took a screenshot of the entire Facebook post so you can see the engagement and number of likes.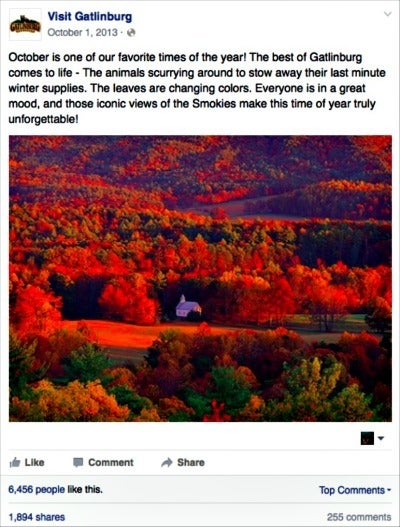 ...Bikers tend to be passionate and even emotional about their athletic activity, and when you visit Gatlinburg, a bike ride is a must! This post draws upon that connection.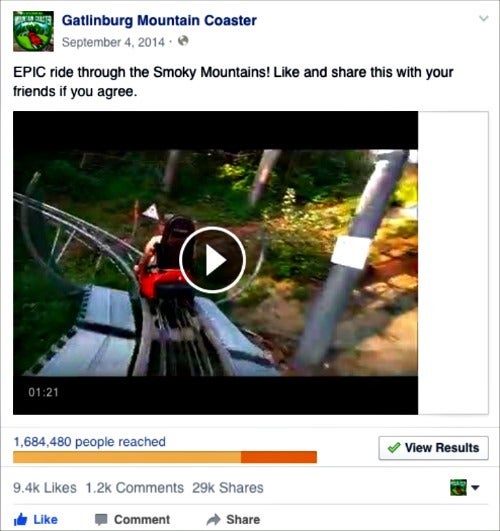 Here's a story of two competitors and their December holiday season.
Company #1 only showed shoes all the time. Shoes for all seasons, all holidays, special pricing and more. "Pound them!" was the mantra of that company's CEO. It was boring, just a barrage of sales. What's more, their tagline, which wasn't at all in alignment with their photos, made no sense. Just who is their audience, I wondered? The website showed one thing, the blog another, and the advertising and social media yet another.
Company #2, who clearly marketed to young, hip, professionals, posted a photo of the staff toasting the New Year, conveying a sense of youthfulness, vibrancy, enthusiasm, camaraderie, and vibrancy. That was clearly their audience. Wow, many thought--"if I buy them, maybe I'll be like that." All campaigns were consistent; it was one message.
LET'S PARTY, SAYS LAY'S POPPABLES
Often passion breeds unbridled creativity, such as making up your own special language and using cartoon-like images in a colorful setting to make social media videos. When Frito-Lay introduced Lay's Poppables, an air-popped corn snack, on National Potato Chip Day, they created a language all their own. Every word has an "able" after it; yummable, opportunable, catchable, understandable, snackable, etc. They did this in a series of videos with cartoon-like characters in colorful settings--all placed in what looks like a children's book. They are obviously reaching out to parents, kids--and anyone who entertains—because it conveys a fun, party atmosphere.
Here's a YouTube video of the Lay's Poppables television commercial, which was able placed as a Facebook video.
Link your social media to all your other accounts, including print and electronic advertising and public relations. Give people one clear message, one image. Let them know clearly to whom you are marketing. What's more, social media is a great way to promote your other campaigns. If you also have a blog on your website, post it on social media to draw people to your site.
Post regularly. Generally, once a day for Facebook and several times per day for Twitter. BUT also be sure to comment and share other posts, because it's important for YOU to also engage and be visible.
Post a mix of items--great photos, of course, but also videos and infographics. Again, it's memorable and videos, especially if you're in them, add to the all-important know-like-trust factor.
Answer a consumer question on your post. If you're posting about your hotel, people might want to know if it's pet-friendly or kid-friendly, and they'll probably also want to know about nearby attractions. Link to articles on those subjects; for instance, if yours is a pet-friendly hotel, an article on "how to travel safely with your pet" would add a lot of value.
If you blog, create in-depth articles on trending topics; you can easily find out what's trending on Facebook Twitter or other sites.
Never, ever delete a negative comment about your brand or service. Rather, answer that and offer solutions. It shows you care about your customers, that you are loyal and, most of all, will go the extra mile to help them.
Lauren said she'd like to discuss one inaccurate thought, that is the people who say "social media is only for the kids."
She says: ""That's a big misconception. According to some studies, 45% of baby boomers are online, and roughly 60% of people aged 50-64 use social media. Social media is a good way to reach people of all ages. The key is in finding out what demographics use which social media sites."
In short, it's an important component of marketing. Be creative, use analytics, and do your research to develop your own killer social media account.
Related
Popular in the Community