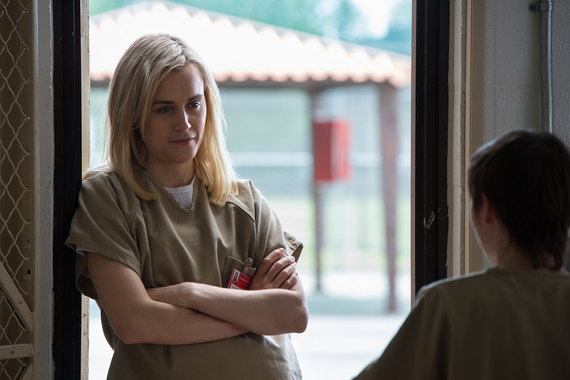 The ladies of Litchfield are back with Orange is the New Black Season 4, and Netflix binge-watchers are still recovering from their weekend fix. The acclaimed show has brought complex criminal justice issues to the mainstream, with viewers in more than 190 countries. But one critical area that remains untouched by OITNB is how wrongful convictions affect women.
Wrongly convicted women who have been exonerated and freed are few -- only 172 known U.S. female exonerations since 1989 -- but many more women continue to languish behind bars, fighting to appeal their cases. Often victims of situational prosecutions, wrongly convicted women can find themselves accused of serious crimes in their role as caregivers. According to the Women's Project at the Center on Wrongful Convictions, 43 percent of women exonerees were wrongly convicted of harming or killing a child or loved one in their care. In about two-thirds of female exonerations, there was no real crime, but rather an accident, medical problem or false accusation was at fault.
While women exonerees are few, there is no dearth of dramatic stories that could inspire a new OITNB character and help highlight flaws in the criminal justice system. Here are five fascinating women exonerees:
Kristine Bunch
Convicted 1996
Exonerated 2012
A single mother, Bunch spent almost 17 years in prison, accused of murdering her 3-year-old son Tony, who died in an accidental home trailer fire in Indiana. While fighting for her innocence, she earned a college degree and became a paralegal behind bars, helping other women with their cases. Bunch earned her freedom after it came to light that false forensic evidence had contributed to her arson murder conviction -- placing her among the third of women exonerees whose cases involved false or misleading forensic evidence. (Read more about Bunch in the new book "Exoneree Diaries: The Fight for Innocence, Independence, and Identity".)

Sabrina Butler
Convicted 1990
Exonerated 1995
Wrongly convicted of murdering her 9-month-old son, Butler was sentenced to death, becoming the only woman on Mississippi's death row. Even though she had tried to resuscitate her son after finding him not breathing, Butler later falsely confessed to causing her son's death. False confessions have contributed to about 12 percent of wrongful convictions where the person was later exonerated, affecting hundreds of innocent people, according to the National Registry of Exonerations. Butler now works with Witness to Innocence, an advocacy organization of exonerees who are trying to end the death penalty.
Gloria Killian
Convicted 1986
Exonerated 2002
Killian was a law school student in California and had no criminal record when she was accused of being the mastermind behind a robbery and murder in 1981. While in prison, she met Joyce Ride, the mother of America's first woman astronaut, Sally Ride. Joyce Ride became convinced of Killian's innocence and helped her win her freedom. Killian now advocates for the humane treatment and release of the women that she left behind in prison through her organization, Action Committee for Women in Prison.
Audrey Edmunds
Convicted 1996
Exonerated 2008
A neighborhood babysitter in Wisconsin, Edmunds was wrongly accused of killing a 7-month-old under her care. A forensic pathologist determined the cause of death to be Shaken Baby Syndrome, a controversial diagnosis with symptoms that can mimic other medical conditions. Edmunds' conviction was eventually overturned in light of the new scientific evidence about SBS.
Ginny LeFever
Convicted 1990
Exonerated 2011
Embroiled in a messy divorce, LeFever was accused of murdering her husband, who died from an acute drug overdose of antidepressants in his Ohio home in 1988. The prosecution's toxicologist testified that someone had poisoned LeFever's husband and that only an injection of his medication could account for the overdose. LeFever was serving a life sentence when her attorney discovered that the toxicologist had lied about his credentials -- at her trial and elsewhere.
Popular in the Community