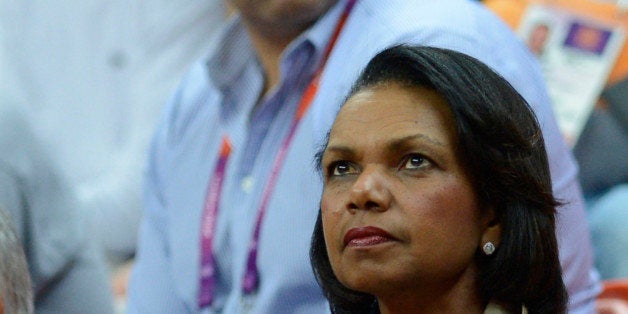 Our Rutgers University sit-in against Condoleezza Rice being honored at our commencement ceremony was on the anniversary of the Abu Ghraib photographs' revelation 10 years ago. Those of us that took part in the Rice protests were mere children in elementary school when our country went to war in Iraq. But, as college students, we were able to successfully use our voices to defy a reluctant university administration and cause the former Secretary of State to back down.
Obviously, our protests are not the first or last of their kind. In April, student protests at Brandeis University against Islamophobe Ayaan Hirsi Ali's commencement speech caused the school to cancel her honorary degree. This month, former University of California-Berkeley chancellor Robert Birgenau backed out of his commencement speech at Haverford College after protests against his use of police force during the Occupy movement. International Monetary Fund chief Christine Lagarde withdrew as Smith College's commencement speaker after protests against the IMF's oppressive economic policies that hurt women in poor countries.
The thing is: These protests are not about the individual speakers themselves. And they're most certainly not just about commencement speeches. This is our generation of young people sending a clear and strong message that racism, bigotry, civil and human rights violations receive no honor from us.
This is not an issue of "left" or "right." Decisions that impact the livelihoods of other human beings or oppress the basic rights that they are entitled to are not simply "differing views" that land on our American political spectrum. Such things are simply not partisan issues.
This is not an issue of free speech. No public figure is entitled to speak or be honored at a university commencement. Frankly, the protests taking place aren't against invitees' ability to speak at all -- the protests are against their actions. Being invited to speak at a commencement is one of the highest honors that a university can bestow upon someone outside of the school, and part of that honor is embodying all the morals and values that the graduating class should aspire to. Speakers that are complicit in or represent actions that have hurt other people or robbed them of their rights are most certainly not worthy enough of that honor.
Most importantly, a speaker's personal success does not trump the actions that were committed by that success. We will not worship at the altar of power.
Like all of our peers across the country that are graduating from college, we are on the cusp of inheriting this world as our own. In some way, these protests are our generation's rejection of detrimental policies and actions that have somehow been sold to us as being acceptable; our proclamation that the way things are is simply not good enough; our declaration that those that came before us have people that they must answer to -- and that, no, we haven't forgotten.
And if that presents the question of who possibly would qualify to speak at university commencements if all of our public figures have at some point been complicit in such actions, then the answer is simple: We need new public figures.
Popular in the Community