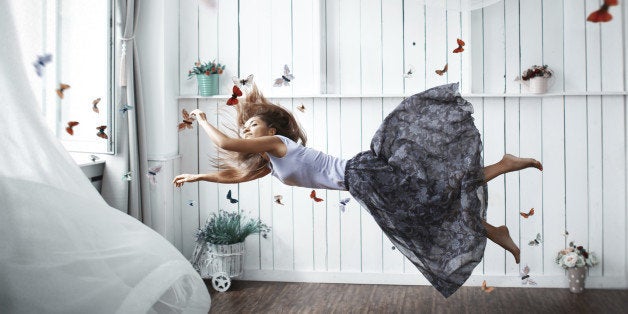 Growing up, dreams were taken very seriously in my home. Anytime I had a vivid dream, my mother would sit me down and ask me details. She believed deeply in the power of dreams. Specifically, that they were a portal for messages from God. As a kid, I would laugh it off, as I did with a number of my mother's peculiar beliefs. But then sometimes, when the dreams became too intense or scary, I would seek solace in her interpretation, finding comfort in the practical application it would have in my life.
As an adult, though, I put my mother's dream interpretations away in a box in my mind. Thinking, for a time, that they were just a way of our minds filtering through the information from the day. Occasionally, I would share a strange or interesting dream with my mother, just to hear what she thought it might mean in my life, never taking it very seriously. But as I've grown older, I've come to realize that our dreams can sometimes carry important messages, either from our subconscious or beyond, and it wasn't until I started paying attention to them again, that my dreams taught me one of the most important lessons I have ever learned about myself.
I have dreamt in the last year, at least a handful of times, of a giant tsunami wave in the distance that I can see coming and I scramble in whatever setting I'm in to try and prepare for this wall of water. But, alas, no matter what I try to white knuckle or button down, the wave is always all-encompassing, overtaking everything in its path. Again, a few months ago, I dreamt about the same tsunami wave. Only this time, I wasn't on land, but instead in a tiny boat offshore, watching it close in. With nothing to hold onto, I gave in to the massive wave. It knocked me out of my little wooden boat and swept me into the ocean. Once underwater, I took a deep breath in. I found I could breathe. And I remember thinking to myself, "it is only when I surrender to what is seemingly the end, that a new beginning can emerge."
After doing a little digging to try and find an interpretation of the ability to breathe under water (and choosing not to call my mother), I realized that the tsunami was representative of the chaos in my life that was out of my control. And my new found "super power" was a reminder that even in the most hopeless of situations, I had all the power I needed within myself to overcome and conquer, or ultimately allow the circumstances to transform me into something much more than I was. Not only did I survive, but I came out the other side stronger.
The recurring dream was a catalyst for me to take ownership of my life and my circumstances, and also take massive action on behalf of myself (and my dreams). It was such an eye opening message that I think of it often.
While I do still believe that our dreams can be a way for our minds to filter the information from the day, I also think dreams are another outlet for our subconscious to get through to us, to circumvent our thoughts and our egos, and grab our attention. Sometimes in drastic ways, like a tsunami or a tornado. And sometimes in more realistic ways, like being in your underwear in front of your high school math class, senior year. But if you pay attention, you might just find a little nugget of wisdom that can change the course of your life.
Do you find that your dreams speak to you?