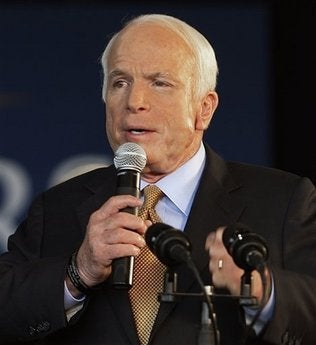 "Why does everyone keep using the word, 'grace?'" my 12-year-old asked as we watched the election night unfold. John McCain had just given his concession speech and everyone from the anchors to the pundits agreed there was only one word for what the man showed: grace.
It sounded like a consolation prize. Well, maybe you spent five years in a prison camp and tried to win the presidency (twice) and finally seized the silver -- Bye, bye! See you at the driving range! -- but at least you were gracious. Then I realized that grace just may be what won the election.
Both candidates and their running mates showed it, to a greater or lesser extent. And we took keen note when they did.
Sarah Palin showed it when she went on Saturday Night Live and bopped to a rap song that treated her like the Alaskan equivalent of Yosemite Sam. With breasts. Would you have had the grace -- and guts -- not only to go on that show but to wear the exact same outfit as the woman who reached mega-stardom by assassinating your character? Maybe it was politically expedient, but it took something steely to smile through the ordeal, and then something extra to soften the steel. That extra ingredient of Palin's? Grace.
It took grace for Joe Biden to step in as veep when we all know that was the job he'd hoped to delegate, not fill. Graciously he became history's footnote, and he did it with a grin.
McCain truly did show grace, and not only in his concession speech. When he said he wished Obama every good thing in running "the country we both love," it was startling, because it reminded at least this voter that the two of them had actually run for the same reason. A desire to serve America, not a desire to be king of the hill. There's grace in taking trauma and even torture, and turning it into service. Just ask Nelson Mandela.
And then there was Obama's victory speech.
To me it was not as stirring as his convention acceptance speech, nor as groundbreaking as his speech about race -- the one where he talked to Americans like grownups who could understand prejudice, even recognize it in themselves, and then go beyond it. No, what was extraordinary about the victory speech was watching him accept the job we've given him just a day after the woman who very much raised him left this earth. Not to put too fine a point on it: I'd have been plotzing.
Obama didn't look dazed or crazed or even particularly happy. Maybe, at that moment, he couldn't be. Surely, though, he had to be filled with more enormous emotions than most mortals can handle without exploding: Grief. Elation. Disbelief. Shock and, yes, awe. Imagine yourself the day after the death of your beloved mom or dad or grandparent, then pile on 2 or 3 billion onlookers looking to you for transcendence. That's got to represent a certain amount of pressure. And under it?
Obama showed grace. His default mode.
Grace may sound like a virtue on par with good posture or politeness, an extra credit quality you pick up at finishing school. But it turns out to be something more.
It turns out to be the quality we were looking for all along.
Calling all HuffPost superfans!
Sign up for membership to become a founding member and help shape HuffPost's next chapter